7 Side Gigs for Seniors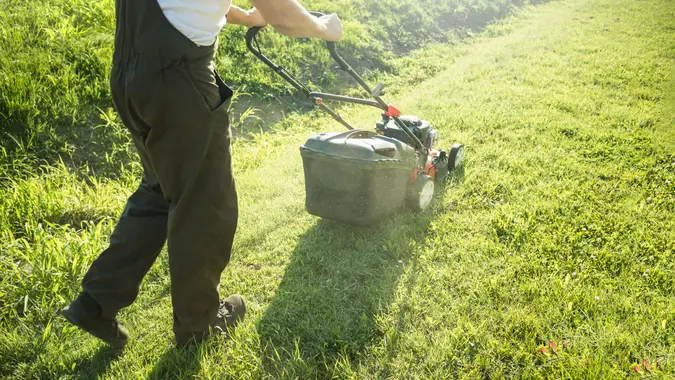 Donyns / Getty Images/iStockphoto
Ideally our senior years are spent relaxing and traveling, but the harsh reality is that many can't afford it. Over 15 million Americans age 65 and over — roughly 25% of that demographic — are economically insecure, with incomes below 200% of the federal poverty level, according to the National Council on Aging.
Find Out: Ways You Can Lose Your Social Security Benefits
With a Recession Looming: Make These 3 Retirement Moves To Stay On Track
What's an American retiree to do? One solid option is to get a side hustle. 
We all know about driving for Uber or Lyft and selling crafts on Etsy or another online marketplace, but what are some other gigs that are ideal for seniors? And roughly how much can you potentially make from them? Let's explore. 
Also see other good options for retired people who plan to work.
Self-Publish a Guide or Primer
By the time you've reached your golden years, you likely have accrued a trove of knowledge from a profession or hobby that would be useful to those starting out in the same field. Share it by self-publishing a guide or primer online. For profit. 
Make Your Money Work Better for You
"Once you've drafted your step-by-step guide — some people even format it as a formal course — publish it on a site such as Kindle Direct Publishing or Barnes & Noble Press," said Jamison Manwaring, a real estate developer, finance expert and CEO of Neighborhood Ventures. "It will be available for millions of readers to find. Set up a website or social media feed to help market your book and soon you'll start getting money — typically 70% of the price — every time the book is downloaded."
Take Our Poll: Do You Have a Second Job or Backup Plan in Case You Are Laid Off?
Sell Your Old Photos
A photograph is worth a thousand words — and potentially a thousand bucks (well, maybe not quite that much, but you get the point). You can sell your old photos and make a nice profit. All you need is a quality scanner app on your smartphone. 
"Digitize your old photos or capitalize on the existing ones on your mobile device by uploading them to a stock photography platform such as Stocksy," Manwaring said. "These aggregators will pay you between 50% and 70% of the money they make licensing your images to content providers hungry for specific photos.
Make Your Money Work Better for You
"Best of all, the right shot will be downloaded multiple times; and, obviously, the more photos you feature on the site, the more regularly your royalty payments will show up in your inbox. In most cases, you'll still maintain your copyright; and, by using one of these services, you'll be able to monetize images that might otherwise sit and stagnate."
Rent Out Your Spare Room or Property
Are you an empty-nester with an extra space you no longer use? Put it to work. 
"Whether it's a spare bedroom, a basement or even a garage or shed on the property, that space can be turned into monthly cash flow," Manwaring said. "You will have to spend some time up front vetting an appropriate tenant; but, once you've found someone suitable, the arrangement should be hassle free. And if you have a summer home or similar, consider using an online service like Vrbo to rent that property to others when you're not using it."
Make Your Money Work Better for You
Become a Virtual Assistant 
You no longer need to be in person to be an assistant. 
"Many businesses and entrepreneurs are looking for virtual assistants to assist them with administrative tasks such as email response, appointment scheduling and social media account management," said Michael Hammelburger, a CPA and the CEO of The Bottom Line Group. "Seniors with strong organizational and communication skills could work from the comfort of their own homes as virtual assistants."
Pay varies, but the average salary in the U.S. is $23.92 an hour, according to Indeed.
Tour Guide
Know your city like the back of your hand? Your expertise can help tourists get informed — and help make some moolah. 
"With an average salary of [$34,011] per year in the U.S., tour guide jobs are a great side hustle for seniors who enjoy history and live in the city or near tourist attractions," said Andrei Kurtuy, co-founder and CCO at Novorésumé. "In addition to being an extra source of income, showing travelers around historical landmarks and spots offers seniors a chance of being both physically and socially active."
Consult 
After years in a particular field (or various ones), you've developed some serious expertise and can profit off it via consulting. 
"Seniors can use their years of experience and knowledge to offer advice and guidance to others in their industry," said Tyler Seeger, managing director at Retirement Being. "This can be done on a freelance basis, with seniors setting their own rates and schedules, which can range from $50 to $300 per hour, depending on their level of expertise."
Mow Lawns 
Lawns have to be mowed. It is simply the reality of properties with grass. You may as well get paid for doing it.
"Mowing grass can be a very lucrative, recession-proof side hustle to earn an additional income. [The job] has a very low barrier to entry and is great exercise," said Gene Caballero, co-founder of GreenPal. "Lawn care pros can earn up to $40 to $50 per hour by cutting grass, and this can all be done in the evening or even just on the weekends. One can obtain a used commercial mower and trailer for less than $1,000."
More From GOBankingRates
Make Your Money Work Better for You