20 Best Under the Table Jobs for Cash in 2023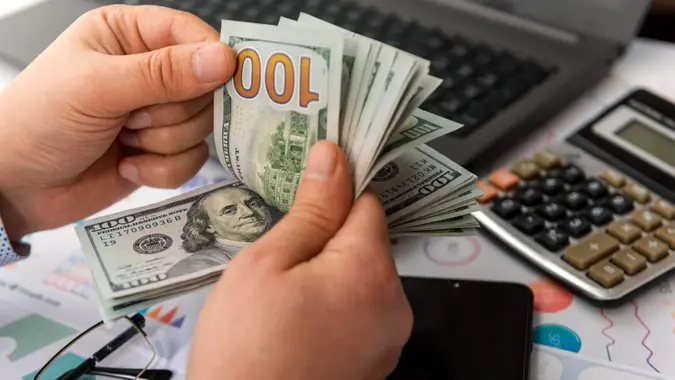 turk_stock_photographer / Getty Images/iStockphoto
Hourly wages have not kept pace with increasing inflation. Unfortunately, so many full-time workers now also have to consider a side job where you can make some money under the table. There are only 24 hours in a day, and if you still want to sleep, you need to maximize the side hustle and extra money you make for the time you put in.
Whether it is something you can work from home or work in somebody else's house, there are many under the table jobs that pay cash you can find that don't require a full-time commitment and alleviate some of the worry of having taxes automatically withheld from your paycheck — though you are still legally required to report and pay taxes on your income.
The Best Paying Jobs You Can Work Under the Table
Under the table jobs are often low skill level with the opportunity to start immediately and get paid in cash, though they come in a variety of skillset levels and payment opportunities. Gig culture is helping this industry of task-oriented jobs grow.
Here are the best under the table jobs for 2023:
Hairdresser 
Make-up Artist
Online Focus Groups
Online Tutoring
Pet Grooming
Babysitting
Car Washing
Dog Walker
Gutter Cleaning
House Cleaning
House Painting
House Sitting
Mowing Lawns
Snow Removal
Car Mechanic
DJ
Dance Instructor
Gardening
Handyman
Photography
1. Hairdresser
Average hourly wage: $18.71
As a hairdresser, hair stylist or cosmetologist, you can set up an area in your home to cut and style hair. It is also flexible with scheduling, as you can make appointments in your place on a case-by-case basis. 
Make Your Money Work Better for You
2. Make-up Artist
Average hourly wage: $45.12
Make-up artists are not only sought after for big theatrical productions but also in preparation for formal events, such as weddings or proms.
3. Online Focus Groups
Average hourly wage: $20-$200
As participating in a focus group can greatly range in responsibility, so does the pay. Whether you are filling out surveys, doing market research or answering questions about a product, participating in online focus groups can be a great way to make some extra cash — companies are always looking for feedback
4. Online Tutoring
Average hourly wage: $21.55
Students of all ages can use one-on-one help in a variety of subject matters. You can tutor in just general curriculum, teach another language or help in more specific areas, such as boning up for the SATs. 
5. Pet Groomer
Average hourly wage: $13.81
If you have some extra yard or garage space, pet grooming could bring in some extra cash. Many people don't have the time or inclination to deal with bathing and trimming their pets and would appreciate the opportunity to outsource the task.
If you enjoy working with pets, adding pet sitter to your list of duties can also be quite lucrative.
6. Babysitting
Average hourly wage: $20
Babysitting is one of the most widely accepted under the table professions and has the potential to be quite lucrative. It is not just for neighborhood teenagers anymore, and your rate of pay increases the more children you watch. You can also charge more if you have certain certifications, like CPR and first aid.
Make Your Money Work Better for You
7. Car Washing
Average hourly wage: $15.74
Working at the car wash is both a great song and a good way to make some fast cash. You can set up a washing station in your driveway or offer to clean others' cars by going to them.
8. Dog Walker
Average rate for a 30-minute walk: $10-$35
The money you can make as a dog walker varies depending on region, demand and number of dogs you are willing to walk. Research your area to see what other people are charging to walk dogs so you can price yourself competitively.
9. Gutter Cleaning
Average hourly rate: $100-$300
How much you can charge to clean someone's gutters depends on where you live and how much gutter linear footage the house has. You'll want to consider your safety, too — the steeper the roof, the more you can charge, because it's possible you'll fall.
You may also need to provide your own equipment for this job.
10. House Cleaning
Average hourly wage: $15.35
Cleaning houses is an in-demand way to make some quick cash. You can even set up some recurring gigs on a schedule and build a regular customer base.
11. House Painting
Average hourly wage: $21.92
Whether people are moving to a new space or looking to upgrade or freshen up their current one, hiring a house painter is high on their list. It can be a time-consuming process that most people prefer to hire someone else to do.
12. House Sitting
Average hourly wage: $17
House sitting is a pretty sweet gig — not only are you getting paid, but you are also getting free room and board for the duration of your stay. And you can double up with this gig by working on another side hustle while you're there.
Make Your Money Work Better for You
13. Mowing Lawns
Average hourly wage: $16
As a seasonal gig, lawn mowing is classic for a reason. It's also flexible as to whether you use your own equipment or the equipment of the person who hired you.
14. Snow Removal
Average hourly wage: $23.09
Though snow plowing is another seasonal gig, and only suited for those who live in colder climates, it can be an ideal way to make some money during the winter season, especially around the holidays.
15. Car Mechanic
Average hourly wage: $22.54
You don't need to necessarily work in a garage to be able to help repair cars. If you have experience in car engines and auto repairs, fixing cars on the side could help subsidize your income.
16. DJ
Average hourly wage: $18.03
Typically DJs, or disc jockeys, can charge one lump sum for a shift, though some prefer an hourly wage. Opportunities can range from backyard barbeques to corporate party events. 
17. Dance Instructor
Average hourly wage: $19.47
Teaching tap, jazz, acrobatics, ballet and more are all money earners, whether you're instructing adults or children.
18. Gardening
Average hourly wage: $17.05
Groundskeeping has multiple opportunities: gardening, landscaping and more, especially for seasonal work.
19. Handyman
Average hourly wage: $22.66
What you can make as a maintenance or repair worker will vary, depending on your skill set and its demand, but if you are handy with fixing appliances, carpentry or plumbing, you could definitely make some cash under the table.
Make Your Money Work Better for You
20. Photography
Average hourly wage: $18.73
Being a photographer is an ideal freelance job to get paid under the table. Weddings, family photoshoots and parties are fertile ground for photographers and are events where the hirers can often pay in cash. 
What To Know About Under the Table Jobs
While working on your own terms and getting paid in cash sounds like an ideal gig, there are a few things that are important to know:
Pay depends on experience: With many of these jobs, your pay will depend on how much experience you have — and any certifications or related education can help, too. Be prepared to start at a lower rate.
Be prepared to pay taxes: Getting paid in cash doesn't mean you're exempt from income taxes. You'll be able to pay quarterly instead of having every paycheck reduced, but independent contractors pay taxes, too.
Use your own equipment if you can: Providing your own cleaning supplies, pet brushes, ladders and other equipment you need means you can charge a little more, so it might be worth bringing your own gear to the job.
Final Take To GO
Under the table jobs are typically quick-service jobs that pay you in cash. You can find under the table jobs through neighborhood listings, Facebook groups or websites such as Reddit or Craigslist. 
FAQ
Here are the answers to some common questions about under the table jobs.
How can I make fast, under the table money?

Some jobs that pay under the table, as soon as you finish the job include:

- Hairdresser
- Make-up Artist
- Pet Grooming
- Babysitting
- Lawn Mowing
- Snow Removal

What jobs are considered under the table?

Here are some examples of under the table jobs:

- Babysitting
- Car Washing
- Dog Walking
- Gutter Cleaning
- House Cleaning
- House Painting
- House Sitting
- Lawn Mowing
- Snow Removal

Under the table jobs are typically part-time, freelance work that are low skill level and quick service, but any job that pays in cash could be considered "under the table."

Can you work under the table for good money?

Yes – the amount you can make depends on your skill level and experience, among other factors, but it's possible to make $20 an hour or more with several under the table jobs.

What does "under the table jobs" mean?

Under the table jobs are typically quick-service jobs that pay you in cash and don't report your income to the IRS – though you are still legally required to report your own income and pay taxes on it.
Make Your Money Work Better for You
Information is accurate as of May 15, 2023.
Our in-house research team and on-site financial experts work together to create content that's accurate, impartial, and up to date. We fact-check every single statistic, quote and fact using trusted primary resources to make sure the information we provide is correct. You can learn more about GOBankingRates' processes and standards in our editorial policy.