10 Unusual Ways To Make Extra Money During the Holidays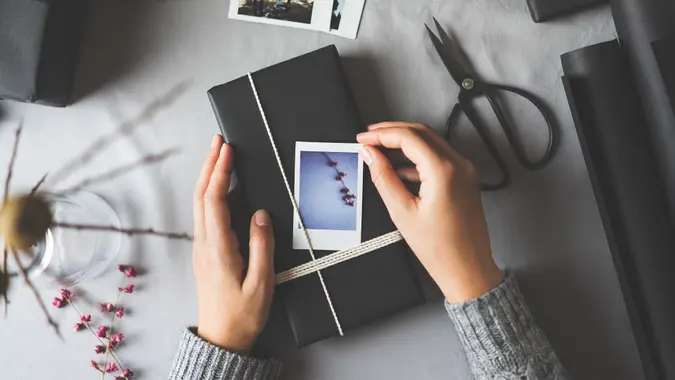 TARIK KIZILKAYA / Getty Images
The holidays often arrive at odds with your budget — it can be difficult to come up with extra money for gifts, holiday gatherings and the like. Making extra money may be at the top of your list to be able to pull off the holiday season you have in mind. But figuring out how to make extra money can also be challenging. Fortunately, experts have some suggestions for making extra money, some of which are quite off the beaten path. All of them are guaranteed to get your creativity rolling and hopefully the money will follow.
See: 22 Side Gigs That Can Make You Richer Than a Full-Time Job
Stimulus Checks: Mark These Dates on Your Calendar Now
Rent Out Your Car Through Turo
If you've got a car that's in good shape and easy to drive, consider signing up with Turo, the Airbnb for cars, according to Dallin Hales, a financial blogger. He said this "is a great way to rent out your personal car or an unused vehicle for some extra cash during the holiday season. Because there will be an increase in traveling more people will be looking for rental cars near them. Turo hosts can easily earn more than $1,000+ a month." 
Make Your Money Work Better for You
Sell Animal Horns
Rural folks who live out in nature with access to animals such as deer and elk can corner a VERY unique market, according to Michael Morris, who runs a men's lifestyle website named Rough and Tumble Gentleman. These animals shed their antlers and you can take advantage of that. "People will pay good money for [the antlers]. They're used in everything from crafting–l and you can sell them to people on Etsy–to home decor, to pet owners–for dog chews." Morris said that larger antlers, those you'd find on a mature elk, can even fetch you $1,500.
Sell DIY Christmas-Scented Beard and Facial Oil
Another unusual but popular product for the man with manscaping to do is beard oil, Morris said. "Beards have become very popular in the last ten years, and a lot of guys who have beards need beard oil to keep them healthy. Luckily, beard oil is incredibly easy to make–usually it's just a carrier oil to hydrate the beard, and an essential oil to give the beard oil a pleasant scent–and if you combine sunflower oil with a Christmas-y scent like fir balsam or peppermint."
Make Your Money Work Better for You
He explained you can buy both of those things wholesale and combine them, and then buy a sticker logo for $20 at Upwork and sell them at local farmers markets, craft fairs or online.
Take Our Poll: Do You Believe in Quiet Quitting?
Hire Out as a Holiday Helper
People's schedules are jam-packed with events, including Christmas shopping, travel and holiday parties, said Hamza Usmani, head of content at Believe Money. This gives you an opportunity to make money. "It will be simple for you to establish yourself as a holiday assistant given how busy everyone is. Provide services like pet sitting, house sitting, laundry, meal preparation, dog walking, house cleaning, laundry, plant watering, grocery buying, and errand running."
Assembling
In my opinion, one of the most unconventional approaches to getting some extra holiday cash is to take on some sort of arranging gig where you help people assemble products, said Gerrid Smith, director of e-commerce at Joy Organics. 
"Anyone with even rudimentary skills can make some additional holiday cash by assisting others with product assembly. This may be anything from toys to furniture. You can advertise your services online, spread the word locally, or look in the classifieds. You can offer your services locally and at your own pace by posting them on websites like Angi or app-based platforms like Task Rabbit."
Make Your Money Work Better for You
Hang Holiday Lights
If it's ever your task to hang the holiday lights, you know what a hassle this can be. According to Leonidas Sfyris, CTO of Need a Fixer, "Over the past few years, this has gained popularity as a home-based company. It takes a lot of physical effort and time to install outside holiday lights. If you're not frightened of heights, this can be a rewarding and enjoyable way to earn some extra money for the holidays. You'll need the necessary materials, such as a truck and a ladder. To be sure you are protected in the event of an accident, speak with your insurance agent."
Flip Items
If you're handy with tools and crafts, said Sam Underwood with Bingo Card Creator, "[y]ou can make additional money by flipping things. You can flip anything, including automobiles, toys, furniture, and antiques. This might develop into more than simply a passing hustle if you are interested in accomplishing it. I know this amazing couple who sell goods they buy at flea markets full-time. With this, they even earn six figures. A seasonal job can turn into a successful company for you."
Wrap Gifts
If others are always marveling at how beautifully wrapped your gifts are, consider farming out this service, said Tom Koesternen, chartered financial analyst with TheGuaranteedLoans.com. "Many presents are given during the holiday season, and not everyone has enough time to wrap gifts or enjoy wrapping them. You can ask your local stores if they need help wrapping gifts or advertise your services to homeowners."
Factory or Warehouse Work
What many companies need during the holidays are extra hands to work in warehouses that grow increasingly busy. Emily Saunders, the chief revenue officer for eLuxury explained,  "We get an influx of orders during the holidays, like any other business, and we often need extra sets of hands to make sure that all of our shipments go out on time. You work long hours and you're on your feet constantly, just like you would at a retail job, but the hourly wage is usually more robust and you don't have to deal with crowds of eager shoppers. It's a perfect job for a college or high school student on Christmas break."
Temp as a Property Manager
One industry you might not think of that needs help at the holidays is real estate, said Richard Harless, owner of and realtor at real estate brokerage AZ Flat Fee. "You can fill-in for property managers while they are away for holidays, which is really common these days. This allows you to earn over the holidays. The tasks aren't that complicated, you just need to oversee renters and ensure they're complying with the building's rules and regulations as well answering any minor questions or solving problems they might have. To do this you just need time and a general awareness of the building rules."  
More From GOBankingRates
Make Your Money Work Better for You