1 in 3 Millionaires Believe They Could Outlive Their Savings, Survey Finds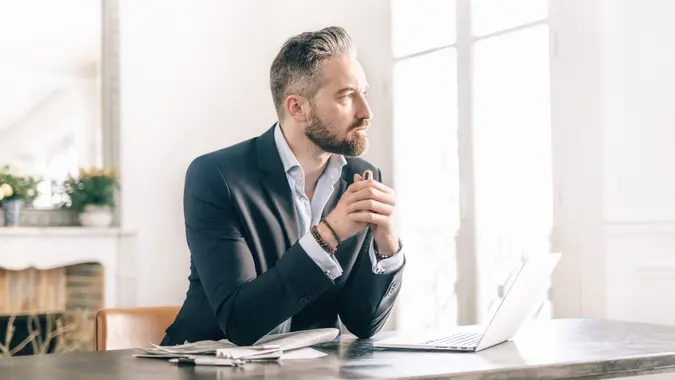 Nikada / Getty Images
Even the wealthy are not immune to feeling financially insecure. A recent Northwestern Mutual study found that one-third (33%) of wealthy Americans think it's possible they could outlive their savings. While that's a smaller percentage than the portion of the general population that feels that way (45%), that's still a significant number.
Here's why even millionaires fear outliving their savings in retirement.
Millionaires Are More Comfortable With Saving Than Spending
High-net-worth individuals often put a high value on saving, so spending that savings down can be daunting.
"I have found that the wealthier among us tend to be consistent savers and not spenders. That's why they have been successful in building wealth over the years," said Erik Stephens, CEO at NOVA Capital, Northwestern Mutual Cincinnati. "But when the time comes to part with some of those dollars and make the most out of life, that can frankly make them uncomfortable. They've been so disciplined, which is admirable, and that is a hard habit to change."
Millionaires May Be More Focused on the Now Than the Future
Some millionaires may not have thought ahead to what their retirement expenses may actually look like.
"Many affluent people simply have not thought about what they can spend day to day and not get themselves into trouble years down the road," Stephens said. "This can create a feeling of uncertainty and anxiety, which is understandable."
Millionaires Want To Leave a Legacy
Another reason why millionaires may be concerned about their savings for the future is that they want to not only be able to sustain themselves, but also leave money behind.
Make Your Money Work Better for You
"Wealthy people tend to have strong points of view about their legacy — what money will be given within their family or as a charitable contribution to benefit the community," Stephens said. "Thinking about these things can cause concern as well, and a tightening of belts."
How To Know If You Have Saved Enough for Retirement
Whether you're a millionaire or not, ideally, you can create peace of mind by knowing that you will not outlive your savings through careful financial planning.
"When I develop a plan with my clients, I encourage them to dream big about what they may want to do in their golden years and consider what kind of resources will be needed to make that reality," Stephens said. "I always note that people today are living longer than ever — into their 90s or even the 100s. That means their dollars must stretch longer, too."
A big part of financial planning for the future is mitigating risks.
"[These include] outliving savings or spending too much to leave a legacy; the effects of market volatility, inflation and taxes; and incurring significant healthcare costs, including those created by the need for long-term care," Stephens said.
When you plan ahead and account for the various risks you may encounter, you can feel more secure about your financial future.
"It's not that bad things can't happen, but people with a plan have taken steps to protect what they have built while setting the stage for future prosperity," Stephens said. "Life insurance and disability insurance are two tools that can help create a secure financial future. That means people can make the most out of their later years, and just as important, leave a legacy."
Make Your Money Work Better for You
More From GOBankingRates