10 Most Valuable 'Error Coins' Ever Minted — Check For These Misprints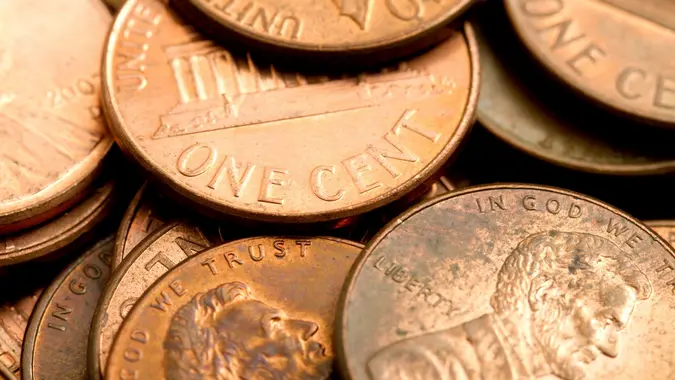 CT757fan / iStock.com
In the vast world of coin collecting, error coins occupy a special place. These are coins that bear minting mistakes, making them rare and, therefore, valuable.
$10,000 Quarter: This 1999 Georgia Coin Is Worth Big Money Because of an ErrorMore: How To Get Cash Back on Your Everyday Purchases
Here we highlight ten of the most valuable error coins that have ever been minted. Remember to keep your eyes peeled, as these hidden treasures could be lurking anywhere.
1. The Crippled Bison: 1937 Three Legs Buffalo Nickel
The Three Legs Buffalo Nickel from 1937 is a fascinating example of a flawed minting process, which resulted in a buffalo with three visible legs. This error coin fetched $7,400 on eBay in February 2023, while its record private auction price stands at an astounding $99,875.
2. The Date Mix-up: 1942/1 Overdate Mercury Dime
Sometimes, mistakes can create history, as happened with the 1942 Mercury dime. A 1941 die was erroneously used, resulting in a noticeable overdate error, thus creating the famous "1942/1 Overdate" variety. This dime was listed on eBay in January 2023 for $3,990, while a highly graded one fetched $120,000 in 2018.
3. The Double Vision: DDO Lincoln Cent
The DDO Lincoln Cent, minted in 1955, owes its rarity to a misalignment during minting, creating a "double image" effect on the coin's obverse. A pristine DDO Lincoln Cent can command a value exceeding $125,000.
4. Twice Struck Design: DDR Buffalo Nickel
The DDR Buffalo Nickel from 1935 is another intriguing error coin, the result of a duplicated design on the master hub. This resulted in double imagery on the coins struck by this die. It recorded an auction price of $104,650 in 2007 and was sold for $2,504 on eBay in March 2023.
Make Your Money Work Better for You
5. The Lightweight Silver: Silver Washington Quarter
Some Silver Washington Quarters minted in 1964 were struck on too-thin planchets, leading to lighter-than-normal coins. In 2012, one such coin fetched $12,650, and more recently, in January 2023, one was sold on eBay for $2,505.
6. Missing Identity: "No D" Lincoln Cent
The "No D" Lincoln Cent from 1922 became an error coin when a die from the Denver Mint failed to imprint the "D" mint mark. A "No D" cent was sold for $1,977 on eBay in February 2023, with the highest auction price recorded at $92,000 in 2008.
7. A Sprouting Error: Extra Leaf Wisconsin State Quarter
The Extra Leaf Wisconsin State Quarters, minted in 2004, became famous for two unique varieties: the "Low Leaf" and the "High Leaf". Both varieties display an extra leaf on the corn's left side, not seen on regular Wisconsin quarters. A "Low Leaf" variety sold for $1,650 on eBay in March 2023.
8. Divine Duplication: Double Die Obverse Quarter
The 1943 Double Die Obverse Quarter bears a double "In God, We Trust" motto due to a die error. This misprint fetched $1,550 on eBay in January 2023, while a mint-condition variant can command up to $20,000 in private auctions.
9. The Misprinted Mark: Unfinished Proof Dies Gold Eagle
In 1999, an error resulted in the U.S. Mint producing the first Mint State $5 and $10 Gold Eagles with a "W" mint mark. The Unfinished Proof Dies Gold Eagle resulted from proof dies being mistakenly used on standard bullion blanks. In March 2023, this coin was listed for $1,499.99 on eBay.
10. The Maimed Bird: Wounded Eagle Sacagawea
The "Wounded Eagle" Sacagawea Dollar, minted in 2000, features a die fault that cuts across the eagle's belly. This coin, nicknamed for its appearance, sold for $699.95 on eBay in February 2023, though mint state versions can be worth around $5,000 according to PCGS.
Make Your Money Work Better for You
See: These 5 Rare Quarters from the Year 2000 Could Now Be Worth a Pretty Penny
Error coins are unique, fascinating and, at times, extremely valuable. By understanding these anomalies, collectors can elevate their numismatic pursuits and potentially uncover some of the most prized coins in the hobby. Happy hunting!
Editor's note: This article was produced via automated technology and then fine-tuned and verified for accuracy by a member of GOBankingRates' editorial team.
More From GOBankingRates