What To Know About These Big Bills: $1,000, $5,000, $10,000 and $100,000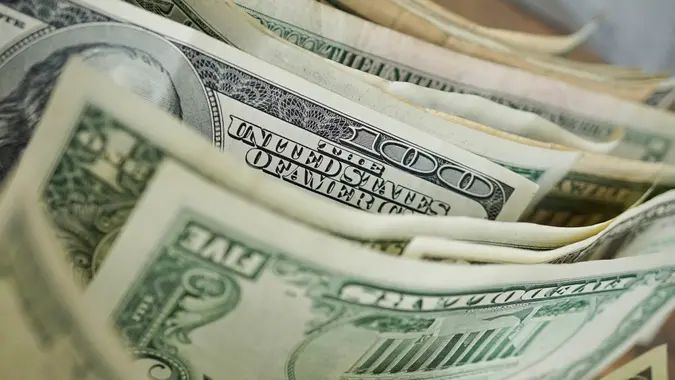 MartinPrague / Getty Images/iStockphoto
Cash currency has perhaps never been less visible than it is right now. Many retailers moved to credit-only transactions throughout the COVID-19 pandemic, while an increasing number of consumers prefer to use credit cards for the associated convenience and rewards. Do you ever wonder, though, what became of those big cash bills that existed once upon a time? What would one of them be worth today? Here's a look at how it all adds up.
How Much Is a $1,000 Bill Worth Today? 
In general, a collector could expect a $1,000 bill to be worth approximately double its value today, if not more. One speculator has offered that a $1,000 bill printed in the 1920s with a gold seal could be worth anywhere from $20,000 – $100,000 in U.S. dollars today. 
How Rare Is a $1,000 Bill? 
It is extremely rare to find a $1,000 bill. Large bills, including the $1,000 bill, were last printed in 1945 and were officially canceled by the U.S. Treasury Department and the Federal Reserve in 1969. Although it's not known how many are still out there, most of them are believed to be in the hands of paper currency collectors. 
Can You Get a $500 Bill From the Bank? 
Walking down to the bank, asking to withdraw a $500 bill, and actually receiving one is very unlikely, if not completely out of the question, by now. The $500 bill hasn't been printed since 1945 and was pulled out of circulation about 50 years ago. 
The Biggest Bills: $5,000, $10,000 and $100,000
You're not likely to find the $100,000 bill out there, as it was used only for transactions between Federal Reserve Banks and was never put into general circulation. It's also illegal for a currency investor to hold this bill, which features the image of 28th U.S. President Woodrow Wilson.
Make Your Money Work Better for You
The $5,000 and $10,000 bills, however, are out there in limited supply. The variances in these bills hinge on the printing date and seal, as well as the overall presence in circulation.
Which Bills Are Still Being Printed and Circulated?
The $1, $2, $5, $10, $20, $50 and $100 bills are all printed today and remain in circulation — with lighter emphasis on the $2 bill, which is printed every few years. The $2 bill is believed to be a very small part of the overall bills in circulation, totaling only about .001% of the cash currency that's currently available to consumers. 
Final Take
For history lovers with a penchant for building wealth in the form of physical assets, collecting currency can be a very profitable pastime — if you can afford to indulge in it. To collect cash bills effectively, you'll need to be well-versed in the details of paper currency, from a bill's condition to its print year, color, seal and serial number. Buyers and sellers of cash currency can meet at traditional venues like auction houses or can gather in online auction spaces. The American Numismatic Association (ANA) also offers a list of resources that may prove valuable. 
Information is accurate as of March 27, 2023.

Our in-house research team and on-site financial experts work together to create content that's accurate, impartial, and up to date. We fact-check every single statistic, quote and fact using trusted primary resources to make sure the information we provide is correct. You can learn more about GOBankingRates' processes and standards in our editorial policy.