7 Surprising Habits the Ultra-Rich Have in Common, According to Financial Advisors Who Work With Them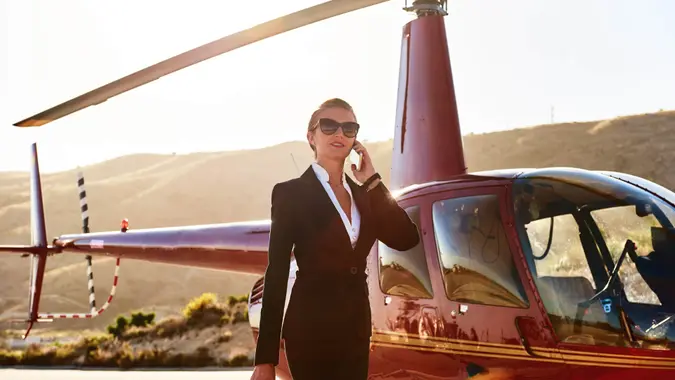 amoklv / Getty Images/iStockphoto
Many of us dream about having millions (or billions) of dollars in the bank — but when you have that amount of money, you have to be very diligent about what you do with it. That's why many members of the ultra-rich outsource their money management to financial advisors, who oversee how these elites spend, save and invest. And although their sources of wealth and attitudes about money may vary, there are a few financial habits they tend to have in common.
Show Support: Don't Miss Out on Nominating Your Favorite Small Business To Be Featured on GOBankingRates — Ends May 31
I spoke to a few financial planners who have years of experience working with high net worth individuals to find out the most common money habits of the ultra-rich — and why you should consider adopting them no matter what your net worth may be.
They Have Different Financial Priorities
"While the typical investor is primarily focused on saving for retirement, most high net worth investors seem to have two priorities: preserving and transferring their wealth," said Jennifer L. Garcia, CFP, private wealth financial advisor and managing director of investments at Wells Fargo Advisors in Encino, California. "As a result, they are willing to earn a lower overall rate of return as they don't feel the need to take unnecessary risk for a potentially higher return. They [also] tend to seek investments that are tax-efficient to maximize their after-tax return."
Make Your Money Work Better for You
Read More: Your Third Stimulus Check Could Be Eligible for a Bonus Payment
They're More Disciplined Investors
While day trading and retail investing have become increasingly popular, this isn't how the ultra-rich invest, Garcia said.
"High net worth investors tend to be less concerned with day-to-day market volatility," she said. "They're often disciplined investors because they have a long-term outlook regarding their investment portfolio. In short, high-net-worth clients tend to play the long game when it comes to investing."
Investments To Consider: 10 Best Cryptocurrencies To Invest in for 2021
This long-term view is useful for investors from any income class.
"Successful investors know that building wealth is a long-term endeavor, so time in the market is key," said Stephanie King, vice president of planning and advised consulting at Charles Schwab.
They Focus On Estate Planning
Estate planning isn't something people typically think about until much later on in life, but the ultra-rich see estate planning as an essential part of their overall financial plan.
Make Your Money Work Better for You
"In addition to preserving their wealth, high net worth investors are focused on maximizing their estate to benefit future generations," Garcia said. "Specifically, their investment plans will also incorporate estate planning strategies, engaging the next generation and in some cases, establishing a family office or foundation."
The Economy and Your Money: All You Need To Know
"To engage the next generation, we explore their family dynamics and encourage enhanced communication among family members," she continued. "We find that this level of communication between family members helps the patriarchs to share their values — and transfer [not only] wealth to the next generation, but also the legacy that they've worked so hard to create."
They Balance Their Spending and Saving
"Our high net worth clients are all very goal-oriented, especially as it relates to annual cash flow and investment targets," said Kristy A. Motta, CFP, president of Consolidated Financial Management Corp., an LPL Financial-affiliated firm. "If a company's stock is trading higher than the price we had shown in projections, high net worth clients tend to be eager to immediately exercise stock options or sell shares."
Find Out: Here's How Much You Need To Earn To Be 'Rich' in Every State
Make Your Money Work Better for You
Although it may be tempting to spend all of these unanticipated windfalls, Motta said that many of her clients take a balanced approach.
"Ultimately, we have made a deal with most of these clients that when this occurs, they invest half of the 'extra' and spend the other half on what we call 'money memories,'" she said. "Money memories are purchased experiences, like vacations or concerts, that they can enjoy and reminisce about later with their family and loved ones. By doing this, they stay ahead of their targeted investment amount each year, exceed their 'goals,' but also get to have some fun with a little extra money."
They Keep Their Investments Simple
Michelle Connell, CFA and owner of Portia Capital Management, LLC, said that the ultra-rich are drawn to simple investments rather than trendy ones.
"Recently, a friend of mine who runs an institutional multifamily real estate firm was on a fund-raising call competing against venture capitalists and SPACs. The participants, all wealthy alum from a private university, were very interested in the real estate investment and not the other investments," she said. "They were drawn to the simplicity of the investment and its recurring cash flow. My friend was shocked; he thought the potential investors would prefer the 'sexy' investments!"
The Richest of the Rich: Just How Rich Are Elon Musk, Donald Trump and These Other Big Names?
They View Periods of Panic and Fear as Points of Great Investment Opportunity
"During the pandemic last year, there were several areas of distressed assets. These included loans that had fallen behind, companies that could not pay their expenses and real estate properties — especially hospitality and office properties — that were not being utilized. The wealthy were pooling their money and creating private funds to invest in these opportunities together," Connell said. "They are now looking at harvesting great returns for these opportunistic investments."
Other Similarities: Weird Things Top Billionaires Have in Common
They Double-Down on Investments They've Succeeded With in the Past
The ultra-rich tend to stick to investments that they know work for them, rather than trying to chase new types of investments they are less sure about.
"If a rich individual has found success in a particular asset class or investment sector, they typically go back to it time and time again," Connell said. "For example, my friend who heads that private real estate firm has seen families come back and invest in every single fund that he has rolled out. The same can be said for venture capital and private equity funds. You typically have a return rate for previous investors of between 50 to 80%. These investors have made a lot of money in the past with these investments. Why should they change the experience and risk investing in something else?"
More From GOBankingRates 
Gabrielle Olya contributed to the reporting for this article.
Last updated: May 19, 2021
Make Your Money Work Better for You