Live Out Your America's Cup Dreams With These Scaled-Down Yachts Now for Sale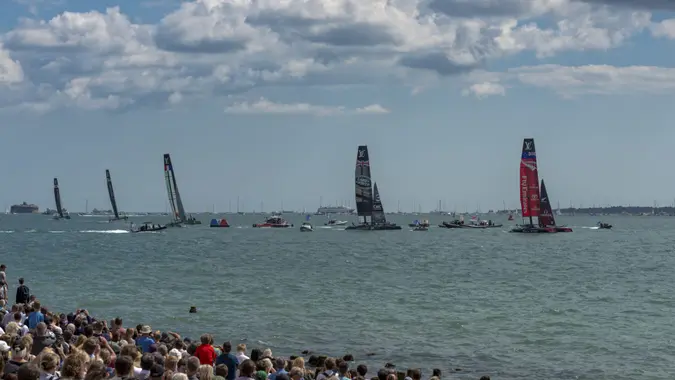 Kommercialize / Getty Images
Winning the America's Cup is the greatest achievement in the sport of sailing. The trophy is awarded to the yachtsmen and women who win the maritime race that is the oldest and longest-running competition of any sport in the world. Held every four years since 1851 — 45 years before the first modern Olympic Games — the 37th America's Cup will take place in Barcelona, Spain, in 2024.
The recently released Netflix documentary "Untold: The Race of the Century" stirred renewed interest in the competition and its incredible history. It's a David vs. Goliath tale that chronicles the 1983 America's Cup race between the undefeated United States juggernaut, sailing out of the vaunted old-money New York Yacht Club, and a rag-tag group of unknown upstarts from Australia.
The Future of Finances: Gen Z & How They Relate to Money
Explore: Your Biggest Money Etiquette Questions Answered
The program inspired countless sailors-at-heart to believe that with a little bit of luck, a whole lot of moxie and one great boat, they could do it, too — and they can. Sort of. 
The following is a look at America's Cup-class racing yachts that can fit into real-world budgets. Two are scaled back, but otherwise nearly identical versions of the stately 75-footers that sail for the most coveted trophy in sports. One, however, is the full-sized real thing.
Make Your Money Work Better for You
They're listed for sale right now — and two out of three cost less than even the cheapest new car. So put on your yacht hat, let out the jib and get ready to set sail on these former America's Cup-inspired boats for sale.
2000 27-Foot Goetz Reduced-Scale IACC Replica
You can take the captain's helm of a 27-footer that was built to IACC (International America's Cup Class) standards, but at one-third the size. It was designed in 2000 to solve a very specific problem. In preparation for the America's Cup in New Zealand, the BMW Oracle team was hemorrhaging money because it couldn't get sufficient time in the wind tunnel to test its sail shapes.
The team decided to build a one-third scale model for on-the-water testing. It features a carbon fiber laminated hull and deck, a lead keel bulb with a steel shaft and a carbon fiber rudder and tiller. 
Identical to its larger counterpart, the yacht is fitted with all the same sophisticated sail and mast controls that the pros use — you can even vary the mast placement fore and aft — and it's rigged to be sailed by a crew of two. A custom trailer and sails are all part of the package.
Make Your Money Work Better for You
It had been listed for just shy of $20,000, but like the dimensions of the yacht it replicated, the price has been reduced to a miniature of its former self. It can now be yours for $13,995 through Strictly Sail and Kayak in Cincinnati. For context, that's less than the base price of a 2022 Chevy Spark, the lowest-priced new car in America.
Take Our Poll: Are You Struggling To Keep Up With Your Utility Bills?
1994 One Design America's Cup Racer/Cruiser
If you have a little more to spend, you can get on the water in a 39-foot America's Cup model racer/cruiser made by One Design. The fiberglass yacht — designed by Briand and built by Jeanneau — is one of three identical vessels for sale, just in case you want to put your own version of a Nina, Pinta and Santa Maria fleet on the water. 
The mainsail and jib are from 2007 and are in perfect condition, the Marlow rope rigging comes with a spare and its painting is new as of 2013 through Alexseal Paint in Germany. Additional storage supports are also included. The vessel's maximum draft is 5.91 feet and its beam measures 9.02 feet. 
The asking price is 40,000 euros, or about $39,698, and is listed for sale through Yachtworld. That's just for one yacht — multiply the price by three if you want to take home the trio.
Make Your Money Work Better for You
2001 America's Cupper Germany 72
One of the most affordable yachts on the market is also one of the most pristine. The America's Cupper Germany 72 is "one of the best-conserved racing yachts in this class on the used market," according to the broker listing it for sale on The Yacht Market. Currently waiting for its forever home on dry docks in Sassnitz Harbor, it was the first German vessel ever to compete for the America's Cup trophy, which the country didn't do until the 21st century. 
Built in 2001, it's no scaled-back miniature. This is a true America's Cup yacht that measures  84.15 feet in length and is nearly 15 feet wide. Built by Volkswagen AG, the vessel will let you own the seas, whether you're cruising, pleasure boating, day sailing or racing. 
The listed price is just 10,000 euros, which converts to roughly the same amount in U.S. dollars. It comes with a full inventory of rigging, electrical equipment, sails and tools.
More From GOBankingRates
Make Your Money Work Better for You