Check Your $2 Bills — They Could Be Worth a Ton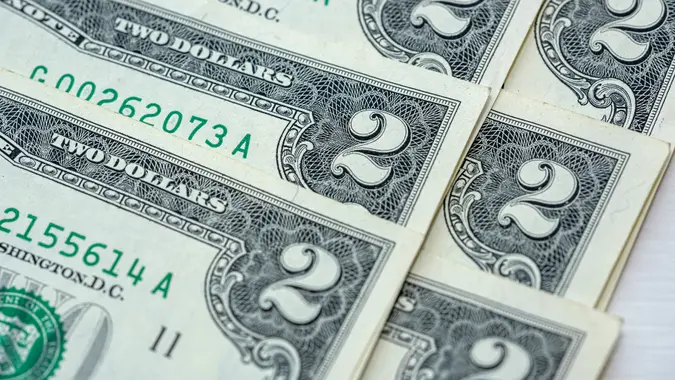 alfexe / Getty Images/iStockphoto
If you have a $2 bill burning a hole in your pocket, you might want to think twice before spending it at a store. The bill itself might be worth a lot more than two dollars — as in thousands of dollars more.
Certain $2 bills can fetch $4,500 and up on the collectibles market, according to the U.S. Currency Auctions (USCA) website. Just about all of the really valuable ones were printed in the 19th century. But even bills printed within the last 30 years might be worth hundreds of dollars — if you have the right one.
The $2 bill was first printed in 1862 and is still in circulation today. It originally featured a portrait of Alexander Hamilton, but that changed with an 1869 redesign that put Thomas Jefferson on the bill. The most recent edition of the $2 bill was designed in 1963, according to WFLA, which cited information from the U.S. Treasury Department.
If the $2 bill was minted and printed before 1976, it will likely be worth more than its face value on the collectibles market. In some cases, it might be worth only $2.25. The highest value is $4,500 or more for uncirculated notes from 1890, although most of those bills range in value from $550 to $2,500. The values are the same whether the bill has a red or brown seal.
An original uncirculated $2 bill from 1862 ranges in value from $500 to more than $2,800. You might get $3,800 or more for an 1869 note.
More recently, the USCA lists a value of $500 on certain uncirculated $2 bills from 1995. If you have a $2 bill from the 2003 premium Federal Reserve set of 12, you could get $700 or more.
Make Your Money Work Better for You
Most $2 bills in circulation are worth exactly that: $2. And even though you don't see a lot of $2 bills in everyday life, they are still being printed. The Treasury Department's Bureau of Engraving and Printing (BEP) planned to print up to 204 million $2 bills in 2022, CNN reported. There were 1.4 billion $2 bills in circulation in 2020, according to the latest data from the Federal Reserve.
Just keep this in mind: No matter how much your $2 bill is worth on the collectibles market, if you spend it at a store, you won't be able to get more than $2 worth of merchandise, so shop wisely.
More From GOBankingRates