12 Extinct US Coins That Are Worth Thousands Now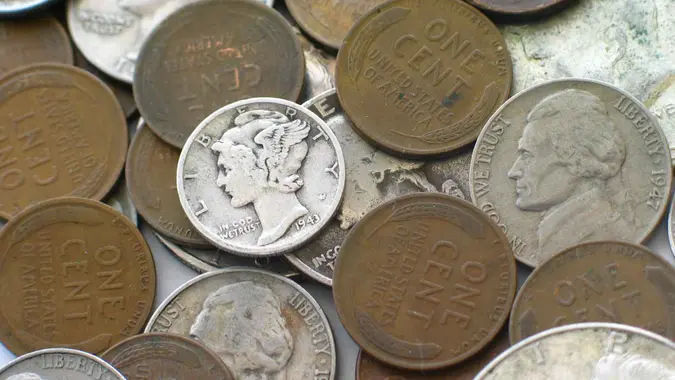 JPrescott / Getty Images/iStockphoto
Unlike living creatures or fads, coins don't become extinct due to ecological changes, predators, overexposure or boredom. Instead, the U.S. Mint simply stops making them, which puts them into the "extinct" category. This has happened a lot in the United States over the past 250 or so years, with coins coming and going — sometimes in only a couple of years. For collectors, extinction can help push coin values up into the thousands and even millions of dollars.
A 2018 blog on the Numismatic Guaranty Company website speculated that all coins might eventually become extinct currencies as digital wallets and payments continue to take up a bigger role in the economy. The first U.S. coins that could be headed for extinction are one-cent and five-cent pieces. This is partly because it costs more to produce them than they're worth. Even so, it will likely be many years before that happens, if it happens at all.
For now, you can still dig into your pocket or purse and pay for items with coins. The penny, nickel, dime and quarter are the circulating coins in use today. Half dollar and $1 coins are produced as collectibles, though they still may be ordered by the Federal Reserve for circulation and used as legal tender, according to the U.S. Mint.
Even certain modern currency from the past few decades has become extinct — including bicentennial quarters, some of which now fetch nearly $20,000 on the collectibles market.
If you're lucky enough to stumble upon long-extinct U.S. coins from the 18th and 19th centuries, you could find yourself an instant millionaire. Here's a list of now-extinct U.S. coin denominations as cited by the NCG:
Half-cent: 1793-1857
Two-cent: 1864-1873
Three-cent nickels: 1865-1889
Three-cent silvers: 1851-1873
20 cent: 1875-1878
$1 gold: 1849-1889
Two and one-half dollar gold: 1796-1929
$3 gold: 1854-1889
$4 gold (patterns): 1879-1880
$5 dollar gold: 1795-1929
$10 gold: 1795-1933
$20 gold: 1849-1933
Make Your Money Work Better for You
Depending on the condition, you might get anywhere from less than $100 to more than $2 million for some of the coins on the above list. Coins that are in pristine shape are so rare that it's almost impossible to find them on the collectibles market because the owners don't want to sell. Others that are scratched and defaced are much more available on the market — and you won't need to sell your house to afford them.,
Here's a look at 12 extinct coins that can bring thousands of dollars. The list includes the highest prices cited on the NGC and other coin sites. Keep in mind that the highest-price coins are extremely rare and most of the coins still out there are worth much less than the highest price.
1793 Liberty Cap half cent: up to $35,000
Shield two cents (1864-1873): $58,500
1865 three-cent nickel: $10,000
Silver three cents (1851-1873): $60,000
20 cents (1875-1878): $70,000
Gold dollars (1849-1889): $170,000
Indian Head $2.50 (1908-1929): $100,000
$3 gold (1854-1889):

$192,500

$4 Stella (1879-1880): $2.75 million
Indian Head $5 (1908-1929): $235,000
Indian Head $10 (1907-1933):

$2 million

Liberty Head $20 (1850-1907): $385,000
More From GOBankingRates