Fraud Reports Dropped Last Year, but Losses Nearly Doubled — How Americans Can Prevent Being Scammed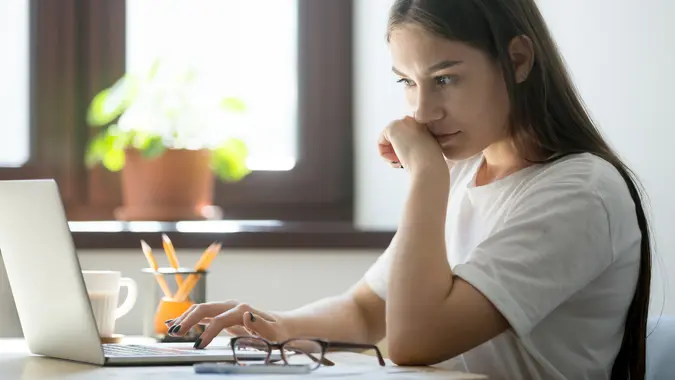 fizkes / iStock.com
It bears repeating: Scammers are relentless and adaptable. These criminals are great at impersonation and ingenious when it comes to staying current with new ways to swindle vulnerable people out of their money. So, no matter your age, learning about the latest types of fraud and what you can do to avoid becoming a victim is important for everyone.
Remote Job Scams are on the Rise: How to Make Sure the Job You're Offered is Legit
Explore: The Most Common Real Estate Scams and How To Avoid Them
According to Federal Trade Commission (FTC) data, scammers are taking victims for more money than ever. Although reports of fraud are down by a half a million from 2021 to 2022, the amount people lost to scammers nearly doubled. The FTC's Consumer Sentinel Network collects consumer protection data each year to track identity theft, top fraud trends and reporting tendencies by Americans.
Make Your Money Work Better for You
For 2022, the Consumer Sentinel report found that, while the amount of fraud reports dropped to 2.4 million from 2.9 million in 2021, the amount lost increased from $6.1 billion to $8.8 billion, a 44% increase from year to year. Of the 2.4 million fraud reports tallied, 26% of those involved a loss of money. Overall, the median loss was $650. The most money was taken when scams started on social media ($1.2 billion), but old-school scammers calling on the telephone managed to cheat people out of a bigger median loss ($1,400).
Imposter scams (involving someone pretending to be a trusted person to get consumers to send money or give personal information) were the most-reported scam (reporting losses of $2.6 billion). However, investment-related fraud accounted for a whopping $3.8 billion in reported losses in 2022.
Additionally, reports show that younger adults are the target more often than older adults. Adults aged 20 to 29 (43%) reported losing money to fraud more often than those aged 70 to 79 (23%). But when the older group lost, they lost more. Those over 70 had a median loss of $1,674 while those under 30 had a median loss of $548.
Make Your Money Work Better for You
How You Can Prevent Being Taken by a Scammer
Whenever anyone contacts you out of the blue, handle it with a healthy dose of skepticism. Always follow common sense prevention techniques like refusing to give any personal or financial information upon an unexpected request, enabling multifactor authentication to any account and being careful with your phone and blocking all unwanted calls and messages.
Erin Witte, director of consumer protection for the Consumer Federation of America, also gave the following four pieces of prevention advice when confronted with a suspected scam, per CNBC:
1. Resist the Pressure To Act Immediately
Because scammers come across as convincing and sound "official," you have to be cautious and remain logical and calm. These criminals will play with your emotions and try to get you to a heightened vulnerable state (something a person who is truly "official" would never do). Be wary of anyone using crises and pressure tactics.
Make Your Money Work Better for You
2. Inform Yourself and Ask Questions
"Ask as many questions as you can to the person calling or emailing you," said Witte. "Also ask a friend or someone you trust what they think about what you're being told — they can often give you some perspective about whether the information you're being provided is legitimate." There's no harm knowing who you are dealing with and researching companies before any purchase or donation.
3. Don't Pay Anyone With Gift Card or Check
Gift cards are for gifts, not for payments. Gift cards are popular with scammers because they're easy for people to find and buy, and they have fewer protections for buyers compared to some other payment options. Like cash, once a card is used, the money on it is gone. Anyone asking you to pay with a gift card is a scammer. The same goes for being asked to send a money transfer or a refund "overpay" with a check.
Learn: Check Washing Is an $815M Per Year Scam — How To Prevent It
More: SNAP Theft Costs Taxpayers Millions — How the Scams Work
4. Always Report Scams and Attempted Fraud
Being a scam survivor can leave lasting financial and emotional consequences. But reporting it is a strong move that will help both enforcement agencies and the general public from falling victim to identity thieves and scammers. "Tell your local consumer affairs agency, your state attorney general, and the Federal Trade Commission about your experience," stated Witte. "You may help other people avoid being scammed."
More From GOBankingRates
Make Your Money Work Better for You