Grant Cardone Says $1 Million Won't Make You Financially Secure: 'It's a Myth'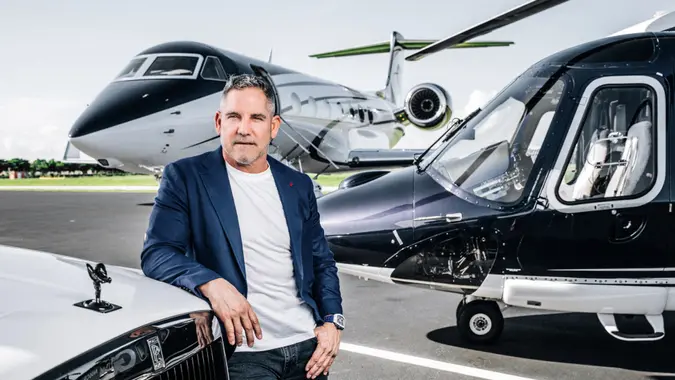 ©Grant Cardone
Many Americans aspire to reach millionaire status, but money expert Grant Cardone says you need to think even bigger. In his upcoming book, "The Wealth Creation Formula," Cardone writes that "a million dollars isn't enough" and that "$10 million is the new $1 million."
Here's why he says $1 million is no longer enough to be financially secure.
Also see how fast you can make $1 million, per Cardone.
You Can Be a Millionaire and Not Afford Anything
As people live longer, their time in retirement also increases, so if you retire at 60 or 65, it's now plausible that you would have to fund 35 years of retirement — which is difficult to do with just $1 million.
"You've got a million dollars, you divide that by 35 years, we're talking about $30,000 a year or $2,500 a month," Cardone told GOBankingRates.
"The average rent in America is $2,000. You have $500 a month left over. You haven't eaten, you haven't gone out, you haven't bought one pair of shoes, you don't have healthcare, you don't have insurance and you definitely don't have a car payment. You have one car payment, you're negative $200 a month. So you're the millionaire that can't afford anything."
This doesn't even account for inflation, Cardone notes. That's why he believes that the idea that being a millionaire will provide you with financial security simply is not true.
Make Your Money Work Better for You
"It's a myth," he said.
$10 Million Is the New Target
If you want to achieve financial freedom and security, Cardone believes you need to set your goal at $10 million.
"Ten is a very powerful number," he said. "Then you've actually got a little breathing room. I can make some mistakes, I can actually make some moves."
Cardone said having $10 million as your target will account for inflated costs.
"If a million dollars was a lot of money in 1960 — and it was — you've got to assume it would take 10 times that [now]," he said. "The price of a home in 1958 was $46,000. That same home is $460,000 today — that's 10 times. So if a million dollars was what you needed to be rich back then, just connect that."
More From GOBankingRates