How I Became Rich as a Franchisee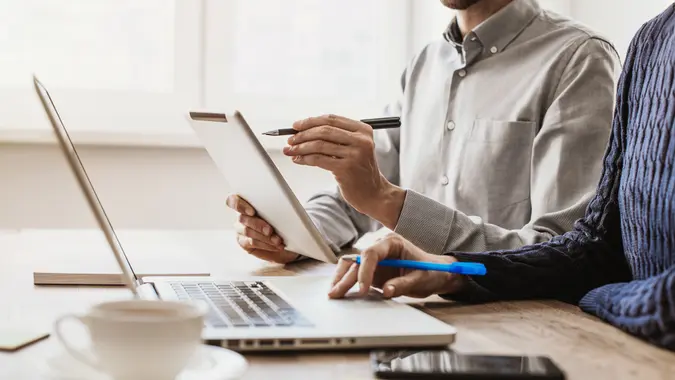 Poike / Getty Images/iStockphoto
Owning a franchise is a business idea that sounds exciting. Who doesn't want to own their own Chick-fil-A, right?
While becoming a business owner and creating a profitable franchise might sound like fun, there is a lot of work involved. From hiring labor and insurance to customer service and bringing in enough income, owning a franchise is a heavy responsibility.
Jeff Dudan, CEO and Founder of Homefront Brands, has founded and grown a franchise brand that has built significant wealth. He even expanded it to over 200 franchises across the country, and eventually sold it off in 2019. Here's how he became rich owning a franchise.
How Owning a Franchise Made Jeff Dudan Wealthy
Jeff began his franchising journey in 1994 with the founding of AdvantaClean, specializing in light environmental services such as water damage restoration and air duct cleaning. Under his leadership AdvantaClean grew to over 200 franchise locations across the country, ranked on Franchise Times' Fast and Serious list, and was even featured on a 2017 Episode of Undercover Boss.
After growing his business to such a large scale, AdvantaClean was acquired by Home Franchise Concepts in 2019. This has created life-changing wealth for Jeff and his family. He now continues to teach others how to invest in franchise businesses to grow their own wealth.
Make Your Money Work Better for You
Here are Dudan's tips on how to grow a successful franchise business:
Find a Franchise With Good Leadership
If you're buying an existing franchise, it's important to have the right personnel in place to make a profit. "In selecting a franchise to invest in, first look at the people who are running the franchise business," says Dudan.
If there is inconsistency in how the business is run or high employee turnover, the issues could be a direct result of the current management. When reviewing the franchise, talk to employees directly to get a feel for how much they enjoy working under current leadership.
Review the Financials of the Franchise 
As another step to evaluate a franchise business, it's important to look over all of the business financials. This means reading any disclosures or documentation provided, and understanding how the business works from a financial standpoint.
"Look at the Franchise Disclosure Document, including any financial performance representation of existing operators within the system, and talk to a representative number of franchisees about their experience as part of the brand," says Dudan. It's important to know exactly what you are buying, and how the existing is doing financially. Interviewing other franchisees can give you insight into what is normal for an owner, and how they like working with the brand from a financial standpoint.
Follow the Process
While it may be tempting to come into a franchise and make changes to put your "stamp" on the brand, this actually might hurt your business. "To maximize your return on investment in a franchise the most important thing is to follow the plan put forth by the franchisor to the letter," claims Dudan, who was a franchisor himself. "The franchisor has developed proven processes that have been tested over time, all of which are important to your success in operating the franchise business."
Make Your Money Work Better for You
While you can look to improve operations if you find gaps in how a current franchise operates, if you are buying a quality franchise brand, following the franchisor's process is the best way to be successful.
Start Small, Then Expand
Buying a franchise is a big first step, but don't set your sights on multiple locations until you have a handle on operating a single franchise location first. "The first step is always to invest in a single unit, and open and operate the business to ensure that it will be a good fit for you," says Dudan. "When you are successful operating your first location you should then discuss with your franchisor how to expand your business within the franchise network."
If you open multiple locations at once, the complexity of operating a new business multiplies dramatically, and can cause you to get burnt out quickly, or worse, lose money. Start with a single location, make a profit, then work on expanding.
Be a Model Franchisee
Owning a franchise is different than starting your own brand or business. Instead of trying to be an independently successful business, the franchise model thrives on participation. "It is important to be a good citizen within the franchise network," says Dudan. "Attend all events including regional training, monthly all-calls, and the annual convention. Be willing to collaborate with other franchisees because a rising tide lifts all boats and the better everyone performs, will increase the equity and goodwill in your franchise location."
Make Your Money Work Better for You
Collaboration over competition is the name of the game as a franchise owner. When franchisee's work together, everyone wins.
Bottom line
Jeff Dudan built an entire franchise brand from scratch and operated it for over 20 years. He has direct experience in what it takes to grow a successful franchise. Following Dudan's tips here can help you find a quality franchise to invest in, operate profitably, and ultimately, build life-changing wealth. It takes hard work, persistence, and the ability to provide amazing service to grow a franchise, but it can definitely be worth it in the long run.
More From GOBankingRates