How Much It Costs To Stay at These 10 Celeb-Loved Hotels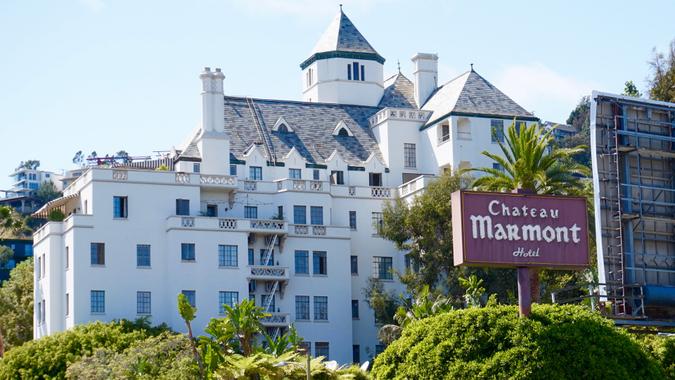 Alex Millauer / Shutterstock.com
When the average person thinks of getting away and finding hotel accommodations, they're probably looking for the most affordable options with the best amenities. Celebrities, on the other hand, have the financial freedom to stay nearly anywhere they want, which means they tend to gravitate to the most luxurious hotels around.
Retirement at Any Age: Get Retirement Tips That Fit Every Stage of Life
The Future of Finances: Gen Z & How They Relate to Money
These resort-like establishments typically come with amenities the rest of us can only dream of, like a personal butler, a private beach or your own wet bar. Here we look at how much it costs to stay at 10 hotels favored by the rich and the famous.
Windsor Court Hotel, New Orleans
For guests who want to enjoy New Orleans' "old world charm" in a modern setting, the Windsor Court Hotel aims to please celebrities and civilians alike. Its James J. Coleman, JR presidential suite comes with a baby grand piano, a butler's pantry, and exquisite views of the Mississippi River, among other amenities.
Celebrities such as Beyoncé and Jay-Z and Justin Timberlake and Jessica Biel have been spotted enjoying the live jazz and cocktails at the Polo Club Lounge, as well as the heated rooftop pool, according to HotelsCombined. A two-night stay can run anywhere from around $700 (for lodgings alone) to more than $1,000 and up, depending on room and dates, according to Travel Weekly.
Make Your Money Work Better for You
Chateau Marmont, Hollywood
This famed Hollywood hotel has been attracting celebrities almost since its opening in 1927. Built by lawyer and developer Fred Horowitz, who envisioned a "California Castle" according to Vanity Fair, it charms with a French Gothic style with turrets, arched windows, high ceilings and a courtyard.
Not only did celebrities like Greta Garbo and James Dean stay here back in the day, but actors Robert De Niro and Paul Newman also lived there for a time. Lindsay Lohan and Britney Spears were notoriously banned from the hotel at different times, too.
To stay in one of its top-of-the=line penthouses or bungalows for two nights will run anywhere from $1,076 to nearly $2,000, depending on type of room and time of year, according to Travel Weekly.
Four Seasons O'Ahu at Ko'olina, Hawaii
Hawaii is a common destination for celebrities, who enjoy its tropical beauty and climate. The Four Seasons O'ahu at Ko Olina is a resort on Oahu's western coast, with "vast ocean views and lively pools and lagoons," according to its website. Because it is a resort, guests can stay on site and have all their needs met — swimming, boating, golf, food, etc.
Make Your Money Work Better for You
This resort has attracted the likes of Amy Schumer, Jessica Alba, Kate Hudson and Sydney Sweeney, according to Cosmopolitan. A two-night experience will cost a minimum of $1,700 and upwards of $2,000 depending on dates and rooms, according to Google hotels search.
Las Ventanas al Paraíso, A Rosewood Resort, Mexico
We can't forget Mexico as a top attraction for many celebrities. Las Ventanas al Paraíso, a Rosewood Resort in Cabo San Lucas, Mexico, is "designed to be in harmony and oneness with the local ambiance" according to the website. It offers stunning views of the Los Cabos coastline and access to the gorgeous beaches. Its villas include direct views of the ocean, infinity pools, chef-made food in beachside dining and so much more.
This getaway has attracted such celebrities as Jennifer Lopez, Cameron Diaz, the Kardashians and Jessica Alba, according to Cosmopolitan. For this experience, expect to pay about $2,200 and up for two nights, depending on dates and rooms, according to a Google hotel search.
The Carlyle, A Rosewood Hotel, New York City
The Carlyle Hotel is not just a luxury place to stay, it's "an emblem of New York glamour and luxury," according to the hotel's website. Located in the Upper East Side, the hotel offers exquisite views of Central Park, and has attracted not only celebrities such as Liza Minnelli, Billy Joel and Mariah Carey, but quite a lot of royalty, including "HRH, the Prince of Wales; the late Diana, Princess of Wales; the Duke and Duchess of Cambridge, their Majesties, and the kings and queens of Denmark, Greece, Spain and Sweden."
Make Your Money Work Better for You
It's clearly a New York City icon and has been featured in numerous popular TV shows, including "Sex and the City," "Girls" and "Gossip Girl." For this experience, expect to pay between $2,400 and $2,800 for two nights, depending on rooms and dates, according to Trip Advisor.
Take Our Poll: How Do You Typically Split the Restaurant Bill?
Gstaad Palace, Switzerland
Celebrities flock to the Swiss countryside during the winter, where the snow-covered landscape and remote nature of the town of Gstaad are transformed into a magical getaway. Suites here are nothing if not opulent, according to HotelsCombined, with such amenities as a wet bar, rooftop terrace jacuzzis, heated indoor pool and much more.
Celebrities such as Michael Jackson and Paris Hilton have graced its lovely rooms. For the luxury of staying here for two nights, expect to pay from $2,758 to around $5,000, according to Hotels.com.
Hacienda AltaGracia, Pérez Zeledon, Costa Rica
Hacienda AltaGracia, part of the Auberge Resorts Collection, is a wellness sanctuary nestled in the foothills of the Talamanca Mountains of lush, jungle-dense Costa Rica. This gorgeous and relaxing location has been named one of the top 50 resorts in the world by Condé Nast Traveler.
50 casitas provide access to "untamed tropical forest, coffee farm, equine stables, organic chef's gardens and a well being center by one of the world's leading holistic wellness providers," the website states. It has attracted such celebrities as Emma Roberts, Lindsey Vonn, Nina Dobrev, and Shawn White according to Cosmopolitan. This experience starts at around $3,000 for two nights and up, depending on dates and casita choice, according to Kayak.
La Residencia, Mallorca, Spain
This Mediterranean getaway right atop the rustic village of Deià, in Mallorca, Spain offers a seaside experience of luxury amidst citrus trees and olive groves and the Tramuntana Mountains. In addition to Spanish style luxury rooms, which feature fine art, visitors will be treated to the best food and wine. It's also family-friendly, with a children's club full of fun crafts and activities.
This charming paradise has attracted such celebrities as Kate Moss, Naomi Campbell, Tom Hanks, Bruce Springsteen and Princess Diana, to name a few, according to Cosmopolitan. Visitors pay upwards of $3,000 for a two-night stay, depending on dates and rooms, according to Trip Advisor.
Camp Selinda, Botswana, Africa
Not everyone's idea of a luxury hotel has to be glamorous. For many celebrities, the allure of an African safari experience is temptation enough. Enter Camp Selinda, a luxury "glamping" lodge that harks back to the safaris of the 1920s in style and elegance, according to Insider. Before you think that a tent can't possibly be luxurious, Insider reports that each tent comes with a private swimming pool, and access to a wine cellar.
The most luxurious suite, the Selinda Suite, comes with a private driver, a dedicated safari guide, a chef and a butler. For this unique experience, expect to pay as much as $32,752 for two nights at the high season (June to October, December to January). However, according to Okavango Delta Explorations, you can pay around $17,872 in the low season (January to March), which includes food, drinks and safari.
Soneva Jani, Maldives, South Asia
Celebrities know how to spend their money and get the best travel experiences money can buy. One such example is Soneva Jani, a series of "overwater bungalows" according to Insider, in the Maldives of South Asia.
There's stunning clear blue water in every direction out of each villa, which may have between one and four bedrooms, private lagoons, and some even have water slides for ocean fun and retractable roofs for unforgettable night sky viewing. The experience also includes unlimited spa and massage treatments, a butler, and top of the line food.
Soneva Jani has attracted a number of celebrities, including Chris Martin, Gwyneth Paltrow and Dakota Johnson, according to Maldive Islands Resorts. At certain times of year, you may be able to rent a room for as little as $3,400 for two nights (though who could spend only two nights here?), while Insider reports that some suites can cost more than $46,000 for a two-night stay.
More From GOBankingRates
Make Your Money Work Better for You