How These 11 Celebrities Spent Their First Paychecks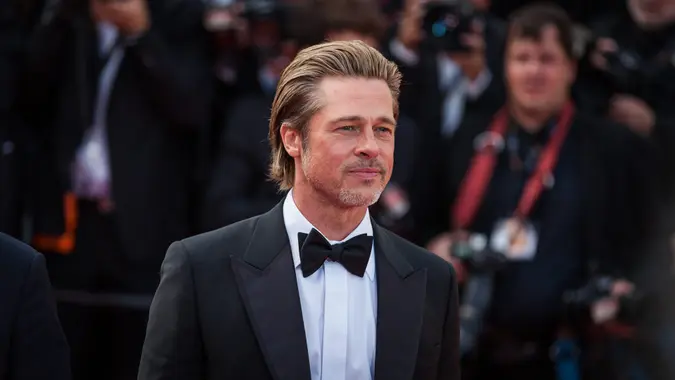 taniavolobueva / Shutterstock.com
Fame and fortune are far from guaranteed in showbiz; in fact, many actors and other talent with big aspirations find themselves balancing jobs outside their artistic domain for years, just waiting to land the job that will launch them into their chosen career. If and when that first job is finally booked, soon-to-be stars might find themselves getting the fattest paychecks of their lives up to that point. Others, not so much; but hey, every penny counts.  
How have some celebrities spent their first paychecks? Let's have a look at what Tom Cruise, Brad Pitt and nine other rich and famous people did when they first hit payday.
Tiffany Hadish 
In an interview with Time, Tiffany Hadish disclosed that her first check was around $120. This is hardly the big bucks, but it was enough to inspire the comedian and actor to get her banking on track, and to stock up on some sweet tooth treats too. 
"First thing I did is I went to the bank and I opened up a checking account," Haddish said. "And I bought a big box of Snickers and lollipops, Jolly Rancher sticks, and Blow Pops. Oh, and Corn Nuts."
Sarah Paulson 
The actor Sarah Paulson started out as a waitress, but quit because she couldn't spell "parmesan," she told The Hollywood Reporter in 2016. Her first acting job came when she was still a teenager. Like most teenagers would, the "American Horror Story" star went on a bit of a shopping spree with her earnings. 
Make Your Money Work Better for You
"I bought a lot of stuff at the Gap because I was 19," Paulson told The Hollywood Reporter. "I was still living at home, and I was understudying Amy Ryan on Broadway in 'The Sisters Rosensweig', and my check was substantial." 
Paulson also bought "some flaming Dr. Pepper drinks." 
But there is some regret here; Paulson said she wishes she'd bought a car instead. Fair!
Rami Malek 
Academy Award-winning actor Rami Malek told GQ that he spent his first paycheck on an espresso machine. It may sound whimsical, but considering how much lattés at Starbucks go for, it's not a bad investment! 
Donald Glover 
Gushers — the teeth-crushingly sweet gummy candies that are sneakily marketed as "fruit snacks" — is what Donald Glover, aka, Childish Gambino, scooped up with his first paycheck. "I wasn't allowed to have candy as a kid," the multitalented artist told Jimmy Kimmel of the inspiration behind this purchase. He was probably joking, to some extent.  
America Ferrera 
America Ferrera, who most recently captured the hearts of America in her role as the star mom in "Barbie," told InStyle that her first job was acting in a Disney Channel movie called "Gotta Kick It Up!"
"I could not believe how much money I was getting paid to do the thing that I had always wanted to do," the "Ugly Betty" star said. "I couldn't believe they were paying me at all — I would've paid to get to dance and be in a movie!"
Having taken buses to get around town all her life, Ferrera used her first paycheck to buy a 2000 Mitsubishi Mirage that she estimates cost her $12,000. 
Kirsten Dunst 
Kirsten Dunst met fame at an early age, becoming a household name after her pivotal role in "Interview With A Vampire" at the tender age of 11. The A-lister spent her first paycheck on a college fund and then "probably" a home for her mom, she told The Hollywood Reporter. 
Make Your Money Work Better for You
Nicole Kidman 
In a 2018 interview with Time, Academy Award-winning Aussie Nicole Kidman said that with her first paycheck, she splurged on a washing machine for her parents. "Later on, I bought some boots for myself that were, like, the coolest boots I had ever seen in my life," the "Moulin Rouge" star said. 
Jennifer Lopez
Like Ferrera, superstar Jennifer Lopez took her first fat paycheck straight to the auto dealership. 
"I was driving a Honda hatchback that Keenen Ivory Wayans had given me when I was a Fly Girl, and I had been driving it to every audition," the always-glowing star told The Hollywood Reporter. "And when I got a regular series, I bought a car. I bought a Mercedes. And it was a huge deal."
Matt Damon 
Matt Damon took a noble approach with his first paycheck; he spread the financial love to his family. 
"I bought my brother a car, and I put my mom through her Ph.D. program," the "Oppenheimer" star told The Hollywood Reporter.
Brad Pitt 
Brad Pitt, the sexiest man alive, according to People magazine in 1995 and 2000, told Architectural Digest in 2012 that when he received his first paycheck from his "now known day job," he bought a period Craftsman chair and "a Frank Lloyd Wright-wannabe lamp." 
Tom Cruise 
The face of the "Mission Impossible" franchise, Tom Cruise, made a generous move with his first paycheck. On "The Graham Norton Show," Cruise said that he put his first big paycheck toward paying for his sister's college tuition.
Make Your Money Work Better for You
More From GOBankingRates