How To Become a Millionaire in Your 50s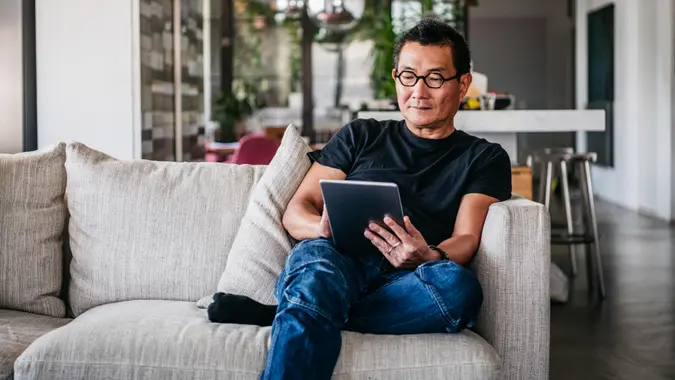 JohnnyGreig / Getty Images
It's never too late for anything, not even to become a millionaire later in life. Sure, it's always better to get into the habit of saving, budgeting and planning early in life — even if just to take advantage of compounding interest. But even if you missed out on those earlier opportunities to build wealth, you can still get rich in your 50s.
"Even if you find yourself in the Gen X or early Boomer category, achieving millionaire status is still possible," said Joe Camberato, CEO of National Business Capital. "But it demands a laser-focused mindset and a willingness to make sacrifices as if you were just starting out. It might feel like you're hitting the reset button, but it's a necessary step to meet your financial goals and compensate for lost time."
Here are some steps experts recommend.
Focus and Don't Compare Yourself to Others
Don't be tempted to compare your progress to others, as everyone's circumstances differ. Instead, concentrate on your unique path and the goals you've set for yourself.
"Focus on self-investment, both in terms of education and knowledge. It's a proven strategy for wealth accumulation since most wealthy people continually seek ways to expand their financial resources," said Camberato. "And, of course, many investments qualify for lower tax rates as capital gains."
Create Good Saving Habits
Ryan Janus, CFP and financial advisor at Janus Financial, said that as an advisor, he has witnessed "more than a few people in their 50s become millionaires," and all of their paths to get there were very similar.
Make Your Money Work Better for You
"The foundational part of achieving this goal is to create good savings habits. They all started small and worked on increasing their savings rate over time," said Janus.
Then, rather than focusing on which stock pick might make them rich, they directed their energy toward their greatest wealth-building tool — their ability to earn income.
"They spent time improving their skills and deepening their expertise in their line of work, leading to bigger and better promotions. This allowed them to increase their savings rate with every promotion and accelerate their path to becoming a millionaire before retirement," added Janus.
Have a Clear Vision
According to Lisa Sakai, founder, One Vision Retirement, if you want to become a millionaire in your 50s, you "have to have a why."
In other words, without a clear vision of what you want, why you want it, when you want to have it by, and how it will feel when you achieve it, you will not have enough motivation to keep saving during hard times, she said.
Cut Spending
Many people hit their peak earning years in their 50s and have the opportunity to take full advantage of those high-earning years to save and invest aggressively.
Instead of increasing spending as income increases, look for ways to cut spending in areas that you don't value to be able to increase the amount you're investing, said Ashley Rittershaus, CFP and founder of Curious Crow Financial Planning.
Make Your Money Work Better for You
"Depending on your situation, this may include investing in accounts like employer-sponsored retirement plans, traditional or Roth IRAs, HSAs, and brokerage accounts," she said. "Don't try to time the market, just focus on consistently investing every paycheck or every month."
Christopher Lazzaro, ChFC, founder and president of Plan For It Financial, added that another important step is to really get your arms around your budget, specifically what he calls "the Big 3" — housing, transportation and food.
"Overall, making a concerted effort to spend less than you earn should be the goal here," he said. "It sounds intuitive, but this can be very challenging for many who have not focused on savings and investing to this point."
Develop New Skills
By focusing on high-income skills, you can make significantly more than you make at your job, enabling you to make up for the lost time.
"Traditionally the only way that one will be able to make this amount of money is to have a lot of time and a lower return or a little bit of time with a very high return," said Sebastian Jania, owner of Ontario Property Buyers. "The high-income skills will allow one to be able to have a large nest egg and in a short period.
More From GOBankingRates
Make Your Money Work Better for You