9 Luxury Grocery Items That Are Worth the Cost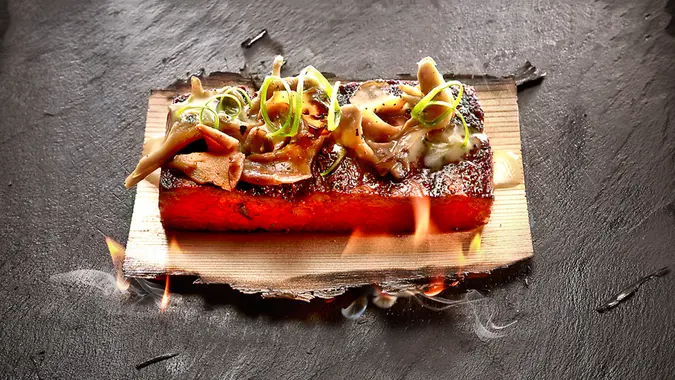 ©Alexander's Steakhouse
Some grocery staples are worth every penny — and dollars well spent. GOBankingRates spoke to food and cooking experts to learn which luxury authentic ingredients you should never financially skimp on when making delicious meals.
Read More: 5 Fall Items To Stock Up on From Costco
Related: 11 Frozen Foods To Stock Up on at Costco for Busy Fall Days
Parmigiano Reggiano
Matt Lopez, founder of Cook Like a Master, said Parmigiano Reggiano is the "king of cheeses."
At $20 a pound, it's definitely a luxury purchase but one shoppers and cheese enthusiasts can be assured is the real deal. "This cheese is produced in the Parma region of Italy, made with locally sourced ingredients and matured for a minimum of 12 months," said Lopez. "The flavor profile and taste it imparts to any dish you add it to is unlike anything you've ever tasted."
Live Richer Podcast: Unexpected Ways Losing a Spouse Can Affect Your Finances and Retirement
Wagyu Beef
If you're heading to the meat counter, shoppers are estimated to spend $90 a pound on Wagyu beef. 
Expensive? Yes. Mouth-watering with the ability to elevate any dinner? Absolutely. "Wagyu has the most marbling of any grade of beef," said Lopez. "This directly translates into a flavor-packed meal, whether you're making steaks on the grill or beef stroganoff for a fancy date night in."
Make Your Money Work Better for You
Iberico Ham 
Another luxury meat to consider picking up, if you have the means to do so, is Iberico ham at $160 a pound. 
Lopez said Iberico ham is sourced from Spanish Iberico pigs. "These pigs are meticulously raised free-range in oak forests and fed on acorns. The result is a delicate and delicious ham with an intense, rich, nutty and sweet flavor that is second to none."
Canned Tomatoes
Canned tomatoes can range anywhere from nearly $4 to $33 per can depending on the supermarket's price tags. What you may ask yourself, however, is what makes this a luxury grocery item?
The answer goes back to the meal you are making, which should be made with as many products from that region of the world as possible. Jenn Nicken is the founder of The Chef & The Dish, which hosts private cooking classes via Skype. Clients who book a virtual cooking class with their chefs in Italy are encouraged to purchase tomatoes imported from Italy. 
"Consider the importance of authentic ingredients and how they make an impact on your final dish. Italian grown tomatoes have grown in Italian soil, and San Marzano DOP tomatoes have grown in soil impacted by eruptions of Mount Vesuvius," said Nicken. "They are also the only tomatoes allowed in an authentic Neapolitan pizza in Italy. Spend the extra couple dollars on authentic and imported products when you're looking to impress!"
Make Your Money Work Better for You
Caviar
Caviar, fish roe, is traditionally sourced from fish in the Black and Caspian Seas. At $75 an ounce, there are several types of caviar to choose from and each type has a distinct flavor profile.
"The taste ranges from buttery, creamy and nutty to smooth and fresh. It's best served on its own or as an hors d'oeuvre on a small piece of toast with a bit of crème-fraiche," said Lopez.
Free-Range Eggs
While not nearly as expensive as other ingredients mentioned in this list, free-range eggs are still worth the money.
Vered DeLeeuw, founder of Healthy Recipes Blog, said even as she tries to economize and become more conscious of the cost of food, it's impossible to give up on a  $7 carton of free-range eggs. 
"The dark-colored creamy yolk, the intense flavor. They just don't compare to pale supermarket eggs. And they also have more nutrients," said DeLeeuw.
Finishing Oils
Think extra virgin olive oil or truffle oil, which vary in price between $3 to $20 per ounce depending on the grocery store you're shopping at. 
Make Your Money Work Better for You
Remember: you're not using these oils for cooking. Kelsey Lorencz, RDN and founder of Graciously Nourished, said these are for drizzling on a salad, pasta or other dishes just before eating to add a complex and robust flavor. 
"You can get a lot of flavor from a small drizzle of quality truffle oil that can take a dish to a whole other level in terms of flavor," said Lorencz.
Bronze-Dried Pasta
Shoppers paying a little extra for Parmigiano Reggiano, extra virgin olive oil and canned tomatoes should also invest a few extra dollars into pasta. 
Paying a dollar or two more for a quality bronze dried pasta makes all the difference in taste. You can find a great bronze dried pasta made in Italy and imported for around $3 for a pound of pasta.
Black Truffles
At $480 a pound, this is by far the most luxurious authentic ingredient to pick up while grocery shopping. But it's absolutely worth it.
"Black truffles grow on the roots of trees in Europe and are located by a trained pig or dog who can sniff them out and dig them up unharmed. They contain special chemicals which enhance the flavors of foods like eggs, pasta and risotto," said Lopez.
More From GOBankingRates
Make Your Money Work Better for You