Rude Money Questions You Shouldn't Ask at the Holidays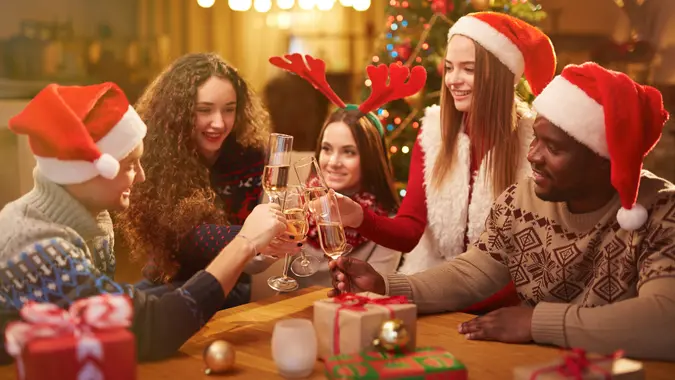 ©Shutterstock.com
The holidays are a time filled with various social gatherings with friends, family and colleagues — which, unfortunately, leaves plenty of opportunities for you to make an unintended social faux pas. When enjoying these merry celebrations, you should avoid asking any of these rude money questions if you don't want to become the Scrooge of the party.
How Much Did This Cost?
"Never ask someone how much something costs — this can be a gift, holiday travel expenses or a holiday budget," said Joy Weaver, a protocol and etiquette expert.
You also should never ask how much someone is planning on spending on a gift. Weaver gives the example of asking a co-worker how much they are spending on a holiday gift for your boss.
"It is never about how much the gift costs — it is about giving a well-thought-out gift," she said. "You could spend several hundred hard-earned dollars on a bottle of champagne, but if the boss doesn't drink champagne, it will most likely get re-gifted."
Instead of focusing on money, Weaver said it's always best to choose a gift based on a person's likes and dislikes that will suit their tastes and interests.
"Perhaps a delicious box of chocolates, an addition to their snow globe collection or even an antique book for their library," she said. "What a memorable gift! The boss will love it, and remember your attention to detail and your thoughtfulness."
Make Your Money Work Better for You
Where Did You Buy This?
"Refrain from asking where the gift was purchased," Weaver said. "This sends up a red flag that you will be returning it."
To avoid having this awkward question asked of you, always include a gift receipt.
"If you give a gift, it is always acceptable to have a gift receipt included so the recipient can return it for something they will use," Weaver said.
Can You Guess How Much This Cost?
Whether you got a great deal on a gift or splurged on an expensive item, it's impolite to discuss the cost of any gift you give.
"Never tell someone what the gift you purchased cost," Weaver said. "Do not say, 'This gift cost me a pretty penny — I hope you like it.' This takes away from the surprise of the nice gift and puts the spotlight on the giver instead of the recipient — so rude!"
More From GOBankingRates