20 Most Expensive Wines in the World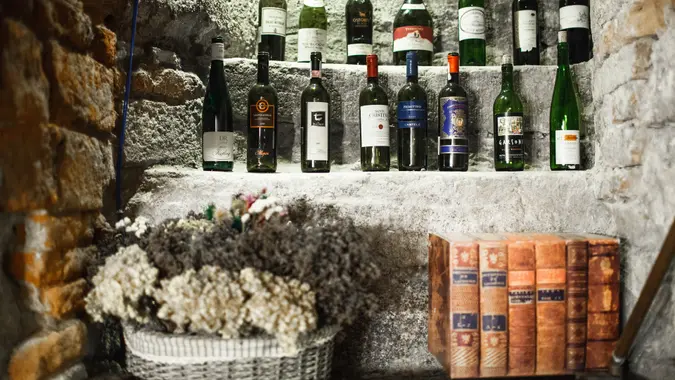 Volodymyr Ivash / Getty Images/iStockphoto
You're in the market for wine, but not just any bottle will do. Whether you're a wine collector, need a seriously fancy gift for a wine aficionado or plan to have a superbly lavish toast, only the most expensive wines will do.
Sure, you've heard about the Impériale of Château Cheval Blanc 1947 that sold for $305,000 at Christie's Hong Kong in 1999 and the Domaine de la Romanée-Conti, Assortment 1996 which sold for $81,250 at Christie's Los Angeles in 2022. Those sound spectacular, but you're searching for wine you can purchase right now.
Ready to learn more about the priciest wines on the market right now? Here's a look at 20 that are anything but budget-friendly.
20. 2019 Scarecrow — $5,795
Listed on Cellaraiders, this double magnum is the brand's current release. This cabernet sauvignon was harvested at night, wholly by hand from September 25 through October 21, 2019 on the J.J. Cohn Estate in Rutherford, California — located in the Napa Valley — according to the brand website.
Make Your Money Work Better for You
19. 2017 Domaine de la Romanee-Conti La Tache Grand Cru — $5,999
This 750ml bottle of pinot noir from Vosne-Romanee, Cote de Nuits, Cote d'Or, Burgundy, France is available on Wine.com.
"La Tâche is elegance and rigor," said the winemaker notes. "Beneath the frequent firmness of its tannins, passion is aflame, restrained by an implacable, courtly elegance."
18. 1996 Pingus — $6,450
Listed by The Rare Wine Co., this 5L bottle has received rave reviews since its debut. Only the second vintage made by Danish winemaker Peter Sisseck, this Spanish red wine will not disappoint.
17. 2002 Sine Qua Non Just For the Love of It — $6,595
One of the most expensive wines and also hard to find, you can score a double magnum of this domestic wine on Cellaraiders.
A California wine, this one-thousand case blend of 96% Syrah, 2% grenache and 2% Viognier is described as "extremely full-bodied, with fabulous intensity, great purity, awesome length and a finish that lasts over a minute," according to the winemaker notes.
16. 1990 Domaine de la Romanee-Conti Richebourg Grand Cru — $6,599
It's listed as having a torn label on Wine.com, but that won't hinder your enjoyment of this 750ml bottle of Pinot Noir from Burgundy, France.
Make Your Money Work Better for You
Rated a 95 by Robert Parker's Wine Advocate, this red wine is described as having "an almost viscous, decadent finish that not so much caresses the sense, but gives it a good "seeing to."
15. 2011 Pingus — $7,500
Another exquisite option from Pingus, this 6L bottle is available from The Rare Wine Co.
Rated 92.4 from 66 user reviews on Cellar Tracker, this tempranillo hails from Spain's Castilla y León region. If you buy it, you'll want to open the bottle soon, as the site recommends drinking it between 2017-2023.
14. 2001 Domaine Leroy Corton-Renardes Grand Cru — $8,499
This 750ml bottle of Pinot Noir from Aloxe-Corton, Cote de Beaune, Cote d'Or, Burgundy, France is available for purchase on Wine.com. Made by the Leroy family, a name synonymous with wine since 1868, the brand has two sister domaines — Maison Leroy and Domaine d'Auvenay.
13. 2005 Pingus — $8,500
Yet another Pingus, you can find this one at The Rare Wine Co.
Make Your Money Work Better for You
The 2005 Pingus scored 99 points from Robert Parker's Wine Advocate. Described as "the most powerful of this series," it's estimated to have a 40-year lifespan. This makes it a great bottle to put away in your wine cellar for a seriously special occasion.
12. 2014 Louis Jadot Musigny — $9,000
A Chambolle Musigny — largely considered the "most feminine wine of the Côte de Nuits" — this 6L French Pinot Noir is available at Wally's, a neighborhood liquor store in Los Angeles, as well as Las Vegas Resorts World and online.
From winemaker Frédéric Barnier, this dry red has 14% alcohol. Grapes were harvested from September 11 to October 11 and oaked to maturity.
11. 1992 Chateau Mouton Rothschild — $9,000
Available at Wally's, this 6L red hails from the Bordeaux region of France.
"Round on the palate, what it lacks in structure it makes up for in harmony; well-integrated, with elegant tannins, it displays highly refined oak and attractive spice and pepper notes," said the winemaker notes. "The finish, without being especially powerful, strikes a fine balance between refinement and flavor, giving an overall impression of charm."
10. 2004 Screaming Eagle — $10,500
This 1.5L Cabernet Sauvignon hails from Napa Valley, California. Available at Wally's, this red wine pairs well with beef — obviously a very expensive cut.
Described as bold and structured, the 2004 Screaming Eagle contains 14-15% alcohol. Clearly a hit, it's rated 94/100 on Wine-Searcher.
9. 2010 Valdicava Brunello Di Montalcino Riserva Madonna Del Piano — $11,000
Certainly enough for a crowd, this 18L bottle of Sangiovese is from the Tuscany region of Italy. It's available for purchase at Wally's.
Rated 97 points by Wine Spectator, it's described as "Sumptuous, offering ripe aromas of plum, cherry, spice, earth, iron and tobacco."
8. 2017 Masseto — $12,000
Another wine from Italy's Tuscany region, this 6L bottle of Merlot is offered by Wally's.
"On the palate the wine manages to combine great intensity and ripeness of fruit with a remarkable sense of balance and freshness," the winemaker notes describe it. "The tannins are densely knit, the texture velvety, the finish shows lingering fruitiness and a vibrant acidity giving a final touch of freshness."
7. 2018 Masseto — $12,000
One more Masseto, the 2018 variety of this Merlot is also available in a 6L bottle from Wally's.
This wine is described as "Dark in color, with an expressive nose of perfectly ripe cherries, plums, and spicy new oak," in the winemaker notes. "The palate is broad and rich as one would expect from Masseto, but shows refined and silky texture that is so typical of 2018."
6. 2009 Pingus — $12,699.99
One of the most expensive wines you'll find from Pingus, the 2009 tempranillo is available in a 6L bottle at Wally's.
A dry wine with 13.5%-15.5% alcohol content, the taste is described as full-bodied and impressive. Enjoy a mix of flavors including vanilla, chocolate and dried fruit, with a flavorful and lingering ending.
5. 1992 Screaming Eagle — $12,999
Sold by Cellaraiders, this hard-to-find 750ml bottle of Cabernet Sauvignon won't disappoint. A rare find, it's typically only available to those on the winery's mailing list.
"The 175 cases of the 1992 are followed by only 130 cases of the 1993, and a tiny quantity of 1994, as the last two vintages were even smaller in crop size," according to winemaker notes.
4. 2018 Roumier Musigny — $25,000
A Pinot Noir from France's Burgundy region, this 750ml bottle of 2018 Roumier Musigny is available at Wally's.
Grapes are hand-picked, then hand-sorted at the winery. After being cold-soaked with natural yeasts and extended lees contact, wine is aged 15-18 months in 35%-55% new oak.
3. 2014 The Mascot — $30,000
Equal to 36 bottles of wine, this 27L bottle of Cabernet Sauvignon hails from Napa Valley, California. You can buy it at Wally's.
Want to know what it tastes like? "Red fruit and baking spice intermingle on the nose, while on entry, the wine is soft, gently accelerating as it reveals athletic structure and shape, culminating in transparency and poise," according to the winery notes.
2. 1945 Château Mouton Rothschild — $30,000
Wondering what's the most expensive red wine you can buy? Available at Wally's, this 750ml bottle nearly tops the list.
A dry wine, the 1945 Château Mouton Rothschild is a blend of Cabernet Sauvignon, Merlot and Cabernet Franc. Despite that, expect the Cabernet Sauvignon to dominate — if you actually open the bottle.
1. 2007 Leroy Musigny — $40,000
What is the most expensive bottle of wine right now? Sold at Wally's, one 750ml bottle of this Pinot Noir costs more than many people earn in a year.
This dry wine has a 13.5% alcohol content. Certified biodynamic, this seriously pricey wine is from Musigny, France.
Final Take
Now you know what the most expensive wines on the market are and where to get them. Maybe you were just curious, but if you actually do make a purchase, enjoy owning a bottle of what might as well be liquid gold.
Information is accurate as of Sept. 1, 2022, and subject to change.
Our in-house research team and on-site financial experts work together to create content that's accurate, impartial, and up to date. We fact-check every single statistic, quote and fact using trusted primary resources to make sure the information we provide is correct. You can learn more about GOBankingRates' processes and standards in our editorial policy.
Make Your Money Work Better for You