4 Passive Income Streams That Build Generational Wealth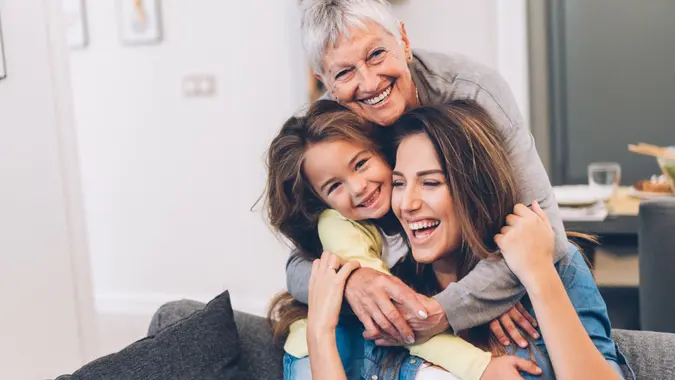 filadendron / Getty Images
Any financial assets that pass from one generation in a family to the next — be these physical assets like homes or financial ones like investments — are considered generational wealth. Families that are fortunate enough to be in this position can set up children, grandchildren and even great-grandchildren for financial success by passing along such bounty.
Even better when that wealth comes from passive income streams — that is, money that doesn't have to be earned through active work but may come through investments, dividends or other interest earnings.
GOBankingRates spoke with experts to explore what kinds of passive income streams can best build the generational wealth that will support future generations of your family.
Index Funds
Investing in a diversified portfolio of index funds is a great way to grow generational wealth, according to James Allen, a CPA, financial planner, CFEI and founder of Billpin.com. "It's like planting a tree: you put in the initial effort to plant and nurture it, and over time, it grows and bears fruit."
The "fruits" are the dividends and capital gains that the portfolio generates, which can be reinvested to further grow the tree or be harvested as income. "And the best part? This tree can be passed on to your children and grandchildren, providing them with a source of income and teaching them valuable lessons about investing and wealth management," Allen said.
Make Your Money Work Better for You
Dividend Stocks
Dividend stocks are one of the least complicated passive income streams for your children, said Gillian Dewar, chief financial officer of Crediful, a personal finance site. "You can find plenty of passive investment opportunities to buy businesses or create your own and set them up to eventually run themselves, but there is no guarantee that they will always be viable. The business could slow down or go bankrupt, leaving future generations with significantly decreased income," she explained.
With dividend stocks, you maintain long-term financing safety by avoiding putting all your eggs in one basket. "Rather than investing fully in a business, you can buy a small share of many businesses. While some are bound to fail eventually, it would be highly unlikely for them all to fall! A well-balanced dividend portfolio has enough varied investments to maintain a level of financial safety for generations to come," she said.
Cash Value Life Insurance
Another form of passive income — which is often overlooked by many financial advisors, according to Tony Jackson, certified financial education instructor with The Real Money Coach — is cash-value life insurance. "[It] can be a powerful financial tool that provides a passive income stream during one's lifetime and leaves a lasting legacy of generational wealth," he said.
While life insurance is traditionally seen as a means to financially protect loved ones in the event of one's passing, cash-value life insurance offers unique benefits beyond just a death benefit.
This kind of life insurance, often referred to as whole life or universal life insurance, combines life insurance coverage with a savings component, Jackson explained. "A portion of the premium paid goes towards insurance coverage, while the rest is invested and accumulates in a tax-advantaged cash-value account."
Make Your Money Work Better for You
Thus, like other investments, a cash-value life insurance policy has the potential to build wealth over time. "As the cash value grows, policyholders can access these funds through policy loans or withdrawals. The cash can be used for various purposes, such as supplementing retirement income, funding education expenses or even starting a business."
Better yet, Jackson said, "The policyholder can pass the tax-free death benefit of these policies to their beneficiaries, creating a substantial generational wealth transfer."
Of course, the premiums for these policies tend to be higher than term life insurance, but they can be an effective strategy to create a passive income stream during one's lifetime and a source of generational wealth. 
Rental Properties
For those who can buy investment properties along the way, you'll be investing in one of the best forms of passive income, according to Ryan Barone, the co-founder and CEO of RentRedi.
"For independent investors, this may involve renting an additional home or property that you don't plan on living in and would rather not sell, purchasing properties that have one or more units and renting those out, or even renting out a portion of your own home — commonly known as house hacking. In any case, holding or acquiring property for rental purposes can generate a good deal of passive income and even help build generational wealth," he said.
While some of these types of investments require a person to become a landlord, property management has become much easier with affordable property management technologies that help you streamline and automate most of your processes, he explained.
Make Your Money Work Better for You
"Through a desktop computer or an app on your phone, you can perform a variety of tasks — such as rent collection, tenant screening, listings and maintenance coordination — with a few clicks in a matter of minutes." These tools make it easier for landlords to gain passive income and build wealth from real estate investing that can be passed on to future generations.
More From GOBankingRates