10 of the Most Valuable Pennies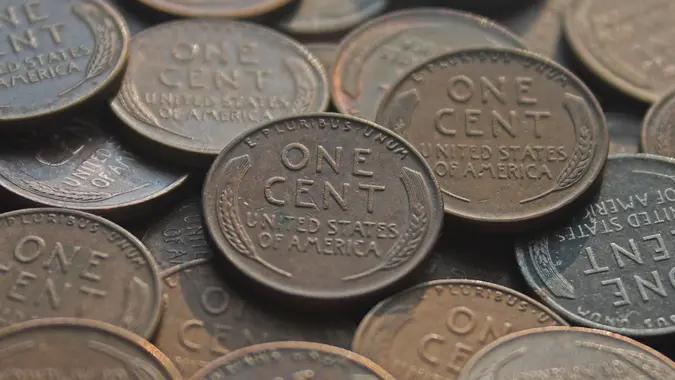 photohoo / Getty Images/iStockphoto
Many people save coins in a jar in their home and wrap them for extra spending cash. But did you know that some of the pennies lying around your house could be worth more than their face value of one cent?
Most Valuable Pennies
The 10 most valuable pennies to look for in 2023 include:
1943-D Lincoln Bronze Wheat Penny — $2.3 million
1793 Strawberry Leaf Cent — $862,000
1944-S Steel Wheat Penny — $408,000
1943-S Lincoln Cent Struck on Bronze — $282,000
1909 VDB Matte Proof Lincoln Penny — $258,000
1958 Doubled Die Obverse Cent — $224,831
1856 Flying Eagle Cent — $172,500
1864 Indian Head Penny "L" on Ribbon — $161,000
1914-D Lincoln Penny — $159,000
1926-S Lincoln Penny — $149,500
1. 1943-D Lincoln Bronze Wheat Penny — $2.3 million
Designed by Victor D. Brenner, this is one of the highest-value pennies in circulation today. Made of 95% copper and 5% tin and zinc alloy, it sold for $1.7 million in 2010 but is valued at $2.3 million in uncirculated mint condition. More recently, it went for $840,000 at an auction.
There is only one copy known to be in existence, but other versions of the coin may sell for $100,000 and up. If you have any 1943 wheat pennies, it's worth taking them to a coin dealer to see how much you might get for them.
2. 1793 Strawberry Leaf Cent — $862,000
In 2009, the Strawberry Leaf penny broke records for the most money paid for a penny at an auction, going for $862,000. The Strawberry Leaf cent is extremely rare, bearing a four-leaf strawberry plant on the tail of the coin instead of the normal three-leaf trefoil. Only four of these coins exist, so if you find one, you'd be very lucky indeed. It would be luckier than finding a four-leaf clover.
Make Your Money Work Better for You
3. 1944-S Steel Wheat Penny — $409,301
This penny somehow missed the 1944 transition from steel-coated zinc to copper, and it's worth a fortune as a result. Just two copies of the San Francisco-minted version remain. Circulating coins are worth $408,000 to $409,000 in average condition.
4. 1943-S Lincoln Cent Struck on Bronze — $282,000
The U.S. transitioned away from bronze pennies in 1943. But a few bronze planchets, a blank coin with no design, may have been left behind, resulting in extremely rare and valuable 1943-S bronze pennies. In 2016, one of these pennies sold at auction for $282,000.
5. 1909 VDB Matte Proof Lincoln Penny — $258,000
Older coins tend to be worth more the longer they are around. Matte-proof coins tend to be highly coveted amongst collectors, and this 1909 VDB version is the most desired. You can tell it is authentic from the square, sharp-edged rims and the details. This rare coin from 1909 sold at auction for $258,000. It is unique because it bears the designer's initials — VDB –on the bottom.
6. 1958 Doubled Die Obverse Cent — $224,831
Doubled Die Obverse pennies command some of the highest prices at auction because there were only a few minted. You'll recognize one by the "doubled" lettering of the words "In God We Trust" and "Liberty." On the 1958 version, you'll also see that the date is slightly doubled, too. An uncirculated version of this coin is worth $224,831.
7. 1856 Flying Eagle Cent — $172,500
The Flying Eagle cent may not be as rare as 1943 Lincoln cents, but they are still worth more than six figures. More than 600 of these coins were given to politicians and others during the original minting, but additional coins were re-struck from the original dies in 1858 and 1859. These coins can range in price from $4,500 up to $172,500.
Make Your Money Work Better for You
8. 1864 Indian Head Penny "L" on Ribbon — $161,000
After Flying Eagle Cent was minted, the federal government transitioned to the Indian Head Penny in 1864. Like VDB, who struck his initials on the bottom of Lincoln pennies, the designer of the Indian Head — James Longacre –started slipping an L for his last name on the ribbon toward the end of 1964.
These pennies are loved and coveted by collectors, with one going for $161,000 at auction. If you happen to have one of these rare coins lying around in less than mint condition, you can still get around $40 for it.
9. 1914-D Lincoln Penny — $159,000
Lincoln Cents minted between 1909 and 1958 are popular amongst collectors. The 1914-D coin is very rare, with just 1.2 million minted. You can find these pennies ranging from hundreds to thousands on eBay, but one of the pricier coins in mint condition sold for $159,000.
10. 1926-S Lincoln Penny — $149,500
It might be wise to take a look through your pockets for any Lincoln wheat pennies, as these coins tend to sell for more than face value even if they aren't in mint condition. But if you spot a red Lincoln penny from this era, it might be time to book that luxury vacation you've wanted. A 1926-S Lincoln cent in mint condition with its red surface intact sold for $149,500 at auction in 2006.
How Do You Know if a Penny Is Valuable?
The pennies on this list above are worth hundreds of thousands or even millions of dollars. But keep in mind that a lot of factors determine a penny's value. First of all, coins that are rare and were minted in smaller quantities may be worth more money decades — or centuries — later. If a rare coin is in excellent condition, it could be worth even more.
Make Your Money Work Better for You
Collectors and numismatics professionals use something called the Sheldon Scale to grade coins on a scale of 1 to 70, with coins rated at 70 holding the highest value. Color, the coin's wear and its rarity all contribute to its grade and value.
Finally, a penny is only valuable if you can get someone to pay you what it's worth. Make sure to work with a reputable coin dealer and do your research to ensure you are getting top dollar for your coins.
FAQ
Here are the answers to some of the most frequently asked questions about valuable pennies.
What pennies should you look for that are worth money?

You should look for older pennies that are minted in low quantities and are in excellent condition. Keep an eye out for Indian Head pennies, Flying Eagle pennies, pennies with unusual designs and the valuable Strawberry Leaf cent.

Which pennies are worth $1,000?

Some examples of pennies worth $1,000 or more include the 1955 Doubled Die Lincoln Cent, the 1909-S Indian Cent, the 1909-S VDB Lincoln Cent and the 1914-D Lincoln Cent. The better the quality of the coin, the more it could be worth.

What years of pennies are worth money?

Pennies that are older typically hold more value. Coins on this list of most expensive pennies were minted as early as 1793. The 1909 Indian cent series also has many high-value coins. You can also find pennies from the 1920s, 1930s, 1940s and 1950s worth hundreds of thousands of dollars.
Daria Uhlig contributed to the reporting for this article.
Data is accurate as of April 12, 2023, and is subject to change.
The article above was refined via automated technology and then fine-tuned and verified for accuracy by a member of our editorial team.
Our in-house research team and on-site financial experts work together to create content that's accurate, impartial, and up to date. We fact-check every single statistic, quote and fact using trusted primary resources to make sure the information we provide is correct. You can learn more about GOBankingRates' processes and standards in our editorial policy.