YouTube's Ryan Scribner: Here's How I Became a Millionaire by 26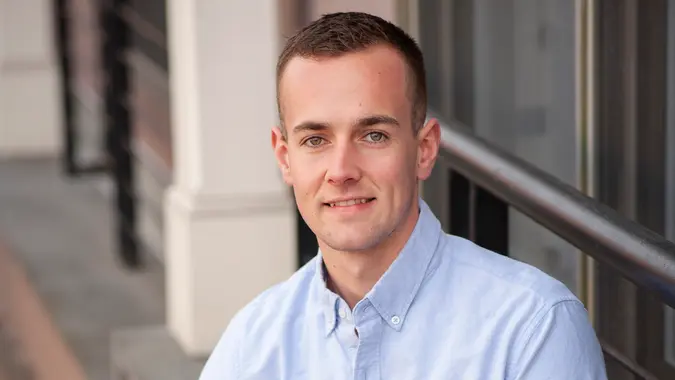 ©Ryan Scribner
Ryan Scribner is a YouTuber with over 800,000 subscribers on his channel, where he shares personal finance advice and tips on how to earn a livable income off of a side hustle. Born in upstate New York, Scribner quit his office job in 2016 to begin his YouTube journey, encouraging his viewers to become financially free.
Recognized as a Top Money Expert chosen by GOBankingRates, here Scribner shares who has inspired him, what led him to quit his full-time job and how he made his millions.
Want to vote for Ryan as your favorite money expert? Click here and go to his expert page.
What's been your most popular video, and why do you think it has resonated with so many viewers?
I have been posting videos on my YouTube channel since 2016. During that time frame, I've had 17 videos surpass 1 million views. However, one video has done far better than all of them, amassing over 4 million views since it was posted back in April of 2018.
Make Your Money Work Better for You
In this short 10-minute video, I explain the simple reason behind why I quit my $70,000 job to become a full-time YouTuber. My video itself shows the difference between trading your time for money versus creating your own income streams. For me, it was the book "Rich Dad, Poor Dad" that showed me how life-changing this was.  
I think this video resonated with millions of viewers because this is such a common concern today. A lot of people are completely unsatisfied with their line of work, whether it's what their job entails, chances for advancement or how much they are getting paid. 
So, when you see a video about a twenty-something quitting an above-average high-paying job, you find yourself itching for the reason why. My popular video answers those questions and also teaches many vital lessons so my audience can actually take action on the information.
With YouTube, it's crucial to have the right mix of valuable information and insights paired with an enticing title and thumbnail. This video simply had the perfect recipe for success and virality. 
Make Your Money Work Better for You
You're passionate about increasing financial literacy. What topic do you wish people were more informed about, and why is it so important to have an understanding of this topic?
When I started making videos on YouTube, I was living in rural upstate New York renting a spare bedroom at my mom's house. I come from a family of hard-working people, but none were entrepreneurs or business owners. In addition, most of the adults in my family do not own real estate aside from their home. 
What has made the most significant impact on my wealth, aside from YouTube which kicked this all off, is breaking the status quo of my family. That's not to say I would've been unsuccessful had I followed the path of my father, for example. He is well-educated, had a career in banking and is now a financial advisor. While my dad did own a few rental properties at one time, he got out of the game after a string of bad tenants. 
Make Your Money Work Better for You
The topic I wish people were more informed about is the wealth-building power of businesses and real estate. Real estate is truly what supercharged me from having about $10,000 to my name in my early 20s to becoming a millionaire by 26. But equally important is the private equity investments I have made over the years. Since starting my channel, I've invested a lot of money into early-stage startups. Many of these are now in year three, and the prospects are promising for many. Of course, you have those inevitable losers in the bunch, but across my portfolio of private equity investments, I really just need one big winner. 
I started building wealth slowly while working at my Union job. Then, I accelerated it using YouTube and by creating passive income streams like blogs. But the gasoline on that fire was truly private equity and real estate. I am now growing my wealth at a faster and faster pace based on other people's businesses, and that makes me excited to get out of bed each morning. 
There's a lot of great financial advice on YouTube – but also a lot of not-so-great advice. How can viewers determine what advice they should and shouldn't follow?
Ever since I was a kid, I was always "poking holes" by questioning the way things were done. I was always suspicious of the "system," whether it was school, social activities or getting a job. However, I have since learned that most people aren't like me. Instead, many can be too trusting of a charismatic talking head on a screen. 
Make Your Money Work Better for You
I think the best way to determine what you should follow is by attempting to disprove whatever is being told to you. Instead of believing every word you hear from someone, believe none of it until you prove it yourself. 
When my father gave me the advice of avoiding rental properties, I listened to him at first. But then, I began to poke holes through his ideologies. I then took the information I was getting from him and began reading books about owning real estate. This ultimately made me realize that I never wanted to own rental properties on a large scale, but I knew I wanted a small portfolio of real estate. I had a feeling my father had bad luck and bad timing, and overall I was correct in that assumption. 
My advice to you is to become naturally curious about what you're hearing. This will put you in the right mindset to explore what you're being told through the correct lens. If you check multiple sources and you find all of the information matches up, you've done some level of due diligence and that is more than most can say at the end of the day.
What's the worst financial advice you've seen being given (on YouTube or elsewhere), and why is this bad advice?
The worst financial advice I ever received was at my former workplace. I wasn't being challenged intellectually at my job, and I felt lost. After talking with a few coworkers about my feelings, I began to see the walls of this proverbial prison that I was in — the only difference being that I was the one who locked myself up. 
Make Your Money Work Better for You
The advice I received from multiple co-workers was this: you gotta stick it out for 25 years and then retire, this is the most money you're ever gonna make. 
After hearing this, I became obsessed with proving them all wrong. I didn't just want to poke holes through this false belief, I wanted to show the world who I was and how to succeed. 
So, from my cubicle in Gloversville, NY, I planned and orchestrated my escape. I wrote about this entire journey in my new book "From Side Hustle To Main Hustle To Millionaire," published by Penguin Random House.
Above all else, my advice is don't listen to anyone telling you what you can or can't do. And if someone is telling you what to do, or what not to do, poke some holes.
More From GOBankingRates
Make Your Money Work Better for You
Jaime Catmull contributed to the reporting for this article.