7 Expenses High-Earners Don't Waste Money On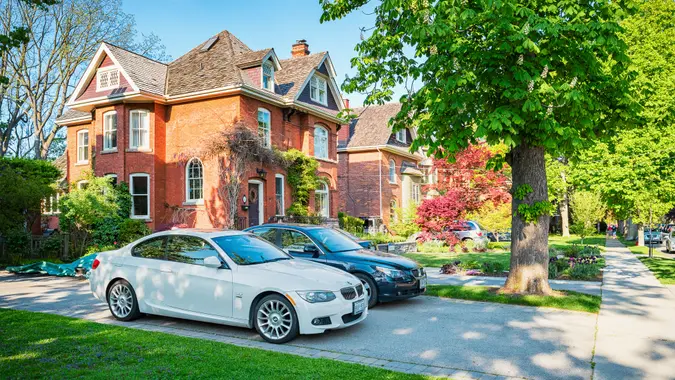 benedek / Getty Images
According to U.S. Census data, only 5% of American households earned $250,000 a year or more in 2020 (the median salary being $67,521). How do these top earners spend their money? And are there certain areas where they try to budget and save? From interviews with high-earners and financial planners with high-income clients, GOBankingRates uncovered a few common areas where some of America's top earners refuse to splurge.
The Future of Finances: Gen Z & How They Relate to Money
Learn: If Your Credit Score Is Under 740, Make These 4 Moves Now
1. Designer Clothing
Name-brand clothing is the top item that Holly Johnson — budgeting expert, freelance writer and author of "Zero Down Your Debt" — refuses to buy. Johnson has been earning a six-figure income since she quit her job to write full time a decade ago. In 2021, she earned $422,000 through her writing.
"I refuse to spend money on luxury items with brand names, such as designer purses or clothing," she said. "I buy most of my clothes at Target or Goodwill, mostly because I think new clothing is a waste and bad for the environment. … We buy most of our children's clothing used, too, and they don't really mind."
Make Your Money Work Better for You
2. Luxury Cars
As the founder and chairman of Lynx Investment Advisory as well as a registered investment advisor, Peter Tanous regularly works with clients who earn over $250,000 a year. While high-earners' spending habits vary, he's noticed that many choose not to spend money on luxury cars.
"I'm surprised to observe how many very, very wealthy clients don't buy prestige automobiles like Maseratis or Porsches–not to mention Rolls Royce or Bentleys," Tanous said. "The ones I know drive ordinary cars and SUVs that are functional and comfortable. They don't need to advertise their privileged financial status."
Tanous' observations match Kat Tretina's experience. As a finance writer and co-founder of Freelance Writer Academy, Tretina earned $210,000 in 2021 and is on track to make $250,000 this year from her freelance writing work.
"I refuse to spend money on cars," Tretina said. "I used to work for a pharmaceutical company, and everyone was trying to keep this image, so every year when bonus time came, you would see brand-new Mercedes in the parking lot. And that just seems like a great way to not ever have money in the bank. So personally, I always buy a cheap, usable car and pay cash."
Make Your Money Work Better for You
Take Our Poll: Do You Think Student Loan Debt Should Be Forgiven?
3. Huge Homes
Kyle Bloyd, a senior financial advisor and vice president of Revolutionary Financial Group, said many of his high-earning clients stick to a budget regardless of how much they make.
"Most do not spend on luxury homes or cars, but some do," he said. "I have noticed that those who do typically finance them. Those who finance tend to have a lot more in assets and those who pay cash have a lot less in assets. I suggest letting the assets grow. Some even use the investments to cover their mortgage and cars, allowing them to not spend the cash."
4. Travel Sports for Kids
Travel sports is another area where Johnson refuses to spend money — and for more reasons than one.
"Travel sports have gotten completely out of control in our area, both due to the cost and the time investment required," she said. "We know many couples with kids who spend their weekends in motels in separate states in order to be at games and tournaments, so their family time is limited."
Make Your Money Work Better for You
But that doesn't mean Johnson never splurges on travel. On the contrary, she and her family enjoy cruises and traveling to unforgettable destinations like Italy, Norway, Denmark and Sweden.
5. First-Class Flight Tickets
Flying first class may be a desirable choice for some, but not for many of Tanous' high-earning clients.
"When traveling as a family, the very wealthy will generally choose economy class on airplanes, eschewing their ability to fly first class," he said. "When asked about this, the most common reply is, 'We get to sit together and we get there at the same time as the guys riding up front.'"
6. Expensive Jewelry
Several high-earners listed jewelry as another item they refuse to pay for.
"I have never had an expensive piece of jewelry in my life," Johnson said. "I still have the $400 engagement ring my husband proposed to me with 17 years ago, and I buy all my earrings at Kohl's."
Tretina agreed, saying she's simply not "a jewelry person" and would "be just as happy with a $10 ring from Claire's."
7. Big Vacations (Sometimes)
Many of Bloyd's high-earning clients limit their vacation spending when their investments aren't performing well.
"While the market is down, they typically don't pay for those cruises or other extravagant vacations," he said. "The wealthy typically think differently while spending and try to be careful when necessary."
More From GOBankingRates
Make Your Money Work Better for You