This Rare Dime Is Worth as Much as $2,000 — How To Spot It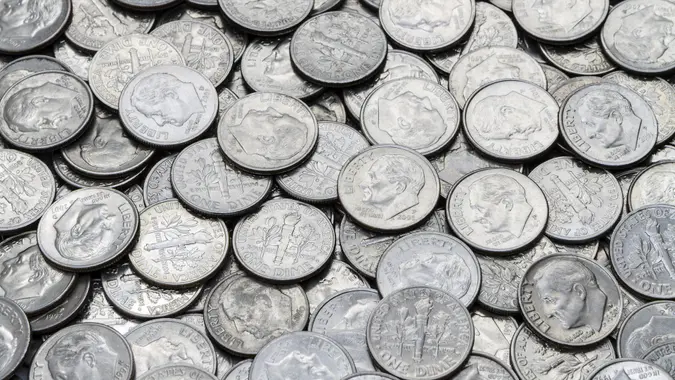 ScottNodine / iStock.com
Spotting rare coins is a lucrative hobby for some, but it takes patience and impeccable eyesight. If you're up for the hunt, keep your eyes peeled for this most unusual dime.
Most U.S coins sport a mint mark — a P for the Philadelphia Mint, S for the San Francisco Mint, D for the Denver Mint, or W for the West Point Mint. But no more than — according to PCGS (Professional Coin Grading Service) price guide editor Jaime Hernandez — 150,000 Roosevelt dimes were released in Philadelphia in 1982 without a mint mark. So, that means they're missing this important letter that normally sits beside the year stamp. If you find a 1982 Roosevelt dime and examine the obverse, look to the area to the right of the date. Normally there will be a letter representing the mint mark. Should no letter be present, you may be in luck.
Because of this error, this particular 1982 "No P" dime is considered rare and could be worth up to $2,000 (or even more). PCGS listed evidence of most MS66 graded examples selling at around $300, and a 2022 sale of a NGC-graded (Numismatic Guaranty Company) MS67 for a princely sum of $630. For those curious, PCGS explained the grading process: "The numerical grades MS-60 through MS-70, used to denote a business strike coin that never has been in circulation. A Mint State coin can range from one that is covered with marks (MS-60) to a flawless example (MS-70)."
The highest sale price on record? A MS68 specimen that sold in 2004 for $2,185 via Heritage Auctions.
Most of the 1982 No P dimes were initially discovered in or around Sandusky, Ohio, and some were handed out at the local Cedar Point Amusement Park as change. Walter Placzwkis, Andrew Macdonald and Lane Durkee are among the first people credited with finding the rare coins, per Hernandez. A good number of 1982 No P Dimes are believed to still be in circulation to this day.
Make Your Money Work Better for You
During the peak of the pandemic, it was tough to come upon spare change, but the crisis appears to be over and things have mostly normalized. You can now find spare change in all sorts of places, including around your house (perhaps even in a piggy bank). You may be in possession of one of these rare coins and not even know it. But if you're serious, it's smart to head to the bank and get rolls of coins — coin roll hunting is a real thing and many serious collectors engage in the practice.
More From GOBankingRates