4 Unexpected Ways the Wealthy Save Money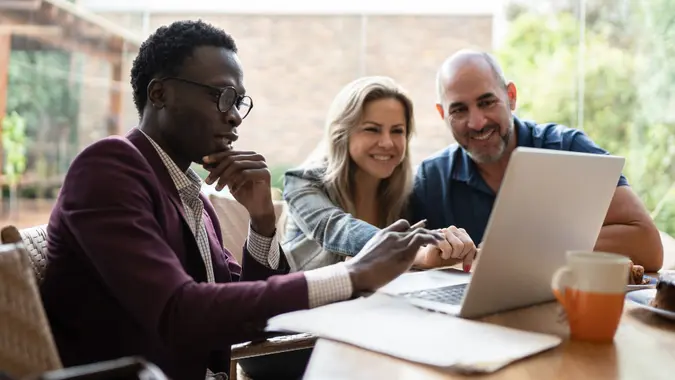 FG Trade / iStock.com
Money pros tell ordinary people to cancel overlapping streaming subscriptions, make coffee at home and grocery shop according to a meal plant to boost their savings. That might all be stellar advice, but the rich can do more than just pinch some pennies here and there.
Massive wealth brings opportunities for massive savings, and just like everyone else, the affluent want to keep more of what they have by reducing fees, lowering costs and cutting their tax bills. Here's how they do it.
They Choose Priceless Experiences Over Expensive Stuff
While the nouveau riche are infamous for advertising their wealth with swanky cars, shiny bling and sprawling mansions, the truly wealthy tend to forgo the flash and splurge on travel and leisure, instead.
"Many wealthy individuals invest in experiences rather than tangible items," said estate planning attorney Celeste Robertson, who serves high-net-worth clients through her firm, The Law Offices of Celeste Robertson.
"By prioritizing memories over materialism, they often find greater personal fulfillment and reduce unnecessary expenditures."
But the real savings come from how they finance those experiences — with other people's money.
Save Like the Rich — Let the Bank Pay for Your Travel and Leisure
According to CNBC, the rich put almost all their day-to-day living expenses on rewards credit cards that pay them points or miles, and they pay their balances in full every month to avoid finance charges. When it comes time to unwind, they use their accumulated rewards to offset the cost of their leisure activities or vacations.
Make Your Money Work Better for You
The most exclusive credit card in the country — the American Express Centurion, or Amex Black card — is available by invitation only and comes with a $10,000 initiation fee and $5,000 annual fee. In return, elite cardholders get lavish perks like personal concierge services, VIP arrival treatment and first-class lounge access.
But mere mortals can save on travel just like the rich without having to pay five figures for the privilege — or even the $400-$700 annual fees several mainstream travel cards charge.
For example, the Chase Sapphire Preferred Card costs just $95 per year and easily negates that fee with excellent rewards and bonuses. Do what the rich do — sign up, charge all your daily living expenses and let your credit card issuer spring for your vacation when you decide you need a break from the grind.
For the Rich, Life Is One Big Yard Sale — They Haggle the Price of Everything
In 2022, Carlo Pignatar, the author of "Sell with Style" and "Serve with Style," wrote an article for LinkedIn titled, "How to Negotiate With the Wealthiest."
He shared lessons learned through 20 years of working in the luxury industry, and he concludes that "negotiating with the wealthiest is not always a walk in the park."
Part of the reason the rich are such effective negotiators is that many of them haggle the price of just about everything they buy as if they lived on fixed incomes.
"There's a common misconception that the wealthy don't bargain," said Robertson. "In reality, many high-net-worth individuals negotiate deals, from real estate transactions to luxury purchases, ensuring they receive the best value."
Make Your Money Work Better for You
They Don't Hire Financial Professionals. They Employ Them.
Ordinary people can leverage rewards credit cards to pay for their travel and negotiate the price of everything from their cable bills to their car payments.
What they can't do is employ their own teams of money professionals to manage their wealth exclusively — and that's how the richest households save more money than most people will ever earn.
"The affluent often tap into family offices or wealth management services that consolidate services under one umbrella," said Robertson.
Your Own Army of Advisors Will Cost a Lot But Save You Even More
Family offices are for the wealthiest households only. According to the Asena Family Office, you must have at least $50 million to create one.
The most affluent households create family offices by hand-picking teams of financial professionals — wealth managers, investment advisors, tax planners, legal experts, etc. — to concentrate solely on getting the most out of their family fortunes. They handle everything from travel arrangements and concierge services to estate planning and tax optimization.
"This holistic approach offers efficiencies, cost savings, and a comprehensive view of one's financial world," said Robertson.
The rich pay a hefty sum to set up family offices, but these personalized dream teams of financial professionals can save their clients millions. For the giants that manage 12-figure wealth for the world's richest billionaires — Walton Enterprises, Bezos Expeditions and Cascade Investment (Bill Gates' family office) — savings can run into the billions.
Make Your Money Work Better for You
For the Wealthy, the Tax Code Is a Research Manual for Saving Money
With a top federal tax rate of 37%, the rich have more to gain by working the IRS code than anyone — and from capital loss harvesting to stepped-up basis valuation on assets in estate planning, the wealthy view tax season as an opportunity to save.
"Understanding and leveraging the tax code is one of the greatest ways wealthy people save money," said Jay Avigdor, president and CEO of Velocity Capital Group.
"The ins and outs of the tax law are complex, but it brings in compounding benefits to those who take the time to study it. Understanding the various tax laws can propel your savings significantly in both the present and long term."
More From GOBankingRates