What's a Personal Financial Disclosure — and What Happens to Your Money If You Don't File in Time?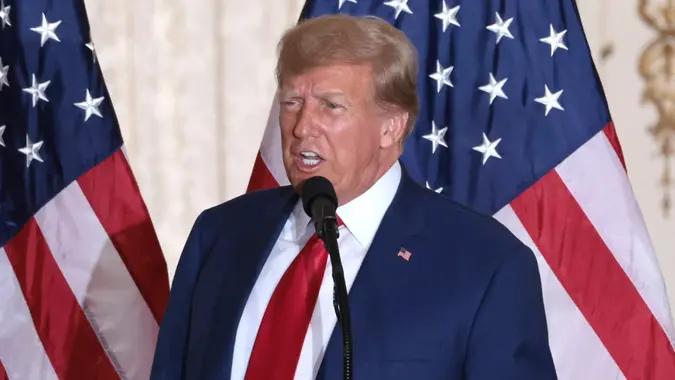 Gary I Rothstein / UPI / Shutterstock.com
Personal financial disclosure laws have been in the news lately, mainly because of reports that former President Donald Trump failed to meet the deadline for reporting his own personal finances.
Trump, a 2024 presidential candidate, was warned in a letter from the Federal Election Commission that a $200 late fee could be imposed if he does not file disclosures within 30 days of the March 16, 2023 deadline, The New York Times reported. That window passes this week. As of Wednesday morning, April 12, Trump had still not disclosed his financial holdings. Last month, the FEC denied the ex-president's request for a third extension.
"President Trump has significant financial holdings, and we have advised the Federal Election Commission that additional time is needed to file his financial disclosure report," Trump spokesperson Steven Cheung said in a statement.
The $200 late fee isn't exactly a huge deterrent to a billionaire like Trump — which might explain why he has taken his time. When he does fill his disclosure, it will provide a glimpse into his businesses since leaving the White House in January 2021 after losing the previous year's election to President Joe Biden.
Make Your Money Work Better for You
Trump is required to file the disclosure as part of a decades-old law that aims to weed out corruption in politics and government. He's far from the only politician or government employee who must disclose their personal finances. According to the U.S. Department of Justice, here are other cases when disclosures are required:
Employees, including special government employees, whose positions are classified above the General Schedule (GS)-15 pay scale.
Employees whose rate of basic pay is fixed, other than under the General Schedule, at a rate equal to or greater than 120% of the minimum rate of basic pay for a GS-15.
Employees in positions which are excepted from the competitive service by reason of being a confidential or policy-making character.
Administrative law judges.
Financial disclosure reports are used to identify potential or actual conflicts of interest, the DOJ said on its website. If the person charged with reviewing an employee's report finds a conflict, they "should impose a remedy immediately."
Take Our Poll: Would You Move for a Job That Paid You a $10,000 Signing Bonus?
Financial disclosure laws don't only apply to politics and government. Separate rules also apply to divorce cases, although these vary depending on where you live.
According to the Stange Law Firm, which has offices in four states, both spouses are required to submit financial disclosure statements in the divorce process. The disclosure must include a complete list of all assets and property. Divorcing spouses can usually retain ownership over their separate personal property, but they must divide their marital property according to state law.
Make Your Money Work Better for You
One thing you shouldn't do is attempt to hide assets during the disclosure process. Regardless of the intention, "hiding assets from property division in any way can result in severe penalties, up to and including criminal prosecution for fraud," according to Stange Law Firm.
More From GOBankingRates
Make Your Money Work Better for You