Jeff Bezos' $5.5 Billion Space Flight and More Billionaire Spending in 2021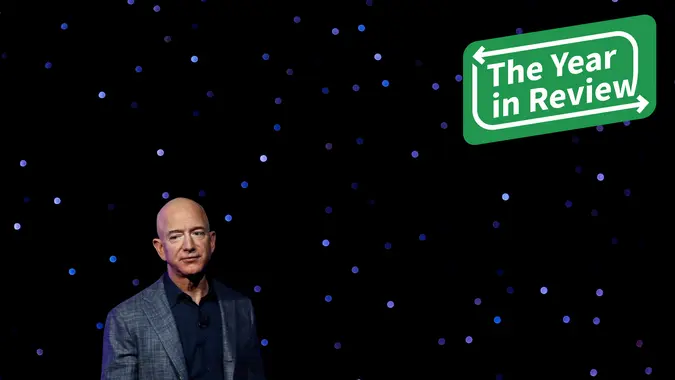 ©Patrick Semansky/AP/Shutterstock
Billionaires: They're just like us. Or are they? Sure, they may be human, but much of the way billionaires live is nearly incomprehensible for the average person in the U.S., let alone the world. From superyachts to space trips to even buying entire towns, billionaires have experiences most of us can never fathom.
That said, there are some examples of billionaires living in much more relatable ways. For instance, Warren Buffett famously lives in a house he bought for $31,500 in 1958. That's just over $300,000 in today's dollars.
We'll look at a few examples of both the highs and lows of billionaire spending, from the relatable to the unimaginable.
Jeff Bezos
Amazon executive chair Jeff Bezos has given us some of the most gratuitous examples of billionaire spending in 2021. He may have been surpassed on the net worth list by Elon Musk, but that hasn't stopped Bezos from sending extravagantly.
Of course, one of the biggest examples of this was his four-minute space flight that cost a staggering $5.5 billion. Is this what they mean by experiences over things? Bezos seems to think so. But Bezos also made large purchases in 2021: He acquired a $500 million, 417-foot superyacht, complete with a helipad and its own "support yacht."
Make Your Money Work Better for You
Peter Thiel
Peter Thiel is an entrepreneur and venture capitalist best known for founding PayPal. He is worth $3.4 billion in 2021 and has been putting that money to good use. In particular, Thiel purchased Wilbur Ross' mansion in Washington, D.C. for $13 million. The seven-bed, 10-bath residence is over 10,000 square feet, according to Zillow. The mansion was reportedly the largest home for sale in D.C. in the past year at the time and has features such as a private movie theater, marble terraces and a servant's quarters.
Mark Cuban
The charismatic owner of the Dallas Mavericks is worth $4.3 billion and hasn't been shy about spending some of his fortune. But Cuban has certainly made some interesting purchases, including a small town in Texas. Yes, Cuban purchased a 76-acre town with just 23 residents in 2021. The reason? His friend needed to sell it. The price was initially $4 million before dropping to $2 million, but the final price is unknown. And Cuban doesn't exactly have big plans for the town. "I don't know what if anything I will do with it," he told the Dallas Morning News.
Elon Musk
Tesla co-founder and CEO Elon Musk is often mired in controversy, and one of his controversial moves is, well, a move. Specifically, Musk has said Tesla will relocate to Texas from California. Before this move was announced, though, Musk sold all of his properties in California aside from an events house in the Bay Area. He then moved to a 400-square-foot "mini-home" that he rents at the site of one of his other companies, SpaceX. The house sells for just $50,000 but is "kinda awesome though," Musk said on Twitter.
Make Your Money Work Better for You
Rihanna
Robyn Rihanna Fenty, known to most as simply Rihanna, is just 33 years old and officially became a billionaire in the summer of 2021. Although many people know her as a musician, she made the bulk of her money from her company, Fenty Beauty. She also made a sizable portion from her lingerie company, Savage x Fenty.
Rihanna came from rather humble beginnings, living in a small bungalow-style home until she was 16 years old. However, now that she has built multiple successful businesses, Rihanna hasn't been afraid to treat herself. She bought multiple large homes in 2021, including a $13.8 million property in Beverly Hills. Then, just three months later, she spent $10 million to buy the house immediately next door to the $13.8 million home.
Kanye West
Kanye West, or as he's now known, Ye, purchased a $57.3 million Malibu mansion this year. The home is 3,665 square feet with four bedrooms and 4 1/2 bathrooms. The home is located right on the shoreline in Malibu and is a modern house designed by Tadao Ando. The home has three levels and includes a rooftop terrace with an oceanside view.
More From GOBankingRates