Here's Which Generation Tips the Least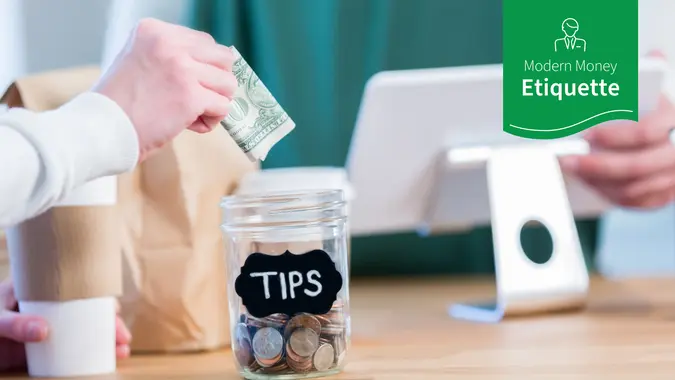 SDI Productions / iStock.com
The pandemic and rise of inflation have wreaked havoc on everyone's budgets, and most Americans are struggling to adapt. As the government attempts to right the ship and correct the economy, workers are wary of returning to service positions with low wages and little (if any) benefits. Although tipping 15 to 20% is common advice, there's worry that tipping averages are dropping with so much uncertainty in the economy. Should we actually be tipping more because of inflation?
SNAP Schedule: When Can I Anticipate August 2022 Payments?
Learn: 7 Surprisingly Easy Ways To Reach Your Retirement Goals
A recent GOBankingRates survey asked over 1,000 Americans about their tipping habits and found that each generation tips differently, specifically the younger ones. When asked how much they tip when restaurant service is bad, 37% of Zoomers (aged 18-24) pay 10% or less. Compare that to 26% of Millennials (aged 25-44) who answered the same. Surprisingly, Millennials seem to be the most forgiving, with 30% of them still tipping 20% or more when they've had a bad dining experience.
The survey also found that when service is good, the purse strings loosen up. Across all of the generations, 35% or more tip 20% at the end of a good meal with a great waitstaff. On the other hand, 6% of Gen Zers admit to tipping less than 10% which is the highest percentage of any generation. Some may view this as Gen Z being stingy with their bank accounts, but there is more at play here than stiffing a waiter.
Make Your Money Work Better for You
Take Our Poll: Do You Tip for Service?
The oldest Zoomers are just turning 25, meaning most of them are still in school, and the minority of them are just entering the workforce. Entry level jobs aren't known for paying much, and what they do pay probably doesn't stretch too far for the average worker. Gen Xers and Baby Boomers have had a lot more time to accumulate wealth and get high-paying jobs. And let's face it, it's a lot easier to be generous when you have a lot to begin with.
Jenny Ly, a professional travel blogger and entrepreneur at Go Wanderly, gave some advice on tipping with such high inflation. "The basic etiquette is to always practice generous tipping," she said. "It is entirely your choice if you decide to tip 20% or 25%. The general rule of thumb is to be as liberal as possible for you. Form a budget that gives you the space for hefty tips when you plan on dining out. The crux of the situation is, that if you are capable of tipping more, you must be generous."
Make Your Money Work Better for You
The best overall advice: when budgeting for eating out, make sure that you include tipping in the total. And regardless of good or bad service, always opt for generosity and tip your server.
More From GOBankingRates
Make Your Money Work Better for You