What to Do If You Get Priced Out of Your City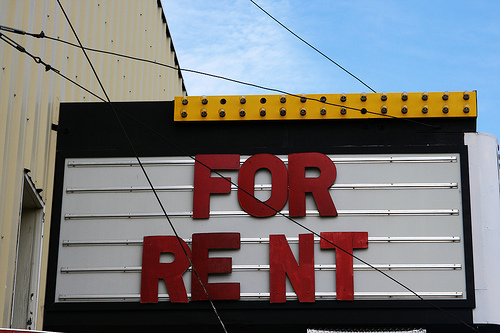 The term "priced out" usually evokes the idea of a next-gen iPhone or new sports coupe — luxuries we'd really, really like to own, can't afford, but can basically live without. It's an entirely different story when we're faced with the prospect of being priced out of our own neighborhoods because the rent or mortgage rates are too high. Unfortunately, it's becoming an all-too-familiar scenario: If you live in an urban area that's becoming more popular, housing costs will rise as more people flock to live in your city.
"One out of three Americans now live in a housing market where rent for a three-bedroom home eats up more than 30% of the monthly median income, the traditional threshold for affordability," wrote CNN Money's Les Christie, citing RealtyTrac. And it gets worse: According to Christie, Harvard's Joint Center for Housing Studies recently discovered that renters (particularly in Philadelphia, Brooklyn, Baltimore and Miami) are devoting half their incomes toward rent, far higher than the recommended 30 percent.
"Given the high cost of housing, it's common to realize that you can't afford the home you want in the neighborhood you love," wrote Jim Rendon in The New York Times.
If you feel you're coming closer to being priced out of your town or city, consider some ways to extend your budget and live where you want to live — not where the market tells you to.
How do People Get Priced Out?
There can be a number of reasons in major metropolitan areas that can drive up the costs of housing. Take New York, for example: The average apartment rent in the most expensive U.S. city is $3,017.  Some reasons why the rent in the Big Apple (and similar cities) is so high:
Lack of space: "There are only so many square miles of land in the city," wrote Josh Barro of Business Insider. "When lots of people want to live in a limited space, they bid up land prices, and that flows through to rents."
Limited supply: Zoning rules often work to limit building density, minimizing the amount of available apartments up for rent. Combine that with a lack of affordable housing options, and current or potential residents are faced with just a few very expensive options. Then there's parking — in some cities, it's mandatory to provide it. "That drives up costs and discourages construction," Barro noted.
High costs: Property taxes in major cities lean on the high side — New York and Detroit have the highest. "Some portion of this added tax burden gets shifted to tenants as higher rents," Barro wrote. Then there are the aforementioned pricey construction expenses. Manhattan's, for example, are 19 percent higher than Chicago's (another expensive city in its own right). According to Barro, "Higher construction costs mean higher rents."
Avoid Getting Priced Out
1. Downsize
See if you can find smaller living arrangements, like a studio apartment. The savings from a $2,000 one-bedroom apartment to a $1,200 studio can make a significant difference — and might even help you save up for a down payment on a house.
2. Rent control
Seek out apartments with a rent control policy. Like an interest rate, your monthly rent will remain fixed at its original amount and is less likely to increase at an exorbitant rate, even if median rent prices in the neighborhood do rise.
3. Roommate up
Seek out one or more roommates to split the rent. If you're committed to living in your city, but can't come up with the extra $800 a month, one or two roomies can help split the bill. When everyone holds up their end, that spells financial teamwork.
4. Go back to basics
"Can you live without a dishwasher and a gym? Can you consider laundry in the building rather than washer and dryer in the unit?" wrote Nancy Simmons Starrs of The Washington Post. Foregoing some amenities for cheaper alternatives in the meantime — like outdoor fitness (it's free!) — gives you more leverage on rent. Don't forget that eating in versus dining out is always an affordable (and healthier) option.
5. Consider commuting
"Your first instinct might be to look a few stops away on the same subway line … or you might choose a neighboring area," wrote Rendon of The New York Times. By doing so, you can drastically cut your rent by living in a more affordable city, but remember: You'll need to weigh your newfound savings with the cost of gas or public transportation back into the city for work.
"If moving 10 to 12 Metro stops away from work or farther driving distance from work saves you $100 in rent, you might want to look at the increase of cost in your commuting expenses to make sure that savings in rent makes sense," Starrs wrote.
It's all About Location
Take it on a city-by-city basis. According to Jed Kolko of Trulia.com, four out of the top five least affordable housing markets for people in a middle class income bracket are, unsurprisingly, in California (San Francisco, Los Angeles, Orange County and San Diego). The New York/New Jersey metro area is also on the list. The top five most affordable? Akron, Toledo and Dayton, Ohio; Gary, Ind.; and Columbia, S.C.
If you're on the West Coast, for example, but feeling priced out, think about relocating to another affordable area. Can you find work in your industry in another state? A smaller market can often mean a more reasonable cost of living, balanced with more career growth opportunities.
Remember that there's a difference between being priced out and being displaced. If your financial situation is leaving you at the risk of homelessness, take more direct measures. Rental assistance from government organizations like the U.S. Department of Housing and Urban Development, and other public housing programs, are always within reach.
Photo credit: quinn.anya