Supreme Court Justice Brett Kavanaugh's Net Worth Revealed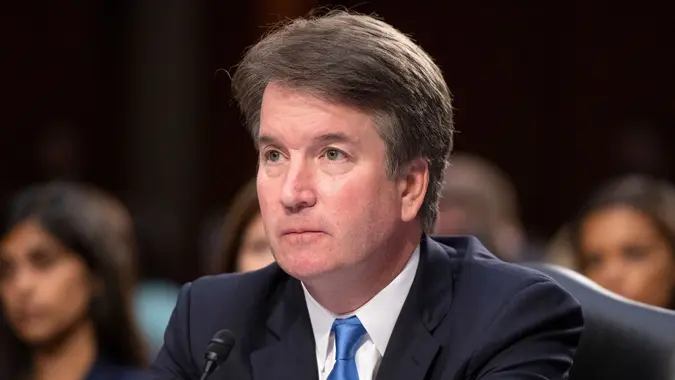 REX/ / Shutterstock.com
The Senate confirmed Brett Kavanaugh's Supreme Court appointment in a final vote on Oct. 6. As the world watched the testimony of Brett Kavanaugh and Dr. Christine Blasey Ford in the weeks leading up to the vote, questions arose about the person who would become the next individual to sit on the nation's highest court. And although many of those questions will likely continue to swirl, others — like Kavanaugh's financial history — are much clearer.
As a long-time federal employee, Kavanaugh has frequently had to report information about his assets, giving a reliable, if incomplete, view of what Kavanaugh's net worth might be.
Click to find out how much Trump's staff earns.
Check Out: A Look at Michael Cohen's Finances as He Surrenders to the FBI
Brett Kavanaugh's Net Worth: $1.2M
In his 2017 personal financial disclosure, Kavanaugh listed just two assets that had a combined value of up to $65,000 in addition to debts of as much as $15,000. However, the requirements of those disclosures could leave out a lot of information.
The assets include bank accounts with Bank of America valued between $15,001 and $50,000 and a retirement plan his wife, Ashley, has from a previous job with a value below $15,000. He has also borrowed from a federal Thrift Savings Plan and could owe as much as $15,000, according to Bloomberg.
Make Your Money Work Better for You
It's also clear that this 2017 disclosure isn't a complete picture. It doesn't include Kavanaugh's federal pension, for instance, or the home that Kavanaugh and his wife purchased in the suburb of Chevy Chase, Md., in 2006 for a whopping $1.2 million — a price that might not be surprising considering Chevy Chase is home to the most expensive ZIP code in the state.
The 2017 snapshot also would appear to imply that Kavanaugh had managed to pay off the substantial credit card debts he reported in his 2016 disclosure or paid the debts down enough that he wasn't required to report the details. In 2016, he had $60,000 to $200,000 in debt that he reportedly accrued largely by purchasing baseball tickets for himself and his friends to Washington Nationals games. 
Also See: Robert Mueller's Facebook Stock Investments and 8 More Money Facts
Brett Kavanaugh Could Be Among the Poorest Supreme Court Justices
Although Kavanaugh's valuable home and healthy bank account would be the envy of most Americans, it might not impress his future colleagues should his nomination ultimately move forward.
As of 2016, Justice Stephen Breyer had a minimum net worth of $6.15 million, Chief Justice John Roberts had an estimated worth of at least $5 million and Justice Ruth Bader Ginsburg had at least an estimated $4 million.
The poorest justice aside from Kavanaugh — should he be confirmed — would be Clarence Thomas, who is worth at least $585,027 based on his 2016 financial disclosures, but he's only now the poorest because the previous lowest net worth would be that of outgoing justice Anthony Kennedy, whose estimated minimum net worth was just $580,003.
Make Your Money Work Better for You
Click to keep reading about 10 of the richest people to stand trial.
More on Net Worth