Carl Icahn Net Worth: See How Rich the Influential Investor Really Is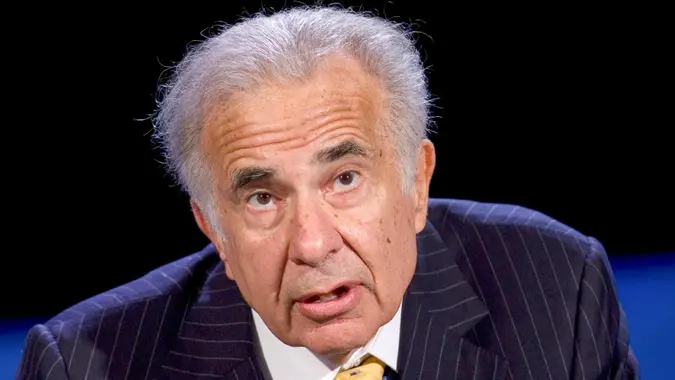 Mark Lennihan/AP/REX / Shutterstock.com
Carl Icahn is an American business icon. He began his career on Wall Street in 1961 and has since become an influential and well-known investor.
Although some consider him a "corporate raider," Icahn fashions himself as a "shareholder activist." He is the chairman of the board of Icahn Enterprises, has been involved in numerous industries and served as an adviser to President Donald Trump.
About Carl Icahn
Age: 82
Net Worth: $16.8 billion as of June 22, 2018, according to Forbes
Primary Sources of Wealth:

Investments and acquisitions
Icahn Enterprises L.P., which has holdings in 10 primary business segments: automotive, energy, food packaging, gaming, home fashion, investment, metals, mining, rail car and real estate
Click to read about the net worths of Trump's former administration staffers.
Carl Icahn Net Worth: $16.8B
Icahn's net worth of nearly $17 billion places him at No. 73 on the 2018 Forbes list of billionaires and No. 27 on the Forbes 400 list of 2017. In 2016, the publication named him No. 65 on its list of the world's most powerful people. The investor has made plenty of money over the years — and lost plenty of money, as well.
Carl Icahn, the Corporate Raider
Icahn's reputation as a "corporate raider" stems from the business strategy of inserting his influence in companies by purchasing a large stake in its holdings. At that point, he can exert control over the company by calling for a leadership overhaul, new managerial directions or other actions that would disrupt day-to-day operations. Then, the beleaguered company must purchase back Icahn's stake at a premium in order to prevent what is essentially hostile takeover. The monetary transaction that prevents this is what's known as "greenmail."
Make Your Money Work Better for You
Icahn's most infamous use of this strategy involves the now-defunct Trans World Airlines. He bought the airline in 1985 with the promise of making it profitable. He borrowed heavily to complete the purchase, however, and also slung off some of the company's assets to repay the debt. When he took the company private in 1988, he made $469 million — an almost $30 million profit — while the company was saddled with $540 million in debt. TWA repeatedly declared bankruptcy in subsequent years until American Airlines acquired it in 2001.
Related: 25 CEOs That Have Saved or Sunk Major Corporations
Carl Icahn and Donald Trump
Trump initially tapped Icahn for secretary of treasury, a position he would have accepted had it not been for the controversy that followed. He was already an adviser to the president on regulatory matters. In 2017, he pushed to alter an Environmental Protection Agency rule that outlined how corn-based ethanol is mixed with gasoline. Icahn is also a top investor in CVR Energy, and the policy change he was pushing would have saved the company $205.9 million in 2016.
The alleged perception of conflicts of interest eventually moved Icahn to issue a statement in August 2017 in which he stated he did not believe his role presented conflicts of interest but confirmed the end of his role as Trump's adviser. Icahn's influence might have paid off, anyway: In April 2018, the EPA granted a financial hardship waiver to CVR Energy, resulting in a rebound of $1.4 billion for Icahn.
Check Out: 10 Millionaires Who Lost It All and Bounced Back
Carl Icahn Personal Life and Career Trajectory
Icahn is a New York native and grew up in Far Rockaway, Queens. He received a degree in philosophy from Princeton in 1957. After a stint in the Army, Icahn entered the world of Wall Street. Several years later, he formed Icahn and Co., a securities firm whose forte was arbitrage and options trading.
Make Your Money Work Better for You
He began really taking the business world by storm in the late 1970s and '80s, the period during which he earned his corporate raider reputation. Icahn has been a major investor or pivotal figure in dozens of companies, including:
Apple
CIT
Dell
eBay
Herbalife
Marvel
Motorola
Navistar International
Netflix
Regeneron
Texaco
Time Warner
Viacom
Western Union
Yahoo
In June 2018, Icahn gained control of the board of SandRidge Energy, a U.S.-based shale producer, with intentions to sell.
Icahn married twice. The first time was to Liba Trejbal, with whom he had two children, from 1979 and 1999. He married his second wife, Gail Golden, the same year he divorced Trejbal. The couple has two children from Golden's previous marriage.
Click to read more about dirty secrets and mistakes of the wealthiest investors.
More on Net Worth
Lorina Morton contributed to the reporting for this story.