Fashion Week 2015 Runway: Michael Kors Net Worth Vs. Tory Burch Net Worth and More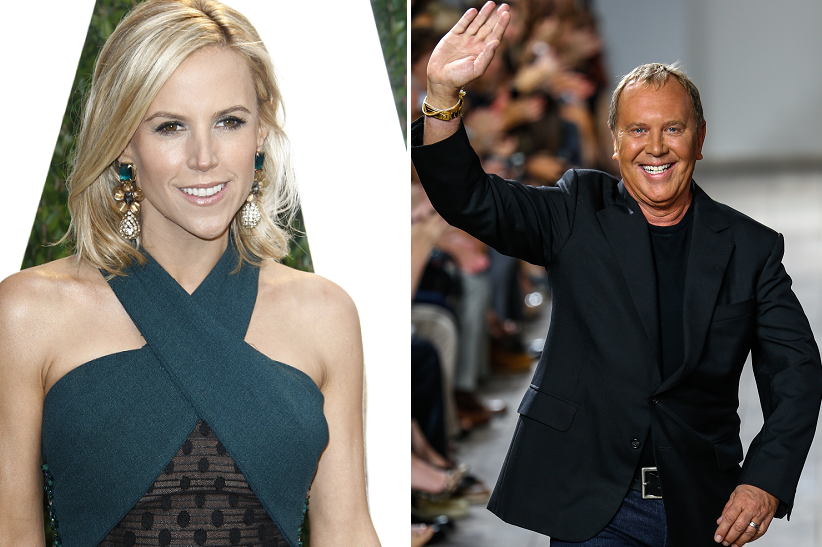 With prices in the thousands or even tens of thousands, the latest designer duds to hit runways during New York Fashion Week will probably test the budgets of all but the richest fashionistas. So it's no surprise those spending splurges have allowed some notable designers to amass net worth figures in the millions — and even billions — over the years.
From Michael Kors to Tory Burch, here's how the fashion fortunes of a few designers behind the labels scheduled to appear during New York Fashion Week 2015, held Sept. 10 through Sept. 17, add up:
Michael Kors Net Worth: $915 Million
Michael Kors fell off of Forbes' billionaires list earlier this year, likely because his company reported a decrease in store sales in Q1 2015. Although Michael Kors' net worth fell from $1 billion to $915 million in one year, he's still a very rich man. The designer is known for his logo-bearing handbags and his time as a judge on "Project Runway," which made him a household name. Kors, who once filed for bankruptcy in the 1990s, has seen Michael Kors shares rise again following quarterly results reported in August. At Fashion Week, Kors' runway show will be taking place on Wednesday, Sept. 16.
Keep Reading: 20 Savings Hacks at Marshalls, T.J.Maxx and Ross
Tory Burch Net Worth: $1 Billion
After being deemed "the next big thing in fashion" on "The Oprah Winfrey Show" in 2005, Tory Burch's bohemian, preppy clothing line has become a multi-billion dollar brand that now includes everything from clothing and handbags to watches and swimwear. Burch even has stores across the globe, from Bahrain to Brazil. These days, the one-time publicist has a net worth of $1 billion. Her show during Fashion Week 2015 falls on Tuesday, Sept. 15.
Related: Jessica Alba and 21 Other Successful Female Entrepreneurs Under 40
Ralph Lauren Net Worth: $6.1 Billion
This all-American designer began working part time in the garment district as a teen and got his big break when Neiman Marcus ordered 1,200 of his ties, reports Forbes. Since then, Ralph Lauren has become a global household name. According to the publication, Ralph Lauren's net worth is $6.1 billion, putting him at No. 193 on Forbes' latest list of the world's billionaires. At this year's Fashion Week, Lauren's shows will be held on the last day, Thursday, Sept. 17.
Renzo Rosso Net Worth: $3.3 Billion
Diesel owner Renzo Rosso joined denim master Adriano Goldschmied at Moltex, an Italian manufacturing firm, in the mid-1970s. By 1978, the pair had renamed their company, Diesel. Seven years later, Rosso bought out his partner. He believed young people would pay a premium for vintage-looking jeans that were actually brand new. "My cheapest pair of jeans was $100," said Rosso in an interview with Forbes. "This was 1986, when the most expensive pair in the U.S. was Ralph Lauren, at $52."
In the end, Rosso was right. His net worth is currently an impressive $3.2 billion. The Diesel Black Gold collection will be showing at New York Fashion Week on Tuesday, Sept. 15.
Calvin Klein Net Worth: $700 Million
Designer Calvin Klein's net worth is $700 million, according to CelebrityNetWorth. Known for his controversial ads featuring young models in underwear, jeans and sometimes suggestive poses, this designer started off in the garment district as well.
According to Entrepreneur, the designer was given $75 a week for sketching designs for coat mogul Dan Millstein. But in 1968, he used $2,000 of his money plus a $10,000 loan from a friend to create Calvin Klein Ltd. Today, the brand is so popular that some people forget there's a face behind the company. "I've met people who didn't even know there was a Calvin Klein," said Klein. "They thought it was just the name of a product."
Calvin Klein's show at New York Fashion Week will be held on Thursday, Sept. 17, after Ralph Lauren's two shows.
Diane von Furstenberg Net Worth: $450 Million
This Brussels-born designer was well known for her signature jersey wrap dresses, but E!'s "House of DVF" introduced her to a new generation. Indeed, von Furstenberg counts Michelle Obama, Gwyneth Paltrow and other celebrities as clients. Although she is married to media billionaire Barry Diller, von Furstenberg is a self-made multimillionaire with a $450 million net worth. The designer is expected to have a show at this year's Fashion Week on Sunday, Sept. 13.
Keep Reading: 6 Luxuries That Aren't Just for the Rich Anymore
Vera Wang Net Worth: $400 Million
Designer Vera Wang is another self-made multimillionaire who made a name for herself in the fashion industry by bringing high fashion from the runway to the wedding aisle. Wang has outfitted notable brides, including Kim Kardashian (for her wedding to Kris Humphries), Khloe Kardashian, Ivanka Trump, Victoria Beckham, Chelsea Clinton and more.
She opened her flagship bridal boutique in 1990, but now her designs are sold in at least 20 additional locations around the world. Revenues from licensing deals with mass-market retailers David's Bridal, Kohl's and Zales also add to her bankroll and contribute to her $400 million net worth.
Kate Spade Net Worth: $200 Million
From nylon handbags to high-quality bags made from various materials — including satin, leather and even metal — the Kate Spade brand has grown to include clothing, shoes, jewelry and more. While Kate Spade might not be one of the wealthiest designers on this list, her $200 million net worth — according to CelebrityNetWorth — is still very impressive. Her New York Fashion Week show is expected to take place on Friday, Sept. 11.
And this holiday season, expect to see a new accessories line from Spade that will include shoes and handbags. "I've spent the last eight years raising my daughter and being a consumer," Spade told Women's Wear Daily. "It's exciting to be back at work." The collection will likely not bear the designer's name, however, since she and her husband left Kate Spade & Co. in 2007 after Liz Claiborne Inc. acquired the company from the Neiman Marcus Group for $125 million in 2006.
Watch: Michael Kors Mercedes-Benz Fashion Week 2014
Photo credits: FashionStock.com / Shutterstock.com; Phil Stafford / Shutterstock.com