Facebook's COO and 27 Other Powerful Women Worth Billions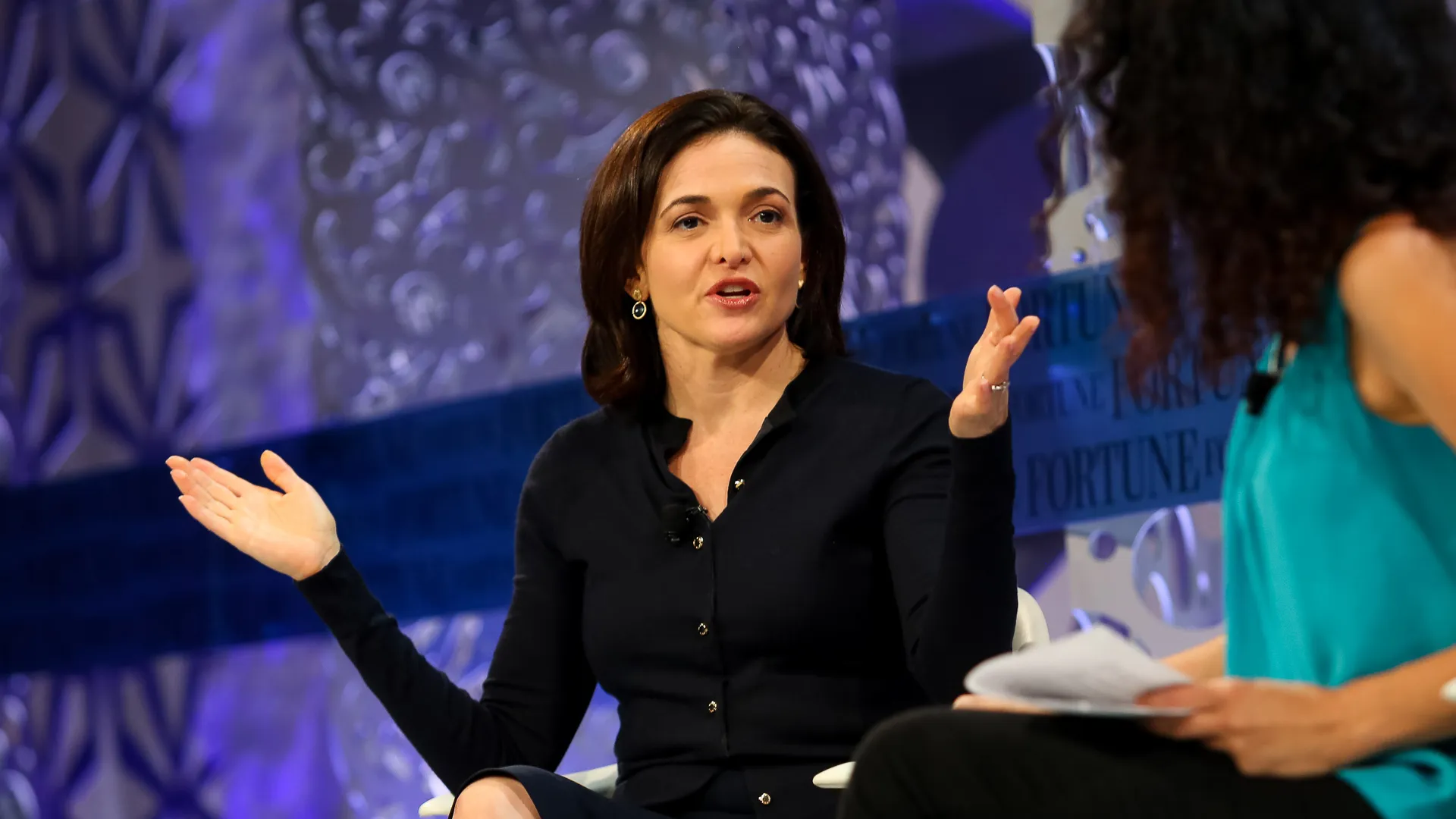 Abigail Johnson Net Worth: $17.5 Billion
Abigail Johnson, who is among the richest women in history, represents the third generation of her family at Fidelity as the first woman to helm the firm. The married mother of two was named Fidelity CEO in 2014 and chairman in 2016 when her father retired.
She owns an estimated 24 percent of the firm, which has around $2.5 trillion in total managed assets as of March 2018, according to the company's website. Johnson worked her way to the top at Fidelity: She started with a college summer job in customer service and her first full-time position at the firm was an entry-level research analyst.
Make Your Money Work Better for You
Meg Whitman Net Worth: $3.4 Billion
As the former CEO of Hewlett Packard Enterprise and former chairman of HP Inc., the super-wealthy executive Meg Whitman rakes in more than $100,000 an hour, according to Business Insider. A longtime Silicon Valley power player, she oversaw the company's split into two distinct entities in 2015 — Hewlett Packard Enterprise and HP Inc.
She might be best known for growing eBay from $4 million in annual sales when she became CEO in 1998 to nearly $8 billion when she stepped down in 2008. Also an author, she wrote "The Power of Many: Values for Success in Business and in Life."
Sheryl Sandberg Net Worth: $1.6 Billion
It's true that Sheryl Sandberg isn't a CEO, but Facebook's chief operating officer has more than earned a spot on the list. The mother of two earned nearly $18.7 million from the social network in 2015, according to Facebook's 2016 proxy statement.
Not only did she write The New York Times best-selling books "Lean In: Women, Work, and the Will to Lead" and "Option B," she used both to start nonprofits. Sandberg's LeanIn.Org Foundation works to help women across the globe achieve their dreams. Inspired by her husband's sudden death in 2015, her Option B nonprofit helps people stay strong when faced with adversity.
In August 2018, Sandberg announced her plan to donate all her shares from SurveyMonkey, her late husband's online polling company, to charity. The company plans to raise as much as $100 million for its initial public offering.
Safra A. Catz Net Worth: $740 Million
Safra A. Catz took over her position as CEO in 2014. Along with co-CEO Mark Hurd, she has steered the company to larger-than-expected profits and revenue so far in 2018, which has kept stock prices healthy. Catz is one of the highest-paid female executives, having earned nearly $41 million in 2017, according to Forbes.
The mother of two is known for leading Oracle's acquisition strategy and has helped close more than 100 acquisitions since 2005. Previously the company's chief financial officer, she's been with Oracle for 19 years, starting in 1999 when she joined as a senior vice president.
Marissa Mayer Net Worth: $600 Million
Since resigning from her job as Yahoo CEO in June 2017, Marissa Mayer has been out of work, but she's likely not hurting for cash. She became CEO of the web services provider in 2012, and earned a salary of more than $900,000 per week, totaling more than $239 million, according to The New York Times.
Her biggest move as CEO was brokering a deal for Verizon to purchase Yahoo for $4.48 billion, which culminated with her planned departure — and a $23 million severance package. The married mother of three was also one of Google's first employees, a status that bolstered her ascent to the top.
Make Your Money Work Better for You
Indra Nooyi Net Worth: $80 Million
After joining PepsiCo in 1994, Indra Nooyi climbed the ranks to the top, earning her current titles of president and CEO in 2006 and chairman in 2007. In 2017, the married mother of two daughters received a total compensation of $31.1 million, according to a report by Reuters.
Realizing that carbonated beverages were slowly going out of style, the forward-thinking CEO declared Pepsi no longer a soda company and began working to offer healthier alternatives. The Obama Administration also appointed her to the U.S.-India CEO Forum.
PepsiCo announced on Aug. 6, 2018, that Nooyi will step down from her position after 24 years with the company, and after being its first woman CEO. She will be replaced by Ramon Laguarta, who has overseen global operations and public policy for the company.
Another Woman Making Waves: How This Woman Exec Is Shaking Up the Finance World in the Best Way
Irene Rosenfeld Net Worth: $80 Million
You might not be familiar with the name Mondelez International, but you probably know its snacks. The global snacking business owns big brands like Oreo, Nabisco and Trident gum. This was due to the efforts of Irene Rosenfeld, who stepped down in November 2017. Previously the chairman and CEO of Kraft Foods, Rosenfeld led the charge to split the company into two separate entities — Kraft Foods and Mondelez International — in 2012.
Ginni Rometty Net Worth: Unknown
After 30 years with the company, Ginni Rometty became IBM's first female CEO in 2012. Currently serving as CEO, president and chairman, her rise to the top included various leadership positions and many significant accomplishments, including spearheading IBM's 2002 acquisition of PricewaterhouseCoopers Consulting.
At IBM's 2017 annual meeting, shareholders voted to raise Rometty's salary more than 60 percent to $33 million, reported CNBC. Rometty met her husband while interning at GM in college and married him three years later, according to the Financial Times. She serves on several boards, including the Council on Foreign Relations.
Make Your Money Work Better for You
Mary T. Barra Net Worth: Unknown
Not only is Mary T. Barra the first female CEO of General Motors, she's the first woman to lead a company in the automotive industry. She started with GM as a co-op student in 1980 and rose through the ranks in various leadership positions until she became CEO in 2014 and chairman in 2016.
Barra earned nearly $22 million in 2017, according to Bloomberg. She serves on several boards, including two for her alma mater — the Stanford University Board of Trustees and the Walt Disney Company board of directors.
Phebe Novakovic Net Worth: Unknown
In 2013, Phebe Novakovic was named CEO of global aerospace and defense company General Dynamics. She joined the company in 2001 but was previously employed by the federal government, which included stints with the CIA, the U.S. Department of Defense and the Office of Management and Budget.
A mother of three, Novakovic is beefing up the company as CEO, which generated a revenue of $9.19 billion in second quarter 2018 while enjoying profits of $786 million. As well, she's led the acquisition of IT company CSRA, which will expand General Dynamics' technology capabilities.
Oprah Winfrey Net Worth: $2.9 Billion
After hosting her eponymous talk show for 27 years, Oprah Winfrey took her television career to the next level by launching her network. The media mogul debuted OWN: The Oprah Winfrey Network on Jan. 1, 2011.
She appointed herself CEO in July 2011 and is slated to retain her role through at least 2025. The busy power woman is also an actress, who recently starred in the 2018 film "A Wrinkle in Time."
You might be surprised to learn that Winfrey grew up poor like a lot of other billionaires.
Magdalena Martullo-Blocher Net Worth: $5.1 Billion
She previously held management positions at Johnson & Johnson and Swiss beverage maker Rivella, but Magdalena Martullo-Blocher stepped into the role of CEO at Ems-Chemie in 2004. She took the reins of the Swiss polymer and chemical manufacturer from her father, and Martullo-Blocher and her sister Rahel are currently the company's majority shareholders.
The mother of three, who is worth a whopping $5.1 billion according to Forbes, was also elected to the Swiss parliament in 2015, and currently serves on the National Council.
Make Your Money Work Better for You
Bethenny Frankel Net Worth: $25 Million
More than just one of "The Real Housewives of New York City," Bethenny Frankel has achieved major success with her Skinnygirl company, established in 2009. In 2011, she struck a deal with Beam Suntory for the rights to alcoholic products bearing its name — which Forbes estimated at $100 million — but the founder and CEO owns the rights to the brand for other products.
Angela Leong Net Worth: $3.6 Billion
Angela Leong is the second-largest individual shareholder of casino company SJM Holdings. The mother of five is also the company's executive director, and as of June 2018, one of its co-chairmen.
She resides in Hong Kong and has served double duty as an elected Macau legislator since 2005. Leong was re-elected for her fourth term in 2017.
Denise Coates Net Worth: $4.3 Billion
Denise Coates is co-CEO of BET365,  one of the largest online gambling companies in the world, along with her brother John. The U.K.-based billionaire purchased the company's domain in 2000 and launched the site in 2001.
Bet365 generated $2.8 billion in revenue for fiscal year 2017, reported Casino.org. Coates owns roughly half of the privately-held company.
Anne Wojcicki Net Worth: $440 Million
In 2006, Anne Wojcicki co-founded DNA-testing service 23andMe. The Yale alum has served as the company's CEO since inception.
Wojcicki is also the founder and principle of commercial real estate firm Los Altos Community Investments. Wojcicki was inspired to launch the company after she opened downtown Los Altos, California, family-friendly restaurant Bumble in 2011.
Make Your Money Work Better for You
Jane Goldman Net Worth: $3.4 Billion
Jane Goldman is the only female billionaire in the U.S. leading a real estate firm, according to Forbes. She runs the day-to-day operations at Solil Management, which she co-owns with her three siblings.
The privately-held firm run by the mother of two controls the more than $6 billion real estate empire managed by the company, according to The Real Deal, a real estate site.
Zhang Xin Net Worth: $3.4 Billion
Along with her husband Pan Shiyi, Zhang Xin co-founded real estate firm SOHO China in 1995. The mother of two serves as CEO of the company, which develops commercial properties in Beijing and Shanghai.
Find Out: 7 Easiest Ways to Get Into Real Estate Investing Now
Miuccia Prada Net Worth: $3 Billion
She doesn't just have the fashionable last name — Miuccia Prada is also co-CEO of the luxury brand. She joined her husband Patrizio Bertelli at the helm of the company in 2014.
She has a 28 percent stake in the family fashion business she inherited in 1977 with her two siblings.
Anita Zucker Net Worth: $2.6 Billion
Anita Zucker is the chairman and CEO of InterTech Group, a private, family-owned manufacturing company based in Charleston, S.C. The business was founded by her late husband, but he passed away in 2008, and the mother of three has been running it since.
Jessica Alba Net Worth: $340 Million
In addition to being a famous actress, Jessica Alba is a mogul who co-founded The Honest Company, which makes non-toxic household goods. Launched in 2011, the company started by the mom of three company was valued at $1.7 billion in 2015.
She's not the company's CEO, but according to its website, she guides strategy, creative marking and product innovation. Alba also somehow finds time to fit acting into her schedule, including "El Camino Christmas," released in 2017.
See Where Alba Ranks: 20 Richest Actresses of All Time
Make Your Money Work Better for You
Judy Faulkner Net Worth: $3.5 Billion
In 1979, Judy Faulkner founded medical-record software provider Epic Systems in her basement. Today, approximately 200 million patients have an up-to-date record in Epic, according to the company website.
Faulkner's company is used by hospitals, academic centers and patients themselves. Epic realized $2.7 billion in sales in 2017, reported Forbes.
Susan Wojcicki Net Worth: $480 Million
Susan Wojcicki has been the CEO of YouTube since 2014. A Harvard alum, she was Google's 16th employee and served as the company's first marketing manager.
She also served as Google's senior vice president of Adwords and AdSense when she left the company after nearly 15 years in 2014 to pursue her current role. If you're wondering, yes, she's the older sister of 23andMe CEO Anne Wojcicki.
Jane Lauder Net Worth: $2.9 Billion
No doubt, Jane Lauder's cosmetics-mogul grandmother Estée would be very proud of her career choice. After graduating from Stanford, she joined the family business in 1996 and was promoted to her current role as the global brand president of Clinique in 2014, which is owned by the company.
She's served on the Estée Lauder Companies' board of directors since 2009.
Sara Blakely Net Worth: $1.1 Billion
In 1998, Sara Blakely didn't have the right undergarment to wear to a party, so she made her own. This inspired her to launch Spanx, which she started with just $5,000.
Blakely joined the billionaire's club in 2012 and was the youngest self-made woman to make Forbes' coveted World's Billionaires list that year. She stepped up to helm her company again in 2016 after the departure of former CEO Jan Singer.
Make Your Money Work Better for You
Diane Hendricks Net Worth: $6.7 Billion
In 1982, Diane Hendricks and her late husband Ken founded roofing company ABC Supply Co. Inc. She's now chairman of the board of the largest wholesale distributor of roofing supplies in the U.S. and one of the country's largest distributors of siding, windows and other exterior building materials.
A mother of seven and grandmother of 17, Hendricks is also a developer with controlling interest in Hendricks Holding Co., an investment and business development group.
Helen Johnson-Leipold Net Worth: $3.6 Billion
She's an heir to the SC Johnson family fortune, but Helen Johnson-Leipold earns a living the old-fashioned way. The mother of five is the chairman and CEO of Johnson Outdoors, a family of brands that provide products geared toward outdoor living.
Johnson-Leipold is also the fifth-generation family member to serve as chairman of Johnson Financial Group, a position she's held since 2004.
As exemplified by the incredible women here, gender progress in the business sphere has made huge strides, however, a recent GOBankingRates study finds a lack of women in high-paying jobs to this day.
Jill Soltau Net Worth: Unknown
Jill Soltau took the reins of JCPenney in October 2018, a move that the market agreed with; company shares rose more than 10 percent on Oct. 2 following the announcement. Previously the CEO of fabric and craft retailer Joann, Soltau stepped into her new role after previous JCPenney CEO Marvin Ellison left in May 2018.
Soltau, a 30-year veteran of the retail industry, has the distinction of being the 25th woman leading a Fortune 500 company as of October 2018. She'll receive an incoming salary of $1.4 million on top of a $6 million signing bonus.
Click to keep reading about the few jobs where women make more than men.
More on Business People and Net Worth
Sean Dennison contributed to the reporting for this article.
All net worth figures are according to Celebrity Net Worth or Forbes unless otherwise noted.

BEFORE YOU GO
See Today's Best
Banking Offers