Billionaire Political Donor George Soros Targeted With Mailbox Bomb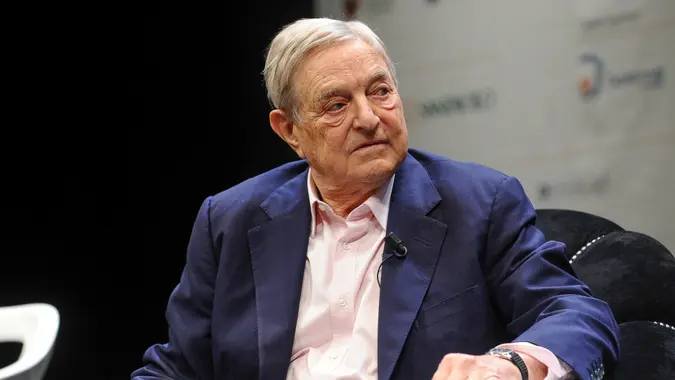 Niccolò Caranti / Wikimedia Commons
George Soros is one of the world's richest octogenarians, a long-time business magnate and an investor whose progressive agenda has garnered both praise and criticism. In 2017, CNBC reported that he gave away nearly 80 percent of his net worth to charity — but being one of the world's richest human beings doesn't come without dangers.
A would-be assassin planted a bomb that was found at Soros' property in Westchester County, N.Y., on Oct. 22. According to the Bedford Police Department, "An employee of the residence opened the package, revealing what appeared to be an explosive device. The employee placed the package in a wooded area and called the Bedford police."
The New York Times noted that Soros is a target of right-wing groups. The Open Society Foundations, Soros' international grant-making network, decried the attack on Oct. 23, calling for more unity in the face of authoritarianism.
Here's a breakdown of the billionaire's fortune and influence:
Net worth: $8.3 billion*
Age: 88
Primary source of wealth: investing
Career highlight: According to Forbes, in 1992, Soros shorted the British pound and reportedly made a profit of $1 billion, and later became known as the man who broke the Bank of England.
George Soros Net Worth: $8.3B
Soros has a net worth of $8.3 billion, according to Forbes. His most legendary money move might have been when he bet against the British pound's strength in 1992. Much of this billionaire's wealth comes from hedge fund management, however, as Soros Fund Management LLC commands $26 billion in assets.
Make Your Money Work Better for You
Soros previously boasted a net worth of $23 billion, but after completing a transfer of $18 billion from his offices to charity, as Forbes reported in 2017, his net worth decreased to a much more modest figure, relatively speaking. The charity in question was Soros' own, the Open Society Foundations, which promotes "democratic governance, freedom of expression and respect for individual rights."
Related: How Robert De Niro Built a Business Empire Worth $1 Billion
George Soros Political Involvement
Soros has consistently donated to political causes since at least the 1980s. He initially supported Republican causes through the early 2000s until the Iraq War compelled him to begin donating to groups trying to block then-President George W. Bush from re-election. Soros repeatedly spoke out against Bush and the Iraq War during that time period. Since then, he has become one of the Democrats' top donors.
Soros continues to be a financial force to be reckoned with in today's politics. The Washington Post reported in April 2018 that Soros donated more than $8 million to political action committees meant to get Democrats elected. In 2016, he pledged to invest millions in refugee causes, drawing the international ire of the right-wing government of Prime Minister Viktor Orbán of Hungary. Politico reported in 2016 that Soros had committed more than $25 million to support Hillary Clinton's presidential campaign and other Democratic candidates and causes.
Other Big Donors: Jeff Bezos' $10M Midterm Donations Make Him Top S&P 500 Donor
How George Soros Made His Money
In his early life, Soros worked part time as a railway porter and nightclub waiter while studying at the London School of Economics. After graduating, he sought employment but was met mostly with rejection. He finally landed a job with a merchant bank in London but emigrated to America in 1956, where he entered the finance and investment world. He founded Soros Fund Management in 1970.
Make Your Money Work Better for You
Soros bases much of his financial acumen on the philosophy of reflexivity, which measures objective reality with subjective reactions in order to gauge market behavior. In simple terms, the theory states that investors base their decisions not on reality but on their perception of reality.
In May 2016, reports surfaced on the Panama Papers, a set of documents outlining shady finances for some of the world's most famous or wealthy people, which detailed that Soros had at least three offshore investment accounts using a Panamanian law firm.
Read: What It Takes to Be a Billionaire
George Soros Personal Life
Soros has been married three times, first to Annaliese Witschak, whom he divorced in 1983, then to Susan Weber Soros, whom he divorced in 2005. He married his current wife, Tamiko Bolton, in 2013. Soros has five children.
Find out which industries are creating the most billionaires.
More on Business People
We make money easy. Get weekly email updates, including expert advice to help you Live Richer™.
*Net worth is accurate as of Oct. 23, 2018.