How Adena Freidman, Nasdaq's Innovative CEO, Is Changing the Future of the Stock Exchange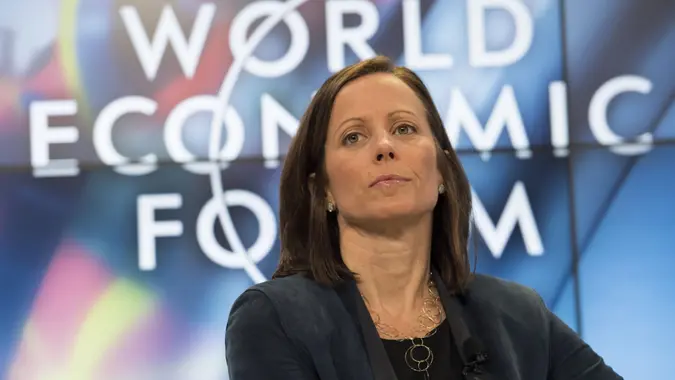 Gian Ehrenzeller/EPA-EFE/Shutterstock / Gian Ehrenzeller/EPA-EFE/Shutterstock
Climbing to the highest rungs of the corporate ladder isn't easy. Among other things, it requires determination, ambition and more than a little luck. Adena Friedman clearly has what it takes – in 2017 she became the first woman to lead a global stock exchange. 
As the CEO of Nasdaq, her relentless drive has manifested as a focus on diversifying the stock exchange into a technology company. In June of 2023 Friedman made headlines when Nasdaq announced that it would buy software maker Adenza for $10.5 billion, the largest deal in the company's history.
Here's more on Friedman's impressive career with Nasdaq and how she's changing the way the stock exchange works. 
Friedman's Start at Nasdaq
Friedman's Nasdaq story is one for the ages. She got her start with the stock exchange as an unpaid intern in 1993, after finishing her MBA at Vanderbilt. Over the next 16 years she went on to hold a number of senior jobs there, such as lead of data products, head of corporate strategy and chief financial officer. She also played an important role in the company's acquisition strategy, helping to oversee the purchase of the Philadelphia and Boston stock exchanges.
In 2011, however, it seemed her time at Nasdaq was at an end, as she was named a managing director and CFO of the Carlyle Group, one of the world's leading private investment companies.
Make Your Money Work Better for You
Taking the Helm
Her absence proved short-lived, however. Then-CEO Robert Greifeld, who Friedman had worked closely with on a number of acquisitions, had begun considering his successor. In 2014, she returned to Nasdaq as chief operating officer, and when Greifeld retired, she replaced him as chief executive officer in January of 2017.
Upon becoming CEO, she began to outline her strategic vision for the company's future. In essence the goal was to begin pivoting away from traditional exchange services, which were becoming more and more competitive – and therefore less profitable – and move toward becoming a provider of technology services to the financial industry.
Friedman executed her strategy through both sales and acquisitions. In 2019, Nasdaq sold its unprofitable commodity-futures business, NFX, signaling its exit from the commodities market. In 2020, Nasdaq announced the purchase of anti-money laundering and fraud software maker Verafin. Valued at $2.5 billion, the Verafin deal would be the largest under her watch until the recent Adenza announcement.
The Future of Nasdaq
As a publicly traded company, Nasdaq's shares trade on its own exchange – and those shares tumbled on the Adenza news, falling almost 12% that day and even further in subsequent days and weeks. The stock market was, and remains, skeptical of the deal, although it's unclear if that is due to the hefty price tag, or doubts about Friedman's leadership.
For her part, Friedman sees the acquisition as a critical step forward for her strategy. Adenza is a leading provider of trading and risk-management technology to banks and investment brokerages, and if the deal is successful, Nasdaq has projected that its old core business of executing trades will fall to around one-fourth of sales revenue, marking a huge shift.
Make Your Money Work Better for You
The Fruits of Success
While Friedman's strategy has yet to play out in full, her success up to this point is already remarkable. She has been a perennial presence on the Forbes list of the world's most powerful women, currently ranking at No. 44. Outside of her position as CEO, she is a Class B director for the Federal Reserve Bank of New York, and joined the Vanderbilt University Board of Trust in 2020.
She has also reaped a bounty of financial reward from her rise to the top. Her total compensation as CEO in 2017 was over $14 million, rising to just over $28 million in 2022. With a total net worth estimated at $120 million or more, it's clear that Friedman's competitive nature has paid off.
More From GOBankingRates