Get the Most for Your Money at the Buffet With These Dos and Don'ts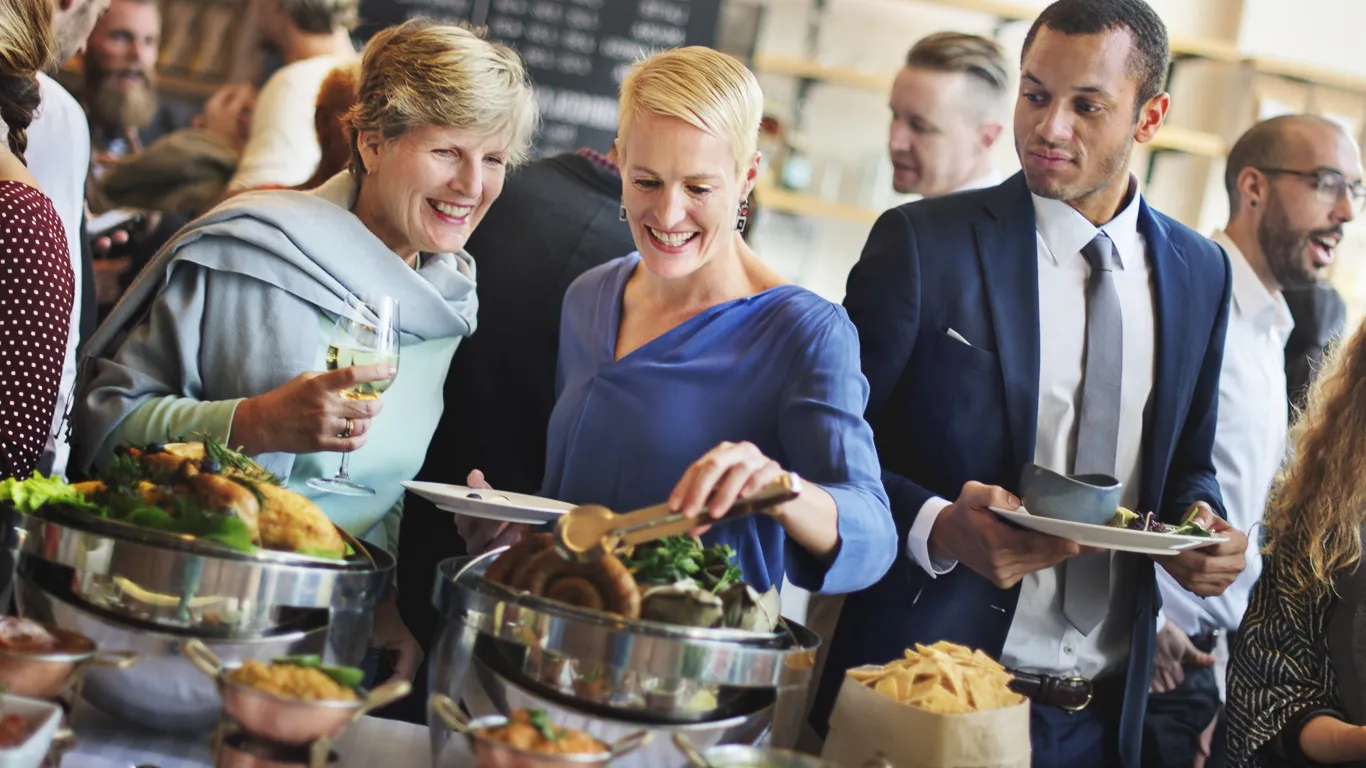 When you're eating out on a budget, it's hard to beat a good buffet. For a fixed price you can graze to your heart's content and choose whatever dishes appeal to you along with the rest of your party. The notion of eating as much as you like of whatever you like is a definite crowd-pleaser, so much so that it has spawned a holiday: National Buffet Day on Jan. 2.
Turning a profit from an open buffet is a challenge for restaurateurs, and it's one they take seriously. The industry in general has a clear understanding of buffet psychology and obviously wants customers to fill up on low-cost, high-profit items. That's not necessarily a bad thing — a buffet restaurant, like any other business, needs to make a profit to keep operating. But following our handy list of dos and don'ts can help you get the most for your money.
Don't Go for The Lowest Price
It can be easy to focus on the bottom-line price per person at a buffet, especially if you're taking out a group of friends or family. That's a mistake, because price is only one part of the picture. You might pay slightly more elsewhere and get a meal you'll enjoy more.
Do Decide What Buffet You Want
Decide if you're out to enjoy a specific high-end item on the buffet — such as lobster tails, crab legs or prime rib — or a range of less-glamorous foods that are prepared well. Both are valid choices, but you might not find them at the same buffet. Check the menu online or in person if you can. Or, turn to customer-review sites like Yelp for feedback about what's on the buffet. If relatively few items appeal to you, it won't be a happy meal.
Make Your Money Work Better for You
Do Consider the Entire Experience
If you have a choice among buffets in your area, think about the atmosphere of each restaurant, its surroundings, the parking situation and how easy it is to get there and back. If any one of those things is a negative, it can affect your enjoying even the best buffet.
Do Look for an Incentive Buffet
A hotel, for example, might use a better-than-average buffet to boost room bookings. Similarly, buffets at casinos provide an incentive for guests to come and gamble. This means casinos can afford to be more lavish with their food by treating it as a loss leader, which works to your benefit even if you have no intention of gambling or staying the night.
Do Pick a Good Time to Go
Buffets are designed to handle large numbers of people effectively, but if you show up at the busiest hour of the week you might face crowds, empty pans or longer-than-usual lines. On the other hand, coming out at a slow time might mean food on the buffet isn't refreshed as often as you'd like. Call and ask a staffer what the best time to come is, or check online reviews for guidance.
Don't Load Up on Carbs
Belly fillers such as potatoes, noodle dishes or rice are usually displayed in inviting piles at the start of the buffet line, and often arranged strategically around high-cost, high-value items. The idea is that you'll pile your plate with those and have less space — on your plate and in your stomach — for the high-dollar items. Instead, take a small amount of carbs and keep the rest of your plate open for more interesting things.
Make Your Money Work Better for You
Do Try Everything First
The pseudonymous blogger behind The Art of the Buffet — who has been critiquing buffets online since 2005 — suggests trying small portions of everything to decide what you really want. "The first plate for me is a sampling plate," said the blogger. "After that plate, the next plate will be those items that I really liked."
Don't Take Too Much
At any other restaurant you'd be horrified if your whole meal was slapped together on a plate with all the flavors and textures mashed together. You can make as many trips as you want and use as many plates as you need, so limit each plate to a few foods and enjoy each dish to the fullest.
Do Eat Normally
Take the usual courses in the usual order. "We start with soup, next go up for salad, and then go for a first plate of entrees and side dishes," the Art of the Buffet blogger explained. Decide for yourself what you want and what you'll skip — he and his wife avoid bread and rolls, for example — you'll enjoy the meal more and overdo it less.
Don't Choose Filling Starters
If you love soup, take something broth-based rather than a hearty, creamed variety. If you opt for a salad, avoid heavy dressings, cheese, croutons, nuts, chickpeas and other substantial toppings. Too many of those can turn a salad into an appetite-killing calorie bomb, which is the last thing you want when you're at the buffet.
Make Your Money Work Better for You
Do Determine If You Could Make Something
Ask yourself if you could easily make what you're about to take or if that item is something you can get for less at any time in another restaurant. If the answer to either question is yes, it's something you probably don't need on your plate.
Do Focus on Why You Came
Whether you went to the buffet for a high-end treat like crab legs or prime rib or something as down-home as tasty fried chicken, make sure you aren't distracted from it by the other temptations.
Don't Focus Solely on Flagship Items
Unless this is your once-a-year binge on crab legs or some other specific treat, go for variety; after all, that's what buffets are all about. Eat things you like or that would be too much trouble to make at home, as well as the things that would cost more at a conventional restaurant.
Do Pay Attention to Service
Watch how often refills come out so you can return to the buffet when the items are fresh and hot. Make a mental note of where the high-cost items — which are typically served in small quantities — are located and return to them immediately when they get refilled.
Don't Drink Too Much
If drinks are not included in the buffet, they can really run up your check. If they are included, you could end up drinking so much that you won't have room for the food. Either way, they cut into your personal "bang for the buck" equation. Drink what you need in order to enjoy your meal, but no more.
Make Your Money Work Better for You
Do Look for Healthy Options
Whenever possible, check nutritional information in advance because deceptively healthy-looking dishes can be loaded with things you don't want. The Old Country Buffet website, for example, provides lists of low-carb, low-fat and diabetic-friendly options. Golden Corral's website singles out farm fresh veggies, gluten-free dishes, sugar-free dishes and those with no sugar added.
Don't Overeat
Getting your money's worth means you've eaten a meal that is up to snuff with what you'd get for a similar price elsewhere. It doesn't mean eating every bite you can physically manage. "This is not your last meal, so don't eat like it is," advises The Art of the Buffet blogger. He and his wife have a three-plate maximum and will often skip the last plate if they feel they've had enough.
Do Consider Takeaway
It's not an option at every buffet, but many will sell takeout portions by the pound. Filling a container with your favorites and taking it home, where you can add inexpensive starches or side vegetables, is often a convenient alternative to the full buffet experience. You might even find full group meals available for takeaway, as a seasonal special offer.
Do Relax and Enjoy
Whether you're part of a group or just a cozy twosome, take the time to relax and enjoy each other's company between trips down the line. When you're ready to go back, "wait until your partner is also ready to go. You will not only enjoy the food, but also the companionship of dining," suggested The Art of Buffet blogger.
Make Your Money Work Better for You
Don't Overlook Food Safety
You should expect any restaurant to be diligent about food safety, but you should still use common sense. If hot foods aren't hot or cold foods aren't cold; if servers are scraping the last of the old food into the new pans; or if utensils are migrating freely between pans, it's time to complain to the management or take your business elsewhere.
Do Tip Your Server
Buffet tipping etiquette isn't as defined as in conventional restaurants, but your server should still get something for clearing your dishes, cleaning the table, handling special requests and keeping your drinks topped off. You won't need to fork over the full 15 to 20 percent you'd pay at a full-service restaurant, though. Emily Post says 10 percent is appropriate and TripAdvisor suggests $1 to $2 per person as an alternative.