How Much is Tim Cook Worth?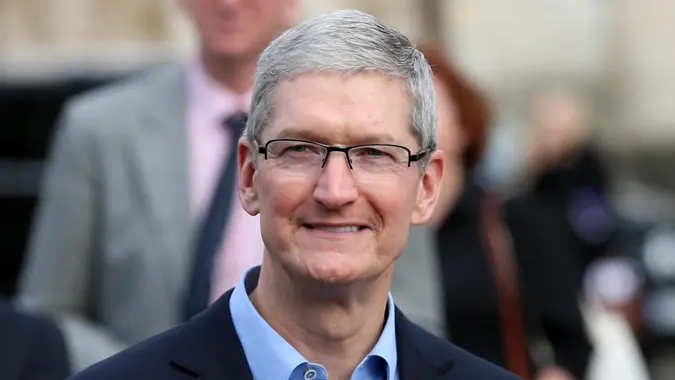 Laura Hutton / Shutterstock.com
As CEO of Apple, one of the world's biggest tech companies, Tim Cook earns an annual salary of $3.4 million and another $8 million-$12 million in bonuses. According to Celebrity Net Worth, his net worth is $1 billion. Cook has arranged for most of this to go to charities upon his death.
Net worth: $1 billion
Date of birth: November 1, 1960
Primary source of wealth: Salary, bonuses and vested shares with Apple
Years with Apple: 1998-present
Read more: Oprah and 24 More Celebrities With Secret Business Empires
Early Life, Education and Work
Timothy Donald Cook was born in Mobile, Alabama, and grew up in the nearby town of Robertsdale. Upon graduating from Robertsdale High School, he enrolled at Auburn University, where he graduated in 1982 with a bachelor's degree in Industrial Engineering. He then earned his MBA in 1988 from Duke University's Fuqua School of Business.
Make Your Money Work Better for You
Cook immediately entered the field of computer technology when IBM hired him, and he eventually became the company's North American fulfillment director. After a 12-year stint at IBM, he worked for Intelligence Electronics for three years and then Compaq for six months. That's when Apple came calling.
Success at Apple
Cook started at Apple in 1998 as senior vice president for worldwide operations. It was a period of decline for Apple, as it was yet to develop the iMac, iPod, iPhone or iPad — products that would turn Apple into one of the world's wealthiest tech companies. In fact, some of Cook's friends and colleagues tried to talk him out of joining the company.
The new VP immediately went to work, changing manufacturing structures and investing in other business strategies in order to turn a profit. It worked; less than a year later, the company was showing signs of new life. He was promoted to lead operations and then chief executive. When Steve Jobs, the founder and then CEO of Apple, took a health-related leave of absence in 2009 and 2011, Cook was responsible for day-to-day operations. When Jobs resigned in 2011, Cook was named CEO.
On the day he became CEO, Cook gained a grant of options that he would receive incrementally over the next nine years depending on Apple's performance. He received the ninth and final grant in August 2020, a testament to how successful Apple has been under his leadership. He is now the corporation's second-largest individual shareholder, owning about 0.02% of the company.
Make Your Money Work Better for You
Private Life
Tim Cook is a very private individual, and although he is a billionaire, he still lives in a modest 2,400-square-foot home in Palo Alto, California. He is not married and has no children. Cook came out as gay in a piece he wrote for Bloomberg in 2014. He said, "While I have never denied my sexuality, I haven't publicly acknowledged it either, until now. So let me be clear: I'm proud to be gay, and I consider being gay among the greatest gifts God has given me."
More From GOBankingRates:
Make Your Money Work Better for You