Top 10 Richest People in the World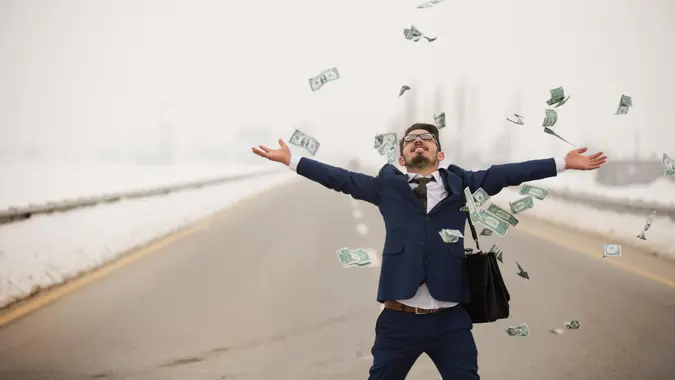 ridvan_celik / iStock.com
It's aspirational to look at the richest people in the world and study the background, techniques and tendencies that characterize their journey. By analyzing their wealth-building traits and areas they have invested in, you can start applying their business acumen to your everyday life.
Explore: Your Biggest Money Etiquette Questions Answered
See: Get Your Credit Score on Track With These 3 Tips for Success
Top 10 Richest People in the World
These founders, leaders and visionaries are individuals with a unique story behind their success that allowed them to amass vast amounts of wealth. Here is a look at the top 10 richest people in the world.
Bernard Arnault: $189 billion
Elon Musk: $160 billion
Jeff Bezos: $124 billion
Bill Gates: $111 billion
Warren Buffett: $107 billion
Larry Ellison: $99.5 billion
Larry Page: $90 billion
Steve Ballmer: $86.9 billion
Sergey Brin: $86.4 billion
Carlos Slim: $85.7 billion
Key Takeaways

The richest man in the world is Bernard Arnault, co-founder of LVMH. He has a net worth of $189 billion.
Tesla CEO Elon Musk is the second richest person in the world. His current net worth is $160 billion.

Seven of the top 10 billionaires are in the

technology industry. The others are in fashion, hospitality, finance and telecommunications.
Mark Zuckerberg of Meta dropped off the top 10 list in February of 2022. He currently ranks 21st with a net worth of $55.1 billion.
Make Your Money Work Better for You
Here's an even closer look at how the 10 richest people in the world got to where they are.
Take Our Poll: Do You Think Student Loan Debt Should Be Forgiven?
1. Bernard Arnault
Age: 73
Nationality: France
Company: LVMH
Net Worth: $189 billion
Industry: Fashion and Hospitality
Quote: "Money is just a consequence. I always say to my team, don't worry too much about profitability. If you do your job well, the profitability will come."
Bernard Arnault is the richest man in the world. He amassed his fortune in the luxury goods industry with the ownership of world-renowned brands such as Louis Vuitton and Christian Dior. He has a net worth of $189 billion. By targeting wealthy demographics and maintaining a nearly 50% stake in his company, LVMH, he has climbed his way to the top 10 richest people in the world.
Arnault's luxury fashion empire spans over 70 brands, which he manages with his siblings. As of January 2021, Tiffany & Co. was added to the panel for $15.8 billion, which was estimated to be the largest acquisition of all time in luxury fashion. Not limited to just fashion, Arnault also owns several luxury hotels and cruise lines that have only added to his wealth over the years.
2. Elon Musk
Age: 51
Nationality: South Africa
Companies: Tesla, SpaceX, The Boring Company, Neuralink, PayPal, Twitter
Net Worth: $160 billion
Industry: Technology
Quote: "I think it is possible for ordinary people to choose to be extraordinary."
Make Your Money Work Better for You
Elon Musk is the second richest man in the world despite his recent losses. He has a net worth of $160 billion. He founded Tesla and currently still holds a 13% stake in the company. However, Musk has long been occupied with several other well-known companies and had his roots within a group known as the "PayPal Mafia." This consisted of serial entrepreneurs and angel investors that made up PayPal's alumni, who have been extremely successful in their own right.
He also owns Neuralink and The Boring Company, and famously has a stake in the social media platform Twitter. 
Musk may be the second richest man in the world, but he doesn't want to stop there. He is the CEO of SpaceX, a rocket manufacturer that supplies the space stations for NASA.
3. Jeff Bezos
Age: 59
Nationality: USA
Company: Amazon
Net Worth: $124 billion
Industry: E-commerce and Technology
Quote: "A brand for a company is like a reputation for a person. You earn reputation by trying to do hard things well."
Make Your Money Work Better for You
At 30 years old, Jeff Bezos left the finance industry to start a business that many saw as foolish — buying and selling books online. That little company that could is known today as Amazon, and it reached a value of more than $1 trillion before dropping into the billion-dollar range. Bezos has a net worth of $124 billion and is credited for pioneering the e-commerce landscape, which has become one of the largest industries in the world.
Following his tremendous success, Bezos stepped away from the company but still is a top stakeholder in it. He has gone on to focus his efforts on Blue Origin, a sub-orbital space flight company with the goal of preserving Earth by colonizing space. The space race amongst the richest people in the world continues.
4. Bill Gates
Age: 67
Nationality: USA
Company: Microsoft
Net Worth: $111 billion 
Industry: Technology and Software
Quote: "Success is a lousy teacher. It seduces smart people into thinking they can't lose."
Bill Gates was a tech-whiz kid growing up, having designed his first software program at age 13. From this foundation, he would go on to become a co-founder of Microsoft, the largest computer software company in the world. Microsoft was first founded in 1975, but Gates decided to step down as CEO in 2000. Gates has a net worth of $111 billion.
He maintained an active role in the company over the years, as Microsoft continued its expansion in the computing, software and gaming sectors, with the company purchasing Activision Blizzard in a deal valued at $68.7 billion. Gates relinquished his duties at Microsoft to focus on philanthropy through the Bill and Melinda Gates Foundation.
5. Warren Buffett
Age: 92
Nationality: USA
Company: Berkshire Hathaway
Net Worth: $107 billion
Industry: Investing and Finance
Quote: "Someone is sitting in the shade today because someone planted a tree a long time ago."
Nicknamed the "Oracle of Omaha," Warren Buffett is regarded as the greatest investor of all time. Buffett has a net worth of $107 billion. His holding company, Berkshire Hathaway, manages a portfolio of investments that include large positions in Apple stock and several bank stocks. Buffett has long spoken about the benefits of compound interest that have helped him accumulate his fortune.
Even as it continues to work in his favor, Buffett has pledged to give 99% of his wealth to charitable foundations and philanthropic causes during his final years, and he had already donated around $48 billion as of mid-2022. Despite his vast wealth, Buffett doesn't live in a multi-million-dollar mansion. Instead, he still resides at the same Omaha house he bought in 1958 for just $31,500.
6. Larry Ellison
Age: 78
Nationality: USA
Company: Oracle
Net Worth: $99.5 billion
Industry: Technology and Software
Quote: "Great achievers are driven, not so much by the pursuit of success, but by the fear of failure."
Ellison has a net worth of $99.5 billion. Like many others on this list, Larry Ellison can attribute his great fortune to the rise of technology. Having founded Oracle in 1977 after dropping out of college, he grew the company from its start-up phase to one of the largest software and database companies in the world. Oracle now has a market capitalization of $236.69 billion, and Ellison has retained a stake of more than 40% to date. 
Ellison made his own fortune, but thanks to substantial investments he made in Tesla before its meteoric rise, he generated a net gain of more than 1,000% on his capital. He joined Tesla's board of directors in 2018; however, Tesla announced in June that Ellison would step down. He still holds a stake in Tesla.
7. Larry Page
Age: 49
Nationality: USA
Company: Google
Net Worth: $90 billion
Industry: Technology and Advertising
Quote: "Good ideas are always crazy until they're not."
Larry Page co-founded Google in 1998 and was CEO until 2001. He returned as CEO from 2011 to 2015 and remains a board member and majority shareholder. Page has a net worth of $90 billion. Nowadays, Google has moved under the umbrella of Alphabet, the tech conglomerate holding company that owns YouTube, Google Play, Android, Fitbit, Mandiant, Looker and Nest. 
Google first built its search engine but repeatedly redefined technology with developments in GPS mapping and translation. This, in turn, led to the creation of one of the largest platforms for advertising in the world — to the good fortune of Page. In 2021 alone, Google generated $209.49 billion in total ad revenue.
8. Steve Ballmer
Age: 66
Nationality: USA
Company: Owner of L.A. Clippers basketball team
Net Worth: $86.9 billion
Industry: Technology
Quote: "Great companies in the way they work, start with great leaders."
Steve Ballmer has a net worth of $86.9 billion. As the former CEO of Microsoft, he oversaw the world's largest software developer until he stepped down in 2014. As Ballmer still maintains 4% ownership of Microsoft, he is its largest individual shareholder.
Ballmer currently owns the L.A. Clippers basketball team.
9. Sergey Brin
Age: 49
Nationality: Russia
Company: Google
Net Worth: $86.4 billion
Industry: Technology and Advertising
Quote: "Solving big problems is easier than solving little problems."
Sergey Brin, along with Larry Page, co-founded Google. So it's no surprise he also made it onto the list of the richest people in the world. Brin has a net worth of $86.4 billion. The pair met at Stanford University before starting their venture, and just like Page, Brin continues to hold an active role as a board member with a similar stake.
More recently, Brin set up Bayshore Capital Management in Singapore, a region ripe for investment with favorable tax legislation, to manage his wealth.
10. Carlos Slim
Age: 83
Nationality: Mexico
Company: America Movil
Net Worth: $85.7 billion
Industry: Telecommunications
Quote: "You have to have an international reference of competition. You have to go beyond your home."
Carlos Slim is a majority shareholder in America Movil, the largest operator of mobile phones in Latin America. He also holds shares in several other companies, including 6.4% ownership of The New York Times, and has a net worth of $85.7 billion. Although he has transferred some of his holdings to his six children, they are still counted among his assets as the family patriarch.
After earning his degree in civil engineering from the National Autonomous University of Mexico School of Engineering, he started Inmobiliaria Carso, a construction company, and later began investing in various industries.
The Richest Billionaires in the World
It can be difficult to grasp the concept of a billionaire, let alone a multi-billionaire. The richest people in the world come from diverse backgrounds and areas of expertise. It is always interesting to see what paths they walked and the habits they formed to amass their wealth.
As this list is ever-evolving, stay tuned to see what fortune has in store for the next generation of billionaires, or quite possibly, trillionaires, to crack the top 10.
Richest People in the World FAQ
Who is the No. 1 richest person in the world?

The current richest man in the world is Bernard Arnault with a net worth of $189 billion.

How many billionaires are there in the world?

Forbes reports that there are over 2,600 billionaires in the world, with 735 of them from the U.S. alone.

How many trillionaires are there?

There are currently no trillionaires in the world. Bernard Arnault, the richest man in the world, has a net worth of $189 billion, which is a lot of money but a far cry from $1 trillion.
Daria Uhlig, Caitlyn Moorhead, Melanie Grafil and Amber Barkley contributed to the reporting for this article.
Information is accurate as of Jan. 31, 2023.
Our in-house research team and on-site financial experts work together to create content that's accurate, impartial, and up to date. We fact-check every single statistic, quote and fact using trusted primary resources to make sure the information we provide is correct. You can learn more about GOBankingRates' processes and standards in our editorial policy.
Make Your Money Work Better for You