6 Richest Youth Entrepreneurs in the World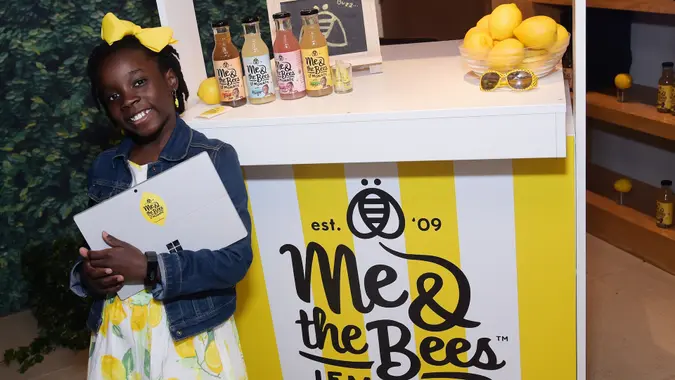 Charles Sykes/AP/Shutterstock / Charles Sykes/AP/Shutterstock
There are plenty of super rich kids out there, but many have inherited their uber wealth (and often their valuable fame) from their parents. Consider Princess Charlotte, who is believed to be the richest child in the world, with a reported net worth of $5 billion. 
Then you've got the droves of children influencers making potentially millions a year. Though influencing can be a real and clearly quite lucrative job, it often involves as much luck as it does social media savviness. Plus, famous, privileged parents often help out tremendously here, too. 
Perhaps more interesting to business-minded people are the kids who made their fortunes through entrepreneurial efforts. Let's consider seven of the youngest and richest self-made kids.
Isabella Barrett
At just 6 years old, reality TV star Isabella Barrett launched Glitzy Girl, a jewelry line that made her a million bucks before she turned 7. Now a teenager (but still a minor), Barrett is a multimillionaire. 
"Isabella's entrepreneurial journey in the fashion industry demonstrates the value of identifying a niche market," said Paw Vej, chief operating officer at Financer.com. "Young entrepreneurs can learn from her ability to spot an opportunity and tailor her products to meet the specific desires of her target audience."
Make Your Money Work Better for You
Moziah Bridges
Another child entrepreneur who stands out is Moziah Bridges of Memphis, Tennessee, who at the tender age of 9 created his own line of bow ties called Mo's Bows. 
According to Geeks Around Globe, Bridges has a net worth of $5 million. Like Barrett, Bridges found a niche in the fashion world where he could flex his talents — and he ran with it. 
Akshay Ruparelia
Akshay Ruparelia earned an incredible fortune by founding UK real estate company Doorsteps at age 17. 
"He founded the real estate company in (2016), which acted as a launch pad for his real estate career," said Elice Max, co-owner and marketing director at EMUCoupon. "Doorsteps has sold more than a billion houses, earning him millions of pounds to fund his investments as a young real estate millionaire."
Alina Morse
At age 10, Alina Morse (now 18) founded Zolli Candy with an idea that made her one of the youngest and richest entrepreneurs in the world. 
"She started making sugar-free candy in 2014 and quickly rose to fame, with Zolli Candy making $6 million in annual sales," Max said. "Her net worth currently sits at $5 million and continues to grow exponentially."
Mikaila Ulmer
Another do-gooder who is making a killing is Mikaila Ulmer, who launched Me & The Bees Lemonade as a 4-year-old (she is now 18).
"Mikaila's commitment to a social cause — saving bees — teaches young entrepreneurs the importance of aligning their businesses with a purpose," Vej said. "By incorporating values and social impact into their ventures, young entrepreneurs can create a strong connection with customers who are increasingly seeking businesses with a positive mission."
Make Your Money Work Better for You
Jaylen Bledsoe
At the age of 12, Jaylen Bledsoe vaulted into the business world as a successful entrepreneur. 
"He was passionate about technology," said Greg Rozdeba, the co-founder and president of Dundas Life. "Bledsoe Technologies became a global enterprise within two years. He worked hard, starting his business with a $100 gift card. He offered tech services to friends for free in the beginning to develop a portfolio. He became a self-made millionaire at a very young age and is an inspiration to many. His net worth stands at $3.5 million." 
How To Follow in Their Footsteps
It's possible to look at this list and think, "Wow, these kids are clearly geniuses. It's too late for me!" That's a self-sabotaging attitude and defeats the big-picture lessons we can learn from those who get rich before they can even vote. Here's what you can do to follow in their little footsteps:
Have a niche market. "You do not need to be everything to everyone," said Raymond Quisumbing, a registered financial planner affiliated with Bizreport.com. "The first important thing to know is: Who do you want to serve? The more specific, the better." 
Look for a guide or mentor. "Once you have tested your product or service out in the market, look for an experienced mentor who can help guide you to greater heights," Quisumbing said. 
Take advantage of social media. "Nowadays, all the attention of people is focused on social media," Quisumbing said. "The more people who get attracted to your social media, the better the chances of increasing one's sphere of influence and getting new business opportunities."
More From GOBankingRates