How Media Mogul Rupert Murdoch Built His $12.5 Billion Fortune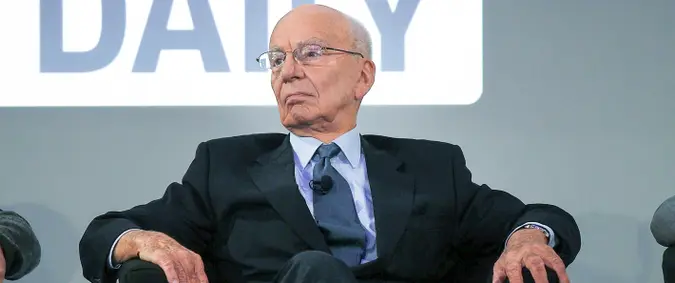 Spencer Platt / Getty Images
Not all heirs put their inheritances to good use, but that can't be said of Rupert Murdoch. The executive chairman of News Corporation and 21st Century Fox transformed a small, Australian-based public corporation with a single asset into a global media conglomerate, making himself one of the world's richest people in the process.
Now 86 years old, Murdoch shows no signs of slowing down. Here are details on Rupert Murdoch's net worth, how he built his fortune and more.
Rupert Murdoch Net Worth: $12.5 Billion
In fiscal year 2016, Rupert Murdoch earned $34.6 million in total compensation for his work as executive chairman of 21st Century Fox. He earned an additional $5.3 million for his role of executive chairman at News Corporation — aka News Corp. The nearly $40 million in total earnings is just a fraction of Rupert Murdoch's net worth.
Along with his family, Rupert Murdoch's net worth is $12.5 billion as of Aug. 4, 2017, according to Forbes. The magazine ranked him the 35th most powerful person in the world for 2016 and the 33rd richest person in the U.S.
A chunk of Rupert Murdoch's net worth is tied up in real estate. In 2013, he paid $30 million for a house and vineyard in the exclusive Bel Air neighborhood of Los Angeles. He also owns a New York City triplex, purchased in 2014 for $57.25 million.
Secrets of Sustained Success: 10 Ways the Richest Billionaires Stay Rich
News Corporation History
Rupert Murdoch's father, Keith Murdoch, died when his son was just 22 years old. At his father's passing, Rupert Murdoch inherited News Limited. At the time, the company's only major asset was an Australian newspaper. Young Murdoch took the reins in 1954 and oversaw the company's international expansion.
Make Your Money Work Better for You
Valued at $7.3 billion as of Aug. 4, 2017, Murdoch founded News Corporation in 1979. Since then, the company has become a media conglomerate with a variety of holdings, including: top newspapers in the U.S., Australia and the U.K., HarperCollins Publishers, Dow Jones & Company — which includes The Wall Street Journal — and Twentieth Century Fox.
News Corporation also launched several cable networks, including the Fox News Channel, Fox Sports Networks and the FX and National Geographic channels. In 2013, the company was divided into two entities: News Corporation and 21st Century Fox. Before the split, Murdoch was chairman and CEO of News Corporation. He currently serves as executive chairman of both companies.
More Billionaire Bank Accounts: Warren Buffett's Net Worth
Rupert Murdoch and Fox News
Once a source of pride for Murdoch and his family, Fox News today is in turmoil. After former Fox News Chairman and CEO Roger Ailes resigned amid allegations of sexual harassment in July 2016, Murdoch assumed his responsibilities. Ailes died in 2017 after a fall in his home.
Under his lead, Fox News star Bill O'Reilly — also accused of sexual harassment by numerous women — was fired in April 2017. Hollywood news site Deadline acquired an internal memo sent to staff from Murdoch following the high-profile firing, which touted a "commitment to fostering a work environment built on the values of trust and respect."
Managing the controversial news channel — which is owned by 21st Century Fox — has become a family affair. Rupert Murdoch's sons, Lachlan and James, both work for 21st Century Fox as executive chairman and CEO, respectively. Lachlan Murdoch is also co-chairman of News Corporation. An April 2017 New York Times report suggested the younger Murdoch generation is leading a cultural shift for the better.
Make Your Money Work Better for You
Media Paydays: The Net Worths of Fox News Anchors
Rupert Murdoch Family
Rupert Murdoch has been married four times and divorced three. His divorce from his second wife, Anna Mann, is one of the most expensive celebrity divorces, costing him a whopping $1.7 billion, mostly in News Corporation stock. The billionaire married his fourth wife, Jerry Hall, in March 2016. Twenty-five years his junior, Rupert Murdoch's spouse is a former model who has four children with rocker Mick Jagger.
Rupert Murdoch has six children, four grown and two teenagers. He also has many grandchildren.
Discover: 7 Secrets Every Rich Person Knows