Alphabet CEO Sundar Pichai's Net Worth: What the Chief of Google Earns
Here's how much one of tech's most powerful leaders is worth.
On Jan. 16, Alphabet Inc. became the fourth major player in the tech industry to cross the $1 trillion mark, joining Apple, Amazon and Microsoft as the only tech giants to do so.
Google's parent company reached its most recent milestone just over a month after founders Larry Page and Sergey Brin announced that they'd be stepping down from their positions as CEO and president, respectively, and appointing Sundar Pichai to run the company. Pichai — a longtime Google employee — had already been serving as Google's CEO since 2015.
Once touted as "the most powerful man in mobile" and "the man behind Google's most important products," Pichai is now the CEO at both Alphabet and Google. Before heading the company, Pichai held key leadership roles at Google and was responsible for the development and success of a number of the company's most well-known and revolutionary products. His success in helping shape Google into what it's worth today has led to him earning six-figure salaries and lavish stock options.
But despite his ascension to the highest rank at one of the most powerful companies in tech, Pichai's net worth still pales in comparison to some of the industry's most recognizable names. Take a closer look at the new Alphabet CEO's net worth, background and career.
Sponsors of
Birthdate: June 10, 1972
Net worth: $600 million
Sources of income: Google and Alphabet salary, stock awards
Career highlights: Alphabet CEO, 2019 to present; Google CEO, 2015 to present; oversaw the development of a number of popular Google products and applications, including the Android operating system, Google Chrome, Google Maps and Gmail
How Much Is Sundar Pichai Worth?
Sundar Pichai's net worth is an estimated $600 million, according to Celebrity Net Worth.
That figure still puts him far behind other notable CEOs in the tech sphere, including Facebook's Mark Zuckerberg, Twitter's Jack Dorsey and Apple's Tim Cook. However, investors likely aren't concerned with where Pichai stands in the CEO net worth power rankings. With its $1 trillion market cap, Alphabet is now worth more than companies like Disney, Nike and McDonald's combined.
How Did Sundar Pichai Make His Money?
In his new role as Alphabet CEO, Pichai is set to receive a $240 million stock package — the largest ever granted by the search giant — plus an annual salary of $2 million beginning in 2020, according to a Securities and Exchange Commission filing. Pichai could end up with an additional $90 million in stock grants should the company's shares outperform the S&P 100. The filing also cited two other stock grants worth $120 and $30 million, neither of which are tied to Alphabet's performance.
Sponsors of
The lucrative stock package isn't anything new to Pichai. Prior to being appointed Google's chief, Pichai received restrictive stock worth $250 million. After taking over as CEO in October 2015, he earned an annual salary of $652,500. The following year, Pichai saw his earnings jump again when he was awarded another $199 million in stock. According to Bloomberg, Pichai's total compensation for 2018 was $1.9 million.
Since Pichai assumed his role as Google CEO in 2015, Alphabet's stock price has leapt from more than $600 to almost $1,500 as of January 2020 — making it one of the most valuable stocks on the market.
Sundar Pichai's Background
Pichai was born in Chennai, Tamil Nadu, India, in 1972. Upon graduating in 1993 with a degree in metallurgical engineering from the Indian Institute of Technology Kharagpur, Pichai was awarded a scholarship to study at Stanford University, where he obtained a master's degree in materials science and engineering. In 2002, Pichai earned an MBA from the Wharton School of the University of Pennsylvania.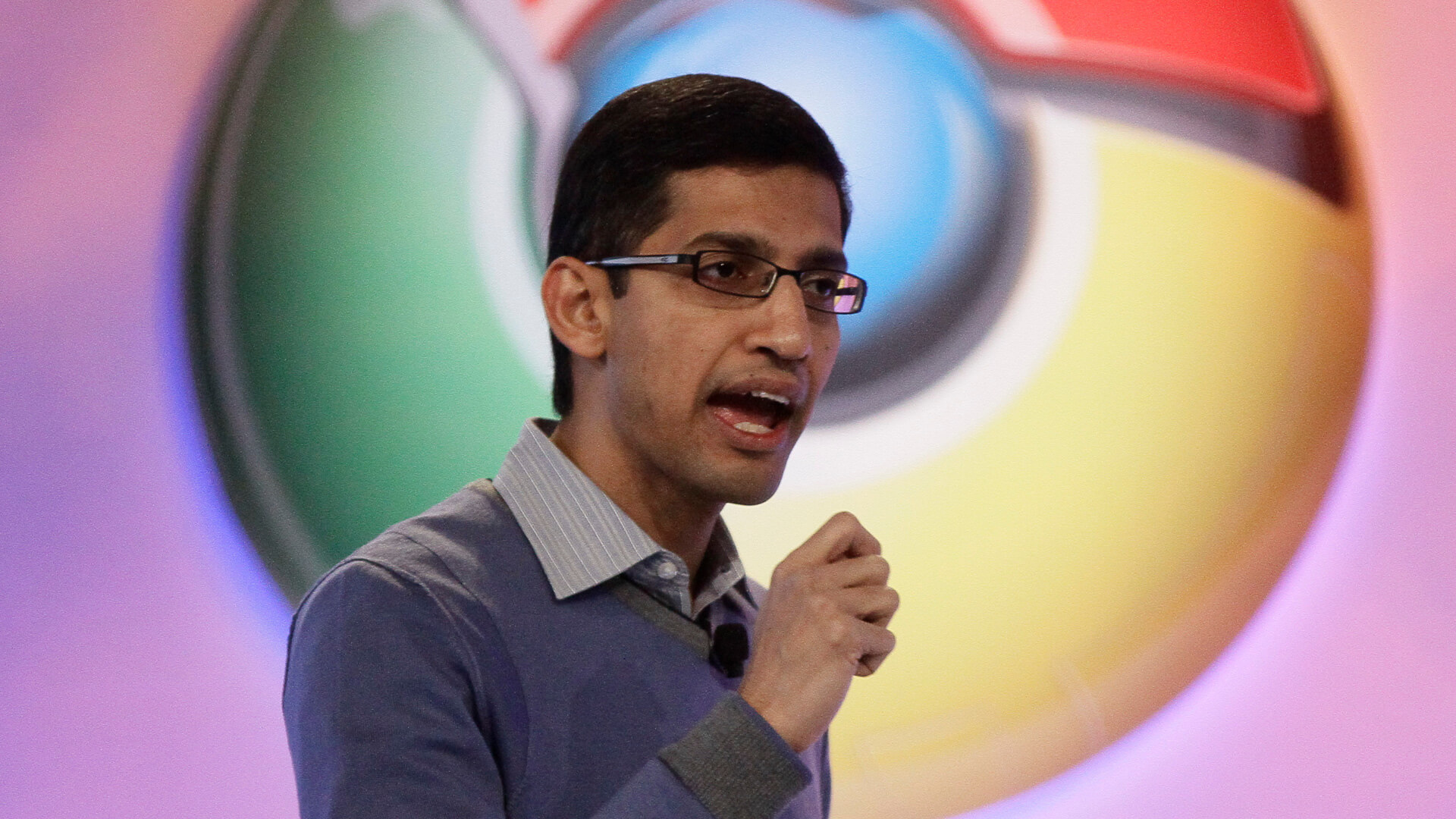 Prior to working for Google, Pichai had stints at Applied Materials as an engineer and McKinsey & Co. as a management consultant. He famously interviewed with Google on April Fools' Day in 2004 — the same day that the company launched Gmail — and impressed the company with his honest and thoughtful responses.
Sponsors of
After joining Google as a vice president of product management, Pichai oversaw a slew of search and consumer products, including iGoogle, Google Toolbar and Google Pack. In 2011, he became senior vice president of Google Chrome and apps, heading the company's development of the Google Chrome browser, Chrome OS, Gmail, Google Calendar, Google Docs and Google Drive. In one of his final roles before becoming CEO, Pichai was tasked with the additional responsibility of overseeing the company's mobile operating system, Android.
Check Out: What $1,000 Invested In Stocks 10 Years Ago Would Be Worth Today
Of course, Pichai's time at the company hasn't been completely free of controversy or scrutiny. In December 2018, Pichai testified before Congress and was subjected to a range of questions related to Google's privacy practices, political bias in its search results and plans for a censored search app in China.
Pichai and Google have also faced criticism over a number of employee firings in the past few years. One of the most newsworthy incidents came in August 2017, when Google fired software engineer James Damore over a controversial memo that Damore had composed. In the memo, he criticized the company's diversity efforts, among other things, and suggested that women were not as biologically suited as men to work in software engineering jobs. Some denounced Damore's firing, citing it as an act of censorship. Pichai later addressed the memo in a staff letter, where he said, "To suggest a group of our colleagues have traits that make them less biologically suited to that work is offensive and not OK."
Sponsors of
Pichai is married to his college sweetheart, Anjali Pichai, whom he met while studying at IIT Kharagpur. The couple have two children: a son, Kiran, and daughter, Kavya. They live in Los Altos, California.
More From GOBankingRates