Tesla CEO Elon Musk Loses Billions, Touts Etsy and GameStop, Lands Rockets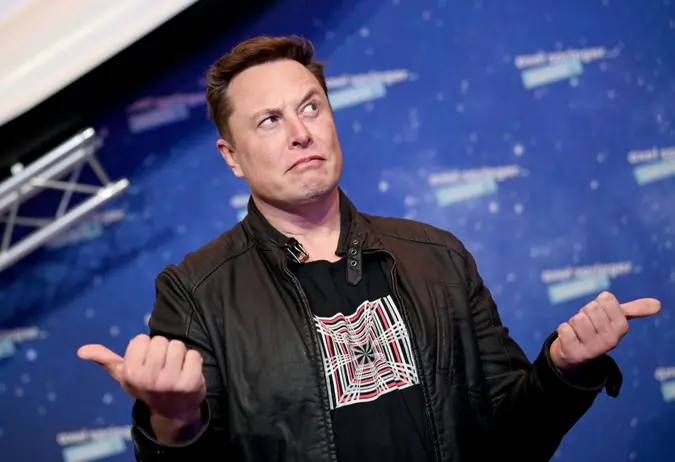 BRITTA PEDERSEN/POOL/EPA-EFE/Shutterstock / BRITTA PEDERSEN/POOL/EPA-EFE/Shutterstock
The stock market, while generally bullish all year, is nothing if not volatile. Billionaire Elon Musk, whose fortune is mostly tied up in Tesla (NASDAQ: TSLA) stock, dropped from richest person in the world since early January to the second richest, behind Amazon CEO Jeff Bezos. When Tesla stock dropped nearly 8% on Monday, Musk lost $13.5 billion, bringing his net worth to $176.2 billion. Bezos reclaims his spot as the world's wealthiest person, with a net worth of $182.1 billion, Forbes reports.
See: How Much Is Elon Musk Worth?Find: Biggest Stock Market Surprises at the Start of 2021
Musk hasn't been one to focus on his financial standing, as long as he has access to the resources that allow him to fulfill his goals for humankind. In an interview with PBS, Musk said, "This is not about wealth accumulation for me personally. It's just that I think this [climate change] is a very important problem and it's got to get solved." In the same interview, he said, "If I got a bunch of money tomorrow, it wouldn't change my life… I've bought everything I want."
If his Twitter feed is any indication, Musk has been focused on other areas beyond Tesla's stock price.
See: "Don't Sell a Share," Says Billionaire Even as Tesla Stock DipsFind: 10 Things Elon Musk Doesn't Want You to Know About Him
Musk Donated to Khan Academy
The Musk Foundation, founded in 2002, donated $5 million to Khan Academy, a nonprofit online learning academy. Founder Salman Khan thanked Musk in a YouTube video, noting "This is going to allow us to accelerate all sorts of content."
The Musk Foundation was founded to support research in renewable energy, human space exploration, pediatrics, science and engineering. Khan made it a point to note that the donation will accelerate the organization's science content and "allow us to do more early learning, allow us to make the software and the practice that much more engaging."
Make Your Money Work Better for You
Musk is one of a group of billionaires who pledged to donate half their wealth to worthy organizations. However, he has grappled with finding the best causes, noting in a tweet that it's "way harder than it seems" to find ways to donate money that "really make a difference."
Btw, critical feedback is always super appreciated, as well as ways to donate money that really make a difference (way harder than it seems)

— Elon Musk (@elonmusk)

January 8, 2021
See: Jeff Bezos and 14 Other Wealthy People & Families Chipping In to Fund Education
Find: Short Tweet From Elon Musk Sends Random Stock Soaring

The Billionaire Likes Etsy…
After sending Signal stock sky high after a misunderstood tweet, Musk sent e-commerce shop Etsy stock up 8% Tuesday morning with an innocent tweet declaring "I kinda love Etsy."
His purchase? A hand-knit wool Marvin the Martian helm for his dog, Marvin the Martian. Alas, no pictures were shared.
…And Also GameStop
Perhaps in a response to short sellers, Musk also tweeted a single word that sent shares to the top of the leaderboard: "Gamestonk!!" with a link the to WallStreetBets subreddit that's been making headlines lately. GameStop shares closed at $147.98, up nearly 93% for the day.
See: 65 Splurges of the Filthy RichFind: Should You Take Stock Tips from Internet Gamblers? This Group's Latest Pick Soared 50% (Almost) Overnight
SpaceX Keeps Doing Its Thing
Meanwhile, as the market moved and Musk bought dog clothes, his space company SpaceX launched a record 143 satellites into orbit Sunday morning from Cape Canaveral on Florida's Space Coast. The Falcon 9 rocket carried third-party satellites, along with 10 of its own Starlink internet satellites designed to deliver low-latency, gaming-quality internet service to rural areas across the globe, into orbit. The rocket then successfully landed on the drone ship Of Course I Still Love You.
Make Your Money Work Better for You
The mission is significant as proof-of-concept of SpaceX's rideshare service, Transporter-1, as it delivered a record number of satellites that included SuperDove satellites for Planet Labs, a company that designs and builds earth imaging satellites to monitor climate change, among other things, and a nanosatellite for Aurora Insights, a wireless communications company.
More From GOBankingRates: