Kim Kardashian to Lindsay Lohan: Top 10 Most Ridiculous Celebrity Tweets About Money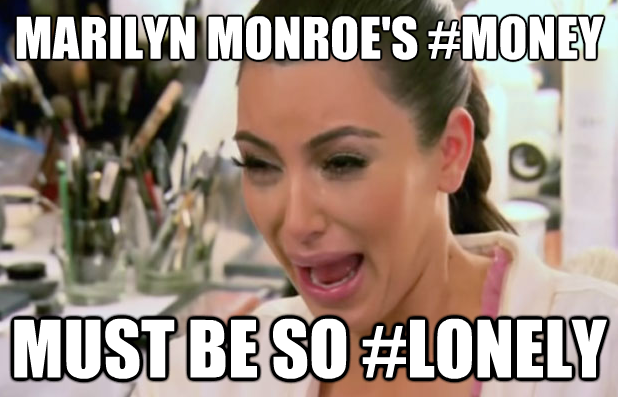 Celebrities say the darnedest things on Twitter. And with over-inflated bank accounts, they've also been known to say ridiculous things about money. Combine the two, and you get the best celebrity tweets about money.
From bragging about their millions to doling out financial advice, these tweets about money show that everyone's got their money on their mind — even the rich and famous. See our top picks for the weirdest, funniest or simply worst celebrity tweets about money-related topics.
10 Funny Celebrity Tweets about Money
1. Conan O'Brien (@ConanOBrien) on Taxes
Stars: They're Just Like Us! Completely clueless about taxes. And apparently Conan O'Brien, host of Conan on TBS, has some pretty big questions. My guess is that the answer to Conan's query is a resounding yes, at least from the IRS.
Tax question: Is it technically considered cheating if you claim your 5.4 million Twitter followers as dependents?

— Conan O'Brien (@ConanOBrien) April 13, 2012
2. Stephen Colbert's (@StephenAtHome) Get-Rich-Quick Scheme
Funny man and host of The Colbert Report on Comedy Central, Stephen Colbert has some sound advice to build wealth in no time. All that's required? Sitting on the huge pile of money you already have.
Just came up with a great get-rich-quick scheme: Continue being wealthy.

— Stephen Colbert (@StephenAtHome) November 9, 2011
3. Kim Kardashian (@KimKardashian) on Marilyn Monroe
Kim Kardashian has been earning a lot of time in the spotlight by making a baby with rap star Kanye West. But she has long been known for her ability to perpetuate her fame and fabulous wealth without doing much of anything, besides living off of the Kardashian brand. And it looks like she's eyeing another famous lady's brand … don't get jelly, Kim K.
If Marilyn Monroe has no family or children, who makes all of that money off the usage of her HUGE brand? Her name must rake in so much $$$

— Kim Kardashian (@KimKardashian) February 21, 2012
 4. Ashton Kutcher (@aplusk) Will Pee for $$$
Actor Ashton Kutcher will pee himself for a price — and it's not as high as you might think. Guess we know that Kutcher values money more than dignity.
if someone walked up to me with 5k cash and said piss yourself and I'll give you this $$, I'd do it.

— ashton kutcher (@aplusk) May 8, 2009
5. Amanda Bynes (@AmandaBynes) Doesn't Want Your Money
Amanda Bynes has been making  tabloid headlines lately for tweeting all kinds of weird statements. But with this, she makes it clear that, unlike Ashton Kutcher, there's not a thing she will do for your money. Not even, like, work or something.
You couldn't pay me enough to do anything for you

— Amanda Bynes (@AmandaBynes) March 30, 2013
6. 50 Cent (@50cent) Too Rich to Take Out the Trash
Though 50 Cent is surprisingly good at managing his money, it could be going to his head. Come on, Granny, you should know 50 Cent's net worth is too big for him to be taking out your trash!
I can't belive my grand mothers making me take Out the garbage I'm rich f*** this I'm going home I don't need this s***

— 50cent (@50cent) August 26, 2010
7. Lindsay Lohan (@LindsayLohan) Worries About the Fed
Lindsay Lohan is notoriously bad with money, and has racked up hundreds of thousands of credit card debt and back taxes in the past. But while she may not be able to manager her own money mess, she still has so words of advice for the Federal Reserve.
Have you guys seen food and gas prices lately? U.S. $ will soon be worthless if the Fed keeps printing money! http://spn.tw/t1exbE #ad

— Lindsay Lohan (@lindsaylohan) June 28, 2011
8. Kris Humphries (@KrisHumphries) Can't Tell Who's Homeless
Kris Humphries may be in hot water after missing a mandatory April 12th divorce hearing. Maybe he got caught spending too much time trying to figure out who was homeless in New York City. Maybe in the future, Kris, just find a reputable charity to give to instead.
Just offered a homeless person money, but got rejected because it turns out they weren't homeless. Only in NY.

— Kris Humphries (@KrisHumphries) April 5, 2012
9. Taylor Swift (@taylorswift13) Gets Sassed by a Barista
Apparently being rich, famous, and having a very public romantic life doesn't protect Taylor Swift from getting the same attitude from coffee shop employees as everybody else. In fairness, though, the barista has a point; sea shells are not acceptable legal tender in the U.S.
Went to get coffee today-opened my change purse. Sea shells fell out. Barista goes "Sorry, we only take cash or credit." So there's that.

— Taylor Swift (@taylorswift13) June 23, 2012
10. Rihanna (@Rihanna) Wants You to Know She's Rich
And last but not least, Rihanna skips all the drama to simply brag about her net worth.
Can't see em cuz the money in the way

— Rihanna (@rihanna) March 12, 2012
celebrity twitter names may not be the wisest when it comes to financial matters. Fortunately, there are plenty of personal finance experts to follow on Twitter who can give you a daily dose of sound money advice.