Star Wars' Actor Adam Driver's Net Worth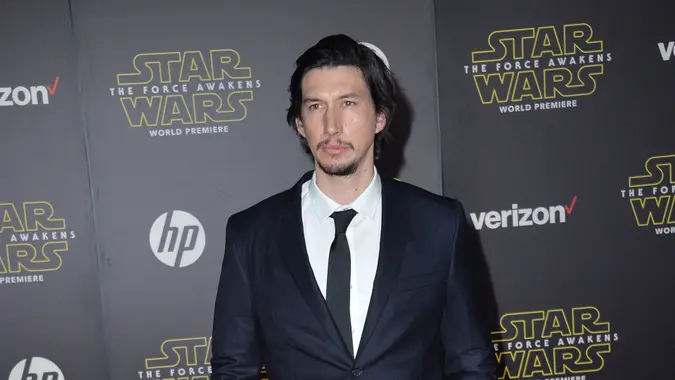 Jaguar PS / Shutterstock.com
"Star Wars: The Force Awakens" broke box office records across the board, cultivated a new generation of fans and brought beloved veteran characters from the original trilogy back into the franchise fold. The movie also made a household name out of Adam Driver, who played the evil Kylo Ren. Although it was Driver's biggest project by a long shot, he was by no means a newbie when he was cast in the role.
Here's a breakdown of Adam Driver's rise to fame and how "Star Wars" will impact his paycheck.
Adam Driver Net Worth: $2 Million
Adam Driver earned somewhere in the range of the mid-to-high six figures for his performance in "The Force Awakens," Variety reported. That's peanuts compared to the $10 million to $20 million Harrison Ford was reportedly paid to return as Han Solo, and it's even insignificant if you look at the low-figure salaries earned by Mark Hamill, aka Luke Skywalker, and Carrie Fisher, aka Princess Leia.
In Hollywood, seniority pays. The proof of that reality can be found in the reported salaries of the rest of the latest "Star Wars" cast. John Boyega and Daisy Ridley, who starred as Finn and Rey, respectively, are believed to have earned in the low six figures — less than Driver. The reason for the disparity can be traced to their status as newcomers. After the extraordinary success of "The Force Awakens," however, none of the cast can be considered newcomers anymore, and all are expected to benefit from renegotiated contracts on what Variety calls a "legacy pay scale."
They will also likely collect back-end bonuses, which kick in after film grosses a certain amount at the box office. Adam Driver's net worth stands at $2 million, according to Celebrity Net Worth, but this might just give him a boost.
Make Your Money Work Better for You
See: How Much the 'Star Wars' Cast is Worth
The Life and Career of Adam Driver
Standing over 6'2″ tall, according to IMDB, Adam Driver's height makes him stand out on the set, but that's not why he earned more than the headliners of "The Force Awakens." The reason for Driver's reported bump in pay over the main stars can be credited to the fact that he had already earned success on both the big and small screens by the time he was cast.
In 2012, Driver played Samuel Beckwith in the critically acclaimed and commercially successful "Lincoln," which earned more than $275 million at the worldwide box office, won two Oscars and was nominated for 10 others.
Born the son of a preacher in San Diego, Calif., Driver's parents divorced, and he was relocated to Indiana, where his mother would marry a Baptist minister. After what Rolling Stone described as an awkward childhood as a "misfit," Driver served a stint in the Marines until he suffered a serious injury.
After repeated applications, he was accepted to the famed Juilliard School, moved to the New York City region, began auditioning and met Lena Dunham, the creator of "Girls." Driver's role in the controversial and celebrated show would earn him three Primetime Emmy nominations — Outstanding Supporting Actor in a Comedy Series for in 2013, 2014 and 2015.
His life would change even more dramatically, however, when he was cast as Kylo Ren in "Star Wars: The Last Jedi," which was nominated for five Oscars. The blockbuster broke the $2 billion mark at the worldwide box office, took the title of biggest domestic earner in movie history, became the biggest PG-13 film ever and had both the best opening weekend and the best holiday of any movie ever released.
Make Your Money Work Better for You
Most importantly, its critical and commercial success set the stage for a fresh crop of sequels — and plenty of future earnings for Adam Driver and the rest of the cast.
Take Five: 'Star Wars,' 'Iron Man' and 18 Other Billion-Dollar Movie Franchises
What's Next for Adam Driver?
For Driver, 2017 was a busy year. The actor played Randy in "The Meyerowitz Stories (New and Selected)" and he also played Clyde Logan in "Logan Lucky." He has three other movies due out by the end of the year.
Two of these movies are currently in pre-production: "Black Klansman" and "Annette." The third is completed and due out around the holidays. That one is, of course, "The Last Jedi," which is the latest "Star Wars" extension.
He has two movies in the works slated for release in 2018. He will play Toby in "The Man Who Killed Don Quixote" and Travis Mills in "Tough as They Come."
Adam Driver developed a cult following with his recurring part in "Girls," but his role as Kylo Ren in "Star Wars: The Force Awakens" propelled him to superstardom. His net worth is rising right along with his star power — and with an eagerly anticipated new "Star Wars" film coming out soon,  things don't seem to be slowing down.
Next Up: The Richest Action Stars of All Time — and Their Top-Grossing Films