'American Ultra' Movie: Jesse Eisenberg Net Worth Vs. Kristen Stewart Net Worth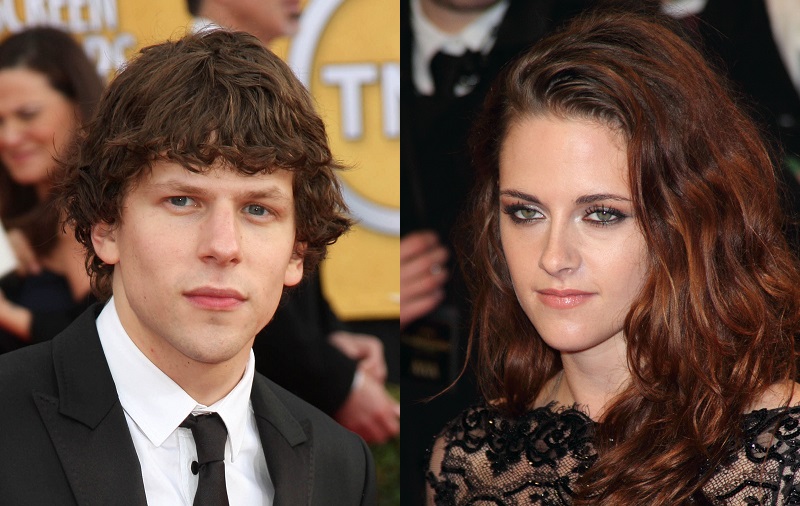 "American Ultra," the Lionsgate film slated to be an end-of-summer hit comes to theaters Aug. 21. The action-comedy stars Jesse Eisenberg, who plays a hapless stoner whose life is turned upside down when he realizes he is actually a highly-trained and deadly sleeper agent.
The movie's writer, Max Landis, and director, Nima Nourizadeh, head the film. The pair have had previous film successes with movies grossing more than $100 million on budgets of just around $12 million. "American Ultra" is similarly expected to be a success, with a domestic gross estimate of $28 million. The film is expected to bring in $10 million its opening weekend.
In addition to Jesse Eisenberg, "American Ultra" features Kristen Stewart. She and Eisenberg previously worked together in 2009's "Adventureland," which was also a commercial success. See what the cast of "American Ultra" made and how their careers have helped them build net worths in the millions.
Related: 'Straight Outta Compton' Movie: Dr. Dre Net Worth, Ice Cube Net Worth and N.W.A.
Jesse Eisenberg Net Worth: $10 Million
Jesse Eisenberg plays Mike Howell in the "American Ultra" movie. Howell is a stoner convenience store clerk whose blissfully ignorant life is shattered when he discovers he is a sleeper agent for a secret government team that now wants him dead.
Eisenberg had numerous TV credits, including "Get Real," before his big-screen debut. It was his role in the critically acclaimed 2002 indie movie "Roger Dodger," however, that positioned him as a credible dramatic actor and helped him begin accumulating his $10 million net worth. His breakthrough role was alongside Kristen Stewart in "Adventureland" in 2009, which he parlayed into two major successes in 2010, the cult classic horror-comedy "Zombieland" and Oscar contender "The Social Network."
Kristen Stewart Net Worth: $70 Million
Kristen Stewart plays Phoebe, Mike Howell's girlfriend, to whom he attempts to propose to at the worst possible times throughout "American Ultra."
Kristen Stewart is no stranger to the big screen. At a young age, she acted alongside Jodie Foster and Meg Ryan before ever entering Hollywood mainstream. It was her role as Bella Swan in the wildly popular vampire franchise "Twilight Saga" that earned Kristen Stewart the bulk of her $70 million net worth. She has since found more success in "Snow White and the Huntsman" and "The Runaways."
Connie Britton Net Worth: $8 Million
Connie Britton's character in "American Ultra" is part of the secret group of agents set out to kill Mike Howell — but the actress wasn't originally supposed to play the role. Britton joined production when Sharon Stone, who was first cast for the part, left due to a scheduling conflict.
Although she got her big break in the 1995 Edward Burns drama-comedy "The Brothers McMullen," Connie Britton's $8 million net worth can largely be traced to her role as an accountant in the TV sitcom "Spin City." Her television career includes roles in small-screen successes like "24," "The West Wing" and "Friday Night Lights." Throughout her career, Britton has won four Emmys and a Golden Globe.
Topher Grace Net Worth: $10 Million
Topher Grace plays a power-hungry hotshot CIA agent whose recent promotion has gone to his head. His first mission in a position of authority is to kill Mike Howell.
Actor Topher Grace impressed critics in 2000 with his role as a cocky, privileged prep school drug user in "Traffic." It was his role as Eric Forman on the hit TV program "That '70s Show," however, that helped Topher Grace build his $10 million net worth.
John Leguizamo Net Worth: $25 Million
John Leguizamo's character in "American Ultra" is a street-level dealer and all-around lowlife covered in tattoos. The actor, who had to undergo four hours of makeup for his character's tattoos, preserved his temporary inks by refraining from showering for a week during filming.
Leguizamo is a versatile actor and comedian who traces his $25 million net worth to unforgettable dramatic roles in movies like "Carlito's Way." Leguizamo has also done voice-over work and held theatrical roles, such as in the off-Broadway hit "Freak," which Spike Lee turned into an HBO film.
Tony Hale Net Worth: $3 Million
Tony Hale plays Agent Petey Douglas in the "American Ultra" movie. The actor's career has been filled with credits that have earned him both multiple SAG awards and Emmys. Hale began amassing his $3 million net worth in 1999 with a part in the now-famous Volkswagen commercial featuring the song "Mr. Roboto." His most recognizable role, however, was as Buster Bluth on "Arrested Development."
You can watch the "American Ultra" trailer below:
Photo credit: s_bukley / landmarkmedia / Shutterstock.com