Ariana Grande's Wealth Continues To Grow: A Look at Her Net Worth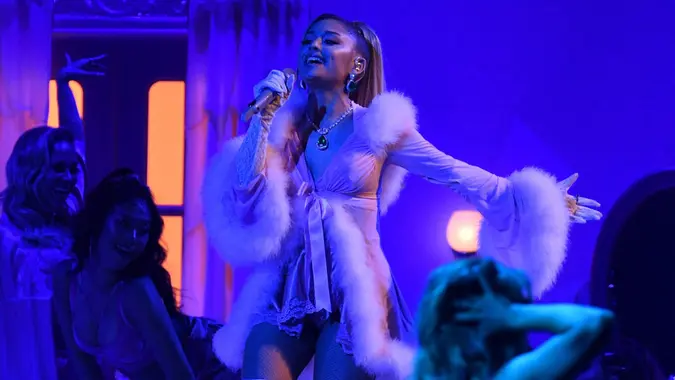 Rob Latour/Shutterstock / Rob Latour/Shutterstock
In 2008, Ariana Grande made her debut in the Broadway show "13," playing a cheerleader named Charlotte. Buoyed by her success — she won a National Youth Theater Association Award — she starred on TV and eventually began working on her own music.
In 2013, she released her first album, "Yours Truly," which hit No. 1 on the Billboard 200. According to Celebrity Net Worth, that album sold between 100,000 and 120,000 copies in the first week of its release.
Grande's success has added up to a very significant amount of money in her bank accounts before age 30. She turns 29 on June 26, and Ariana Grande is estimated to be worth a whopping $200 million. Keep reading to find out more about how she's made that money.
Musical Success
Grande followed up her first album with a sophomore release, "My Everything," a year later in 2014. The two albums sold more than 2 million copies worldwide. She followed that up with a third album in 2016, "Dangerous Woman." The tour for that album grossed $71 million, making it one of the highest-grossing tours in 2017.
In 2019, two of Grande's albums reached No. 1 within six months of one another: "Sweetener" and "Thank U, Next." That year was a major moneymaker for her as she became the youngest female artist to headline the Coachella Valley Music and Arts Festival, where she is said to have earned $8 million.
She has 15 Grammy nominations and has won twice.
Make Your Money Work Better for You
A High Earner
In 2019, Ariana Grande's Sweetener World Tour grossed $146 million in 2019, according to Forbes, which listed her as the highest-paid female musician on its 2020 Celebrity 100 list. She earned $72 million that year, per Forbes.
In 2021, she joined "The Voice" on NBC as a celebrity judge, replacing Nick Jonas. Parade magazine reported her salary is somewhere between $20 million and $25 million per season, rivaling that of Katy Perry on American Idol.
Grande was overjoyed when she joined "The Voice."
"It's so happy and infectiously joyous," she told Parade. "I also am super moved by how brilliant the performers are and by their voices and the opportunity to work with artists who dream of doing what we get to do is a really fun and cool thing. I feel like I've been doing this for a long time now and maybe I will have some sort of thing to say that will help them execute their dreams."
Endorsements
Grande has not just earned money from performing, but from endorsements with some big brand names. Among her deals, she put out her own limited edition handbag with Coach in 2016; introduced lip shades for MAC Cosmetics (and donated all proceeds to the MAC AIDS Fund); debuted her fashion line with Lipsy London; and worked with Brookstone and artist Wenqing Yan to create cat-ear headphones.
She has also worked for companies including Reebok, Starbucks, Givenchy, Macy's, T-Mobile and Apple. Banking on her image of "sweetness," she has a fragrance line with Luxe Brands, which posted $300 million in retail sales in less than five years since its launch in 2015.
She has also engaged in a variety of philanthropic efforts to raise money for causes she believes in, not the least of which was the One Love Manchester concert, an event that raised funds to aid the victims of the Manchester Arena bombing of 2017, when 22 people were killed at one of her concerts in the U.K.
Make Your Money Work Better for You
Real Estate
Grande has been able to pay for luxurious living spaces with her immense earnings and has been active in the real estate market over the past year.
In October 2021, she sold her four-bedroom, seven-bathroom home in the Hollywood Hills for $14 million, which she bought in June 2020 for $13.7 million, according to E! News.
In July 2021, she also sold a five-bedroom, 4,023-square-foot luxury apartment in the Chelsea section of New York City that she lived in with Pete Davidson, formerly of "Saturday Night Live," during the short engagement in 2018, People reported. The property, worth a reported $16 million at the time of purchase, sold for about $13.5 million, according to the magazine.
In June 2022, she closed on a smaller $4.9 million home in the Hollywood Hills that Cameron Diaz owned but never lived in, real estate website Dirt reported. The house, constructed in 1950, is just shy of 1,800 square feet with two bedrooms and 2 ½ bathrooms.
She also owns a $6.75 million home in Montecito, California that formerly belonged to Ellen DeGeneres.
Should Grande want to buy or sell any more properties, she can call on husband Dalton Gomez, whom she married on May 15, 2021, in an intimate ceremony at the Montecito estate, for his expertise. Gomez is a real estate agent in Southern California, specializing in the luxury market.
More From GOBankingRates
Jami Farkas contributed to the reporting for this article.
Make Your Money Work Better for You