How Much Billy Bush and 11 Other 'Today' Show Hosts Are Worth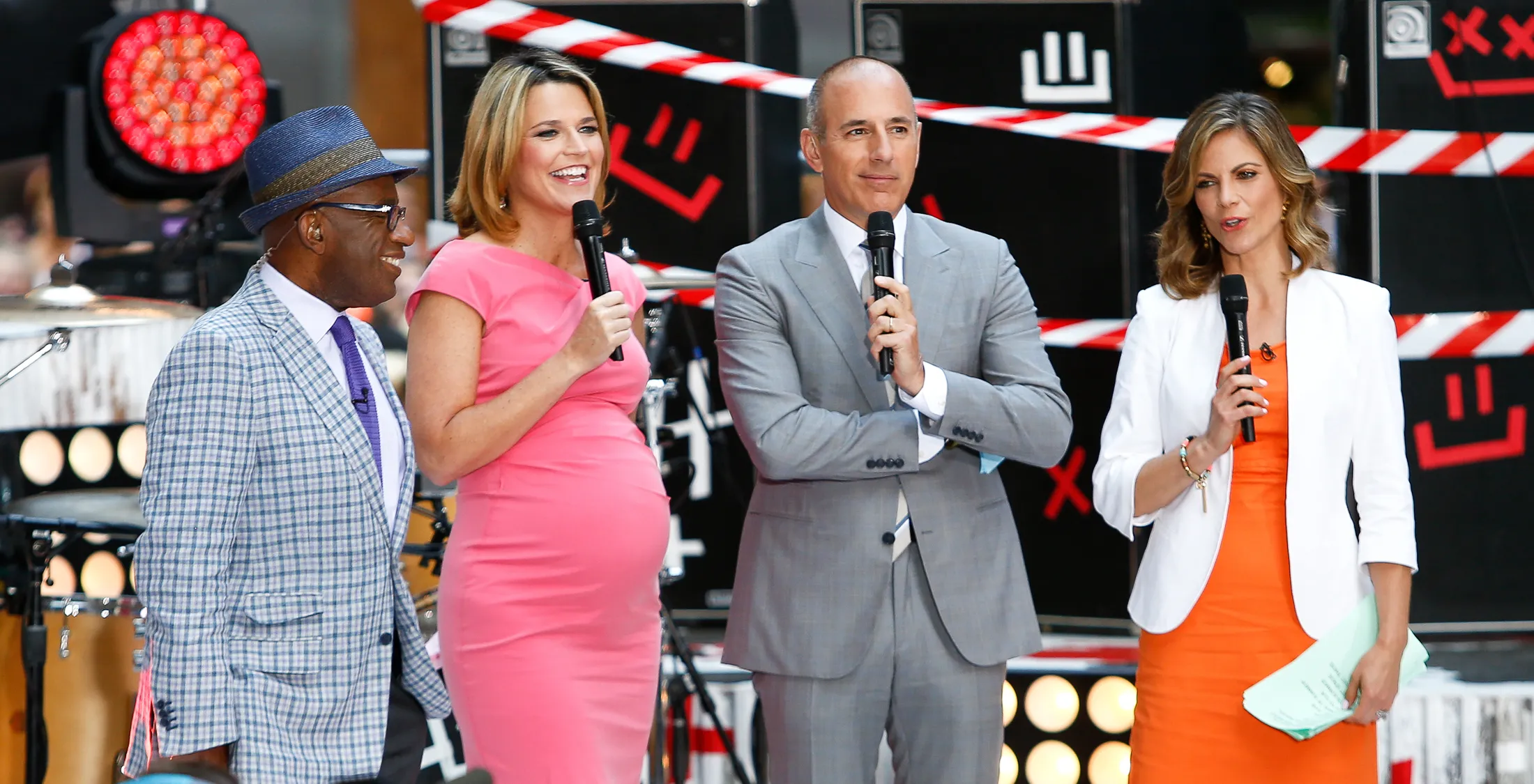 It's one of the most popular morning shows in the country, but instead of sharing breaking news, the "Today" show has recently become a headline in its own right. On Oct. 7, tapes that captured a lewd conversation about women between Donald Trump and "Today" anchor Billy Bush — who was working for "Access Hollywood" at the time — during a 2005 interview were published in an article by the Washington Post.
Bush, the newest member of the "Today" show team began appearing on-air in August, during the Rio Olympics. Following the recent controversy, however, Bush was suspended indefinitely from the morning show on Oct. 10.
Learn more about Bush's net worth and that of the rest of the "Today" show hosts.
Billy Bush Net Worth: $9 Million
In May 2016, NBC News announced that Billy Bush would be joining the "Today" show starting in August. A co-host of the show's third hour, he has at least temporarily lost his spot during his suspension. In addition to his on-screen presence, Bush's resume also includes radio work, as he hosted "The Billy Bush Show" and "The Weekend Countdown With Billy Bush."
See:
Carson Daly Net Worth: $25 Million
Currently filling in for Bush as co-host of the "Today" show's 9 a.m. hour, Carson Daly is the host of the morning show's digital studio, the Orange Room. In addition to his "Today" duties, he has hosted "The Voice" since 2011 and his own talk show "Last Call With Carson Daly" since 2002. Daly's gig on "The Voice" has earned him three Primetime Emmy Awards.
Make Your Money Work Better for You
Dylan Dreyer Net Worth: $1 Million
Dylan Dreyer has been the "Weekend Today" weather anchor since 2012. She also serves as the substitute weather anchor and substitute Orange Room host on "Today" and gives weekend weather reports on MSNBC. Beloved by viewers, she was voted Boston's Best Meteorologist in 2008, while working at WHDH in Boston.
Related:
Willie Geist Net Worth: $6 Million
Willie Geist has been hosting "Sunday Today with Willie Geist" since April 2016, and also serves as a co-host of MSNBC's "Morning Joe" and contributes to many NBC News shows. He started substituting at the "Today" show in 2010, before landing a permanent gig as a third hour co-anchor in 2012 — a spot he passed on to Bush in August 2016.
Kathie Lee Gifford Net Worth: $30 Million
Kathie Lee Gifford has co-hosted the "Today" show's 10 a.m. hour since 2008. A morning show mainstay, she previously co-hosted "Live! with Regis and Kathie Lee" — currently "Live! with Kelly" — alongside Regis Philbin from 1985 to 2000. Also an accomplished singer, playwright, songwriter, author and actress, Gifford has appeared in a number of TV shows and movies, including "Difficult People," "Sharknado 3: Oh Hell No!" and "The Girlfriends' Guide to Divorce."
Learn: 8 Ways Your Money Habits Are Ruining Your Relationship
Savannah Guthrie Net Worth: $2 Million
In addition to serving as a "Today" show co-anchor, Savannah Guthrie is also the NBC News chief legal correspondent. She initially joined "Today" as co-host of the third hour in 2011, but was promoted in 2012 to fill the show's co-anchor spot vacated by the controversial departure of Ann Curry. Guthrie's "Today" show contract was renewed for at least another three years in 2015.
Make Your Money Work Better for You
Tamron Hall Net Worth: $5 Million
Tamron Hall is a co-host of the "Today" show's 9 a.m. hour — also known as "Today's Take." Additionally, she serves as the anchor for "MSNBC Live" and hosts "Deadline Crime" on Investigation Discovery.
Serving as another "Today" staffer to make waves during the 2016 election, Hall got into a heated debate with actor Scott Baio following his speech in support of Trump at the Republican National Convention. During a live interview, she questioned controversial tweets from the former "Charles in Charge" star regarding Hillary Clinton and First Lady Michelle Obama.
Sheinelle Jones Net Worth: Unknown
Since 2014, Sheinelle Jones has served as the "Weekend Today" news anchor. She's also a substitute news anchor and substitute Orange Room host on "Today." Prior to landing her "Today" show gig, she was a co-host on Fox's "Good Day Philadelphia." A champion for children and youth organizations, she received many awards for her community involvement while living in Philadelphia.
Hoda Kotb Net Worth: $12 Million
Hoda Kotb has been the co-host of the "Today" show's fourth hour since its 2007 debut. A veteran journalist, she served as a "Dateline NBC" correspondent from 2002 to 2014 — and won a News & Documentary Emmy in 2010 for her contributions to the show's "Miracle on the Hudson" coverage. She also won a Peabody Award in 2006 for her work on the "Dateline NBC" hour-long documentary "The Education of Ms. Groves."
Matt Lauer Net Worth: $60 Million
Since joining the "Today" show in 1993 as a substitute news anchor, Matt Lauer has risen the ranks to one of the biggest names in morning television. Hired by "Today" as a permanent news anchor in 1994, he was promoted to a co-anchor of the show in 1997, where he has remained for nearly 20 years.
Lauer's work on "Today" and hosting "Macy's Thanksgiving Day Parade" has resulted in five Daytime Emmy wins, and another News & Documentary Emmy Award. Lauer's $25 million per year "Today" show salary earned him a spot on Forbes' 2016 list of the world's highest-paid TV show hosts, and his contract also includes an NBC-paid helicopter ride to work from his $15 million home in the Hamptons.
Make Your Money Work Better for You
Natalie Morales Net Worth: $16 Million
Currently serving as the "Today" show West Coast anchor, Natalie Morales has held numerous positions since joining the team as a national correspondent in 2006, including news anchor and co-host of the third hour. In addition to her "Today" duties, she's also the host of "Access Hollywood" and co-host of "Access Hollywood Live."
Morales' journalist efforts have resulted in multiple award nominations and a 2007 Daytime Emmy for Excellence in Morning Programming, along with the rest of the "Today" staff.
Al Roker Net Worth: $30 Million
Al Roker, co-anchor and weather and feature anchor, has been part of the "Today" show team since 1996. He's won seven Daytime Emmy Awards for his work on "Today" and during "Macy's Thanksgiving Day Parade," and has been named Best Weatherman twice by New York Magazine.
Typically a jovial on-air personality, Roker made headlines in August when he called U.S. swimmer Ryan Lochte a liar after his story of being robbed at gunpoint during the Rio Olympics fell apart. A video of him arguing about the incident with Billy Bush — a story he originally broke — during the "Today" show went viral.
Up Next: How Much Money Nobel Prize Winners Received From 1901-2016
All net worth figures are according to CelebrityNetWorth.com unless otherwise noted.