How Much Is the 'Doctor Strange' Movie Cast Worth?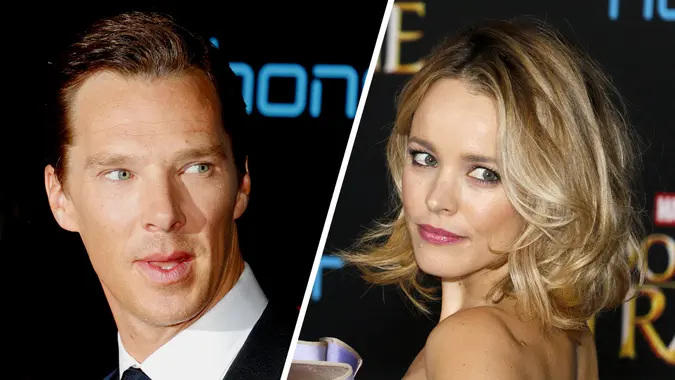 Tinseltown, Tinseltown / Shutterstock.com
Following a car accident that leaves the nerves in his hands damaged, Dr. Stephen Strange seeks out alternative healing methods — and is thrust into a world of magic.
"Doctor Strange" premieres in theaters Friday, Nov. 4. Some reviews are already coming in, and the movie currently has a 90 percent score on RottenTomatoes.com. With a $165 million budget, "Doctor Strange" faces some tough competition from other anticipated films are debuting on the same day, including "Trolls," "Hacksaw Ridge" and "Dog Eat Dog."
Regardless of the competition, the film is expected to rake in about $70 million, according to Variety. Learn more about the "Doctor Strange" movie, the cast and their net worths.
Benedict Cumberbatch Net Worth: $20 Million
Benedict Cumberbatch is Dr. Strange, a former world-class surgeon who can now only do his job with the help of magic. Known as one of the most powerful sorcerers of all-time, he has a slew of magical abilities including — but not limited to — energy projection and manipulation, mesmerism, time travel and mental possession.
Make Your Money Work Better for You
Although Cumberbatch has been entertaining audiences since 2002, his career has seriously taken off in recent years. Successful in both film and television, he won an Emmy in 2014 for his work as Sherlock Holmes in the BBC series "Sherlock." In 2015, Cumberbatch also received both an Oscar nomination and a Golden Globe nod for "The Imitation Game."
In total, his films have grossed more than $3.7 billion at box offices worldwide. Some of his most lucrative projects include:
"The Hobbit: The Desolation of Smaug" — $958.4 million
"The Hobbit: The Battle of the Five Armies" — $956 million
"Star Trek Into Darkness" — $467.4 million
"Penguins of Madagascar" — $373 million
"The Imitation Game" — $233.6 million
Read: Star Trek Casts Then and Now
Rachel McAdams Net Worth: $16 Million
Christine Palmer of Marvel's "Night Nurse" series will be played by Rachel McAdams. A former colleague and love interest of Dr. Strange, Palmer serves as his anchor to the real world.
McAdams rose to fame in the early 2000s, with starring roles in the cult classics "Mean Girls" and "The Notebook." Lately, she's moved into more serious roles, including the film "Spotlight" and the television series "True Detective." Her impressive acting range has been recognized on both sides of the spectrum. She picked up several MTV Movie Awards nominations and a win in 2005 for "Mean Girls" and "The Notebook." She also earned an Oscar nod for her work on the 2015 crime drama "Spotlight."
Make Your Money Work Better for You
Take a look at some of McAdams' biggest box office hits:
"Sherlock Holmes: A Game of Shadows" — $545.4 million
"Sherlock Holmes" — $524 million
"Wedding Crashers" — $285.2 million
"The Vow" — $196.1 million
"Midnight in Paris" — $151.1 million
Chiwetel Ejiofor Net Worth: $12 Million
Mordo — played by Chiwetel Ejiofor — is also mentored by the Ancient One. Unlike the kind Dr. Strange, however, Mordo tries to kill their adviser in the comic book series. While Mordo is a villain in print, his demeanor is expected to shift a bit from strictly evil in the "Doctor Strange" movie.
Ejiofor is best known for playing Solomon Northup in "12 Years a Slave," but his credits also include an impressive list of other hits, such as "The Martian," "Children of Men" and "American Gangster." His work on "12 Years a Slave" earned him a long list of honors, including Oscar, Golden Globe and Screen Actors Guild Award nominations.
Out of all of Ejiofor's hit films, these five are the highest-grossing worldwide:
"2012" — $769.7 million
"The Martian" — $630.2 million
"Salt" — $293.5 million
"American Gangster" — $266.5 million
"12 Years a Slave" — $187.7 million
Make Your Money Work Better for You
Tilda Swinton Net Worth: $10 Million
Traditionally portrayed as male, the Ancient One will swap genders for "Doctor Strange," with Tilda Swinton in the role. Serving as Dr. Strange's magical mentor, the Ancient One — at least in the comics — is a master sorcerer who was born 500 years ago near Tibet.
With three decades of success as an actress, Swinton has starred in a variety of high-profile films including "Michael Clayton," "We Need to Talk About Kevin" and "Burn After Reading." She's been recognized many times for her outstanding work. She won an Oscar and BAFTA in 2008 for "Michael Clayton."
Swinton's five highest-earning films worldwide include:
"The Chronicles of Narnia: The Lion, the Witch and the Wardrobe" — $745 million
"The Chronicles of Narnia: The Voyage of the Dawn Trader" — $415.7 million
"The Curious Case of Benjamin Button" — $333.9 million
"Constantine" — $230.9 million
"Vanilla Sky" — $203.4 million
"Doctor Strange" is slated to be a box office hit, much like the slew of Marvel films that came before it. As the cinematic universe expands, look for Dr. Strange in forthcoming Marvel crossovers.