Learn Ed Sheeran's Net Worth As He Goes on Record-Breaking Tour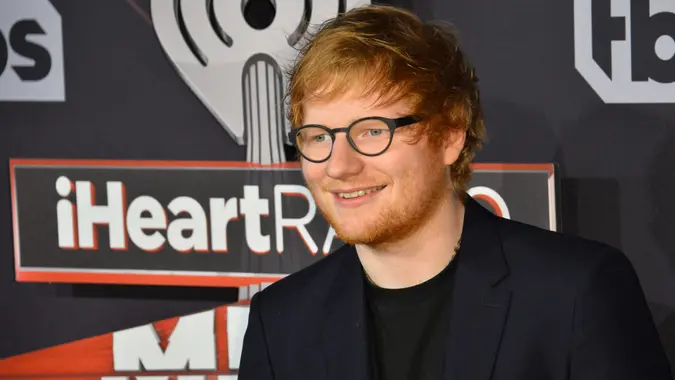 Jaguar PS / Shutterstock.com
z
Branded an unlikely pop-rock dynamo, England's son Ed Sheeran broke on the scene in the early 2010's, taking the charts by storm with his debut album "+" in 2009. In the near-decade since, Ed — and his shock of vibrant red hair — can be found nearly everywhere, bridging continents and cultures.
Sheeran's global appeal recently made headlines, as he broke a long-standing ticket sales record in Australia and New Zealand with his latest tour, selling over a million tickets. Ed Sheeran's tickets milestone meant that one in every 23 individuals in Australia would be in attendance for the Ed Sheeran tour — a fact that "feels weird," according to the superstar.
Click here to learn more about the net worth of other Grammy-nominated artists like Sheeran.
Ed Sheeran Net Worth: $65 Million
Born in February 1991 in Halifax, England, 27-year-old Sheeran picked up a guitar as a youngster and decided to turn it into a career.
Giving up the U.K. countryside life for London's music scene as a teenager, he burst onto the Brit-pop music scene with hundreds of live shows — garnering him a No. 1 spot on the iTunes chart before he ever even inked a record deal.
Known for hits such as "The A-Team," "Shape of You," "Thinking Out Loud," and "Don't," Sheeran's chart-toppers don't just end with him — he's also known for his collaborations with other pop superstars like Beyoncé, Taylor Swift and more.
Not stopping at just music, Sheeran also took his talents to the silver screen. He was featured in an episode of NBC's "Undateable" as well as episodes of FX's "The Bastard Executioner" and HBO's "Game of Thrones."
Make Your Money Work Better for You
Perks of Being Rich: 5 Private Banking Services You Never Knew Existed
Ed Sheeran Music
Sheeran's skills as a singer-songwriter are his bread and butter. Inspired by fellow singer-songwriter Damien Rice, an 11-year-old Sheeran leaped into music at an extremely young age, releasing his debut EP "The Orange Room" at the age of 14.
Since then, he has released several successful studio albums. There was 2011's "+," 2014's "?–," and Ed Sheeran's new album, 2017's "÷" — which all received both critical and commercial success.
Sheeran has also garnered many accolades for his albums, grabbing two Grammys for 2016's "Thinking Out Loud" — Song of the Year and Best Pop Solo Performance — as well as winning Best Pop Solo Performance for "Shape of You" as well as Best Pop Vocal Album at the Grammys "÷" in 2018.
Counting both the Grammy wins and Ed Sheeran's Grammy nominations, he's got a total of 13 nods — dating as early as 2013 with a Song of the Year nomination for "The A-Team."
Everything Has Changed: How Much Will Taylor Swift's Net Worth Soar With 'Reputation'?
Ed Sheeran Tour
Sheeran's record-breaking tour around Australia and New Zealand kicked off in early 2018, hosting numerous sold out, multiple-night engagements in cities like Perth, Melbourne, Sydney, Brisbane and Auckland.
After finishing up in Australasia, Sheeran heads homeward to the U.K. tackling dates in Galway — no doubt playing his hit song "Galway Girl" — Dublin, Manchester, London and beyond before branching out to the rest of Europe.
By summertime, Sheeran will be stateside — starting in Pasadena, Calif. on Aug. 18, 2018, and going coast-to-coast for the remainder of the year, rounding out 2018 in Atlanta on Nov. 10 at Mercedes-Benz Stadium.
Make Your Money Work Better for You
Ed Sheeran Engaged
Although known for his down-to-earth personality, Sheeran's fame hasn't allowed him to be immune from personal life speculations.
In 2015, Sheeran received an honorary degree from the University of Suffolk for "outstanding contribution to music."
In January 2018, Sheeran popped the question — announcing his engagement to fiancée Cherry Seaborn, a childhood friend and former classmate he has been linked to since July 2015. Before that, he had been linked to Scottish singer-songwriter Nina Nesbitt — the subject Ed Sheeran songs "Nina" and "Photograph" — as well as Athina Andrelos, who is professionally linked to Chef Jamie Oliver.
Up Next: Biggest Hits (and Flops) of Celebrities Who Dabbled in Music