Grumpy Cat Is Paid More Than Jennifer Lawrence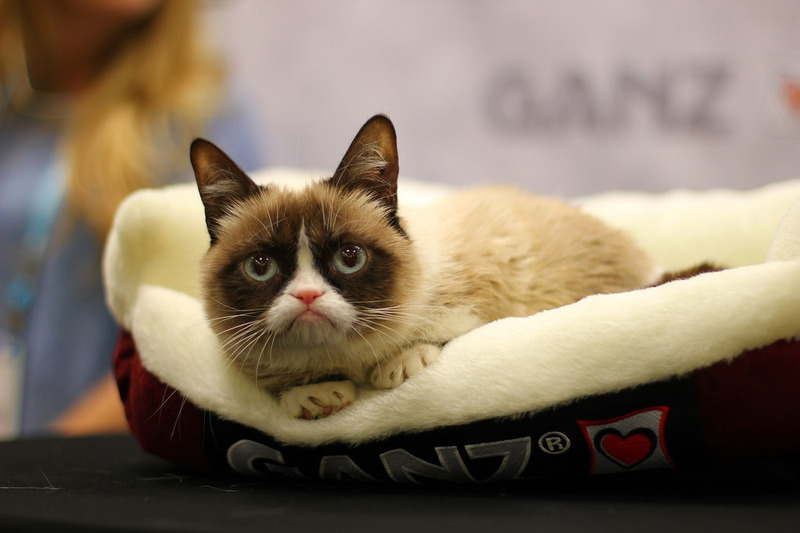 It's hard to escape the Grumpy Cat fandom. Perhaps you're an avid Redditor and have been familiar with the disgruntled-looking feline since 2012, or maybe you busy yourself with other pursuits and still discovered the internet sensation at your local book store in the form of books, stuffed animals and other merchandise.
Now Grumpy Cat (formally known as Tardar Sauce) is having her wealth — or perhaps, more aptly, her owner's wealth — quantified. The Daily Express initially reported on Dec. 7 that Grumpy Cat's fame has amassed a $100 million fortune in just two years.
In the days since, Grumpy Cat's owner Tabatha Bundesen has denied the figure's accuracy, without expressing whether it's too high or low. The 29-year-old Bundesen resides in Arizona and was able to quit her job as a waitress due to the virality of her pet.
That first social media appearance occurred in September of 2012 when Bundesen's brother posted the first agitated image of Tardar Sauce to Reddit. The image quickly became a meme and received over 1 million views on Imgur within 48 hours of posting.
Related: How YouTube Helped Me Pay Off $9,360 in Student Loans
How Grumpy Cat's Wealth Compares to Celebrities and Athletes
The Atlantic reports that Grumpy Cat's annual earnings outpace that of actors Leonardo DiCaprio, Adam Sandler and Tom Cruise, and athletes Rafael Nadal, Derrick Rose, Neymar and Kevin Durant.
The minimum annual salary for a Major League Baseball player in 2014 is $500,000, and the average player made $3.39 million in 2013. Comparing this to Grumpy Cat's earnings, she has outpaced minimum salary players by 100 times and the average MLB star by nearly 15 times.
Taking the National Basketball Association salaries for size, the cap a team can spend on players' salaries is $63 million, while the floor — or very least a franchise can compensate its athletes — is $56.8 million. That means that Grumpy Cat in one year made between $7 million and $13 million less than an entire NBA team.
National Football League players, who play the least games but arguably the most dangerous of these sports for the least amount of money, earn a minimum of $405,000 upon accruing one season on the active roster, and just $1.9 million on average annually in 2013. That minimum is more than 100 times less than Grumpy Cat's earnings, and the average NFL player makes 26 times less than Tardar Sauce, who mostly garners her wealth from paid appearances, modeling opportunities and book deals, reports Yahoo Finance.
Only two actors outpaced Grumpy Cat's annual earnings in 2014. Robert Downey Jr. earned $75 million in 2014, while Dwayne "The Rock" Johnson took home $52 million, and Bradley Cooper (the third-highest paid in 2014) earned $46 million. Of highest-paid actresses, none met Grumpy Cat's earnings: Angelina Jolie earned $33 million while Jennifer Lawrence earned $26 million and Kristen Stewart earned $22 million.
With Lifetime airing a TV movie about the cat entitled "Grumpy Cat's Worst Christmas Ever" this holiday season, Grumpy Cat's net worth will likely continue to grow.
"I'm used to working every day, so this is a huge routine change," Bundesen said. "You don't have to have a routine when you have to take pictures of the cat."
Photo credit: Ricky Brigante